SCM LIVE- Presented by Livewire Media Group
The Franchise Players are Desmond Johnson, John Olszewski, Rod Funderburk and Haskell Shelton. The guys discuss a wide range of sports topics including NFL, NBA, College Football, College Basketball, MLB and more. Broadcasted live from Kickback Jack's – New Garden Rd – Greensboro.
Previous Episodes are available via Spotify, Apple Podcasts, Google Podcasts, Stitcher, Anchor and more. Search 'Franchise Players Sports Podcast' , download and enjoy.
Livewire Media Group is on Mixlr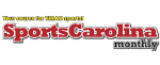 Carolina Panthers/NFL
Ryan Stone returns this week with his thoughts on The Antonio Brown saga. Best...

Observations from the Panthers Week 1 30-27 loss to the Rams
ACC Football
Miami vs. North Carolina: For the second week in a row the Tar Heels...

Courtesy NC A&T Sports Information Sat, September 07, 2019 DURHAM – When you have...

Western Carolina vs. NC State: The Wolfpack had little trouble getting past the Catamounts,...