SCM LIVE- Presented by Livewire Media Group
The Franchise Players are Desmond Johnson, John Olszewski, Rod Funderburk and Haskell Shelton. The guys discuss a wide range of sports topics including NFL, NBA, College Football, College Basketball, MLB and more. Broadcasted live from Kickback Jack's – New Garden Rd – Greensboro.
Previous Episodes are available via Spotify, Apple Podcasts, Google Podcasts, Stitcher, Anchor and more. Search 'Franchise Players Sports Podcast' , download and enjoy.
Livewire Media Group is on Mixlr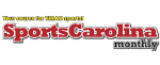 Carolina Panthers/NFL
Panthers move to 5-3 on the season

Carolina Panthers quarterback Cam Newton is expected to make a decision on Monday in...
ACC Football
Notre Dame vs. Duke: The No. 15 Fighting Irish got a big road win...

Virginia vs North Carolina: The Cavaliers took a big step towards winning the Coastal...

NC State vs. Wake Forest: The No.23 Demon Deacons got a convincing win at...