SCM LIVE- Presented by Livewire Media Group
The Franchise Players are Desmond Johnson, John Olszewski, Rod Funderburk and Haskell Shelton. The guys discuss a wide range of sports topics including NFL, NBA, College Football, College Basketball, MLB and more. Broadcasted live from Kickback Jack's – New Garden Rd – Greensboro.
Previous Episodes are available via Spotify, Apple Podcasts, Google Podcasts, Stitcher, Anchor and more. Search 'Franchise Players Sports Podcast' , download and enjoy.
Livewire Media Group is on Mixlr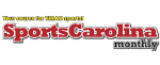 History of Bowman Gray Stadium
Carolina Panthers
*CatMan! R.I.P. Brother *Shaq Thompson wanting to retire here *Camp Battles Part 2 *Monty's...

Over his one year as Panthers owner, David Tepper has shown he's the agent...