Hosted by Mark Zanetto. Powered by SportsCarolinaMonthly.com. Jeff Mills is a 30 year veteran of sports journalism, entering his 20th year with the Greensboro News and Record covering UNCG, NC A&T, the Greensboro Grasshoppers and more.
In this episode, Mark and Jeff discuss Mid Major Basketball, ACC Big 4 hoops, changes in sports journalism over the past 20 years and Jeff's love of classic cars. Point Forward with Mark Zanetto, sponsored by Title Boxing Club.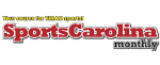 The Rundown – When will Harper and Machado sign
Carolina Panthers
The Carolina Panthers believe Cam Newton could be ready for training camp after last...

CHARLOTTE, N.C. — Carolina Panthers defensive end Julius Peppers, fourth on the NFL's career...