Hosted by Mark Zanetto. Diante Baldwin, former UNCG basketball legend, drops in on location at The Title Boxing Club. Diante talks about his college career, differences in play from college to Europe, and his relationship with Chris Paul. Point Forward with Mark Zanetto is sponsored by Title Boxing Club. Powered by SportsCarolina Monthly.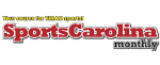 History of Bowman Gray Stadium
Carolina Panthers
Tune in live every Sat morning 10a-12 noon on The Sports Hub

After leading all NFL running backs in snaps played in 2018, Christian McCaffrey is...