Hosted by Mark Zanetto. Diante Baldwin, former UNCG basketball legend, drops in on location at The Title Boxing Club. Diante talks about his college career, differences in play from college to Europe, and his relationship with Chris Paul. Point Forward with Mark Zanetto is sponsored by Title Boxing Club. Powered by SportsCarolina Monthly.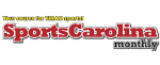 Carolina Panthers/NFL
Cam Newton reflects on the Carolina panthers 0-2 start of the 2019 NFL season...

Observations from the Panthers Week 2 20-14 loss to the Tampa Bay Buccaneers
ACC Football
NC State vs. West Virginia: The Wolfpack lost a tough one on the road...

Duke vs. Middle Tennessee: Duke went on the road to Middle Tennessee and came...

North Carolina vs. Wake Forest Football: Wake Forest had to hold on late, but...