Hosted by Mark Zanetto. Diante Baldwin, former UNCG basketball legend, drops in on location at The Title Boxing Club. Diante talks about his college career, differences in play from college to Europe, and his relationship with Chris Paul. Point Forward with Mark Zanetto is sponsored by Title Boxing Club. Powered by SportsCarolina Monthly.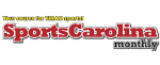 The Rundown – Most Hated UNC/Duke players
Carolina Panthers
Veteran left tackle Matt Kalil has been released by the Panthers. CHARLOTTE, N.C. —...

The birth of The 4 Man Rush began with four good friends, Kevin Avery,...