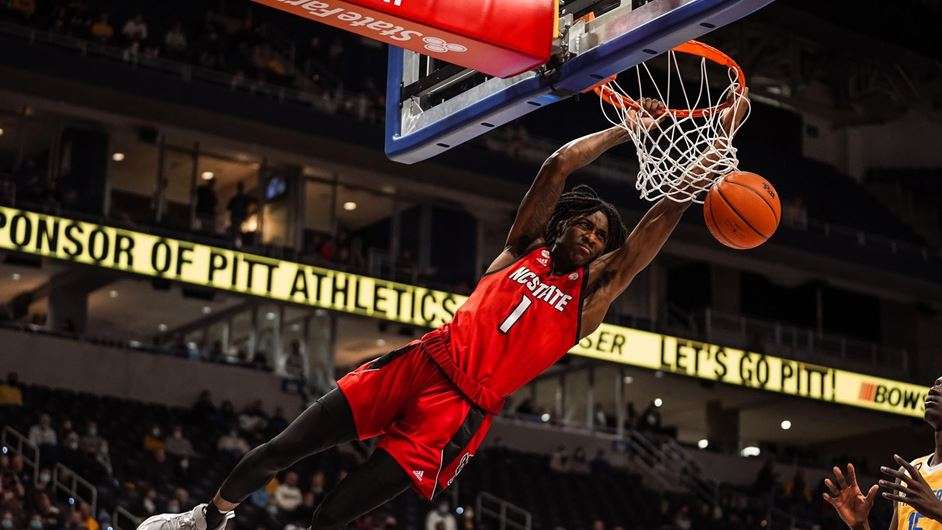 RALEIGH, N.C. – Pitt shot 51.9 percent in the second half and was able to hold off NC State late to defeat the Pack, 71-69, inside the Petersen Events Center Saturday afternoon.
NC State led 31-26 at the break, but Pitt opened the second on a 19-4 run to take its largest lead of the game, 45-35, with 12:24 to go.
The Pack immediately responded with an 8-0 run over the next 1:21 to cut the deficit to just two on a Terquavion Smith three-pointer with 11:03 left.
Pitt would extend its lead back to five points, but NC State retook the lead with an 8-2 run, highlighted by a three-point play from Dereon Seabron to put the Pack in front, 58-57, with 3:48 to go.
The teams exchanged the lead on the ensuing two possessions, but a 6-0 Pitt run gave the Panthers a five point lead with 57 seconds to go.
Jericole Hellems and Thomas Allen each hit three-pointers in the final minute to keep the Pack in it, but Pitt made all of its free throws down the stretch to stay in front.
Seabron scored 15 of his 17 points in the second half and finished the game 5-of-10 shooting and 7-of-9 at the foul line.
Allen scored a season-high 14 points and went four-of-seven from three-point range.
Hellems finished with 10 points.
Smith shot just 2-of-12 from the field but had a team-high seven rebounds and a career-high six assists.
Pitt shot 23-of-25 from the foul line and outscored the Pack 23-14 at the line.
John Hugley led the Panthers with 21 points and 10 rebounds. He was 13-of-15 at the foul line.
Jamarius Burton and Ithiel Horton each added 17 points.
NC State returns to action Tuesday evening when it plays at Georgia Tech. Tipoff in Atlanta is scheduled for 8 p.m. and will be televised on the ACC Network.