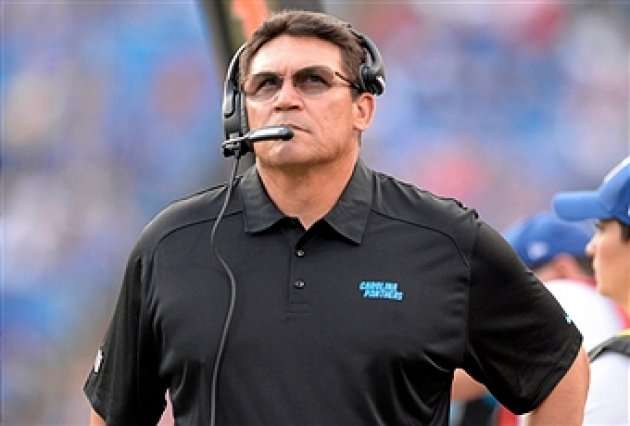 Is this the end? Is this what the beginning of the end looks like?
Ive been one of the biggest Ron Rivera supporters during his tenure as head coach of the Carolina Panthers. Hes by far the best Head Coach in the history of the franchise…a bad day away from wearing a Super Bowl championship ring. He's the winningest coach in franchise history with 3 NFC South division titles.
He's also never led this franchise to back to back winning seasons in 8 seasons.
" frameborder="0" allow="accelerometer; encrypted-media; gyroscope; picture-in-picture" allowfullscreen title="auWp0HtgF4I" loading="lazy" src="//www.youtube-nocookie.com/embed/auWp0HtgF4I?controls=1&autoplay=1&enablejsapi=1&rel=1" >
Since November 8th 2018, Rivera and the Panthers have a 6-13 record. And that record includes some eye opening losses…like two games over that span where Rivera's defense allowed 50 points….last year vs the Pittsburgh Steelers and this year vs the San Francisco 49ers.
Out of those 19 games…11 of those games were decided by 8 points or less. Meaning over half of those games were decided by a touchdown and 2 point conversion or less. Look at Sunday's loss, 34-31 to New Orleans. The Panthers have a knack the past 19 games of competing and falling just short in the end. What does that even mean? Is that on Rivera? The Coaching Staff? Cam Newton? Not having Cam Newton? Injuries?
The answer isnt really that cut and dry. Its a combination of all of these things. Unfortunately, Ron Rivera and even General Manager Marty Hurney may end up being the scapegoats at the end of the year.
When you lose your franchise player, things tend to typically fall apart. No one would blame Owner David Tepper if he decided to simply ride out the last year of Ron Rivera and Cam Newton's contract. Newton is a steal at 22 million next year. Who would really complain if Tepper wanted to see ONE season will a healthy Cam Newton, Rivera running the defense and Norv Turner playing with toys on offense for a full 16 games? He hasnt seen it yet and its been two seasons.
Rivera deserves to show that he cant win even with a healthy Newton. The seasons that Rivera turned in 8-8 or 7-9 seasons, his team was decimated by injuries in each one. His most successful season, 2015, when the Panthers finished 15-1 in the regular season, was probably his most healthy team during his tenure. Hardly any injuries, the same starting lineup on the offensive line was used the entire season, etc. Injuries play a role.
Having said that, Tepper sounds like he may be running out of patience. No one would blame Tepper if he fired Rivera and Hurney at seasons end either. At 5-6 in a loaded NFC, the Panthers are basically out of the playoff hunt. And lets be honest, did you really want to see THIS Panthers team with no Newton anywhere near the playoffs?
For those calling for Rivera's job…ask yourself this. How long would Rivera be unemployed if fired by Tepper? Days? Hours? Seconds? There arent that many two time NFL Coaches of the Year walking around. You think Rivera wouldnt be a perfect fit in Cleveland, with talent in place and his former Defensive Coordinator Steve Wilkes there already? What about Washington? Dallas? There are a number of teams chomping at the bit to bring a proven guy like Rivera in.
And that may be why the Panthers dont fire Rivera at the end of the season. Why throw away something you think is trash, when no one else does? Were so quick nowadays in this reaction society to want a quick resolution to everything. Trade Cam Newton. Elevate Kyle Allen. Fire Ron Rivera. Life doesnt work this way, yet we continue to expect it to.
What would I do if I was David Tepper? Wait. Get through this season. See what you have in rookie 3rd round QB pick, Will Grier. Bad Kyle Allen will rear his head before the month is over, we know this at this point. Weve also seen that these Panthers cant beat good to great teams without Cam Newton leading the charge. Its not a knock on Allen or Grier..its just painful fact. Get Cam Newton healthy, or determine if he will ever BE healthy. Let Rivera have his final season and dont extend him. Tell both Newton and Rivera that 2020 is a prove it year for both of them. Play for it. Bet on yourself. Tepper is the type that will more than pay for it in the end if both Rivera and Newton make him look smart.
Cam Newton is the face of this franchise for a reason. Rivera has been the coach for a reason. Newton and Rivera are basically attached at the hip…and I would expect them to remain so til the end. Whether thats in a month….or next year…or way down the line.