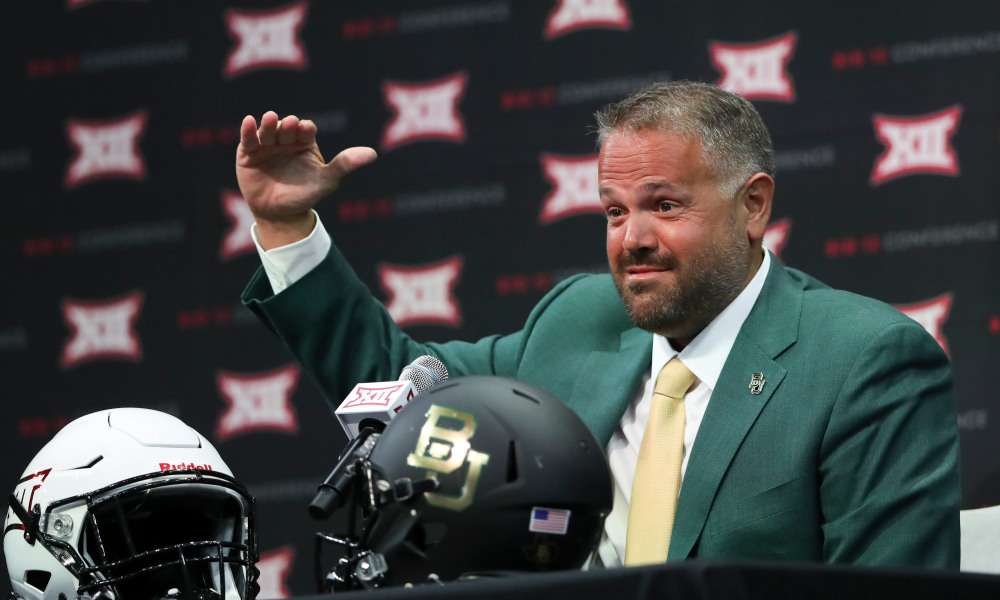 Matt Rhule is the guy. The New Guy.
The Carolina Panthers announced on Tuesday that they have signed Baylor Head Coach Matt Rhule to a 7 year deal worth 60 million. With incentives the deal can reach 70 million.
"I think Matt Rhule can come in here and build an organization for the next 30 or 40 years," Panthers Owner David Tepper said. "He can build it."
Rhule is known for program building. Rhule previously coached at Baylor (2017-19) and Temple (2013-16). He quickly turned both college programs around when he arrived, leading Baylor from a 1-11 record in 2017 to an 11-3 mark and berth in the Big 12 championship game and Sugar Bowl in 2019. At Temple, Rhule took the Owls from a 2-10 record in his first season to consecutive 10-win seasons and an American Athletic Conference championship in 2016.
This will be Rhule's first time as a Head Coach in the NFL although he does have NFL experience. He was an assistant coach with the New York Giants in 2012, coaching the offensive line.
Rhule was interviewed about the hire by NBC Charlotte.
"We worked in North Carolina before. My son was born in Asheville, North Carolina, so this is a place with which we're familiar. I recruited Charlotte forever, I recruited Rock Hill, Greenville, Spartanburg, all those areas where we'll be, so I know the area. At the end of the day, I'm a competitor, so it's a chance to go coach at the highest level and hope that someday you can hoist a trophy over your head and say that you were the best and your team was the best. Professionally, it's a great opportunity, while at the same time going to a place that we've been, that we've lived, that we know the life that we're getting into and we're excited about. I leave tomorrow, my family, they keep going to school, they're here. We'll still continue to be members of the community until we kind of all get there, but I think we're excited about the opportunity. It's a daunting one, just moving, moving kids, finding new schools and all those kinds of things, but we also are excited about what could possibly be."
Tepper and GM Marty Hurney had already been researching and doing due dilligence on Rhule along with multiple candidates. But during the interview at Rhule's home in Waco, Texas, Tepper and others on the search committee all realized quickly that Rhule was the perfect candidate for what they were looking for to build the Panthers for the future.
The call that sealed the deal ? pic.twitter.com/SZvgJJ4api

— Carolina Panthers (@Panthers) January 7, 2020
"He's impressive in player development and sports science – recovery techniques, intensity of training, integration with the strength program," Tepper said. "He started talking about how he develops players and how he's going to pick his staff and we all went from being in interview mode to recruiting mode. Everybody just knew. We switched without a word being said."
This is the first head coach that Tepper has hired, having inherited former head coach Ron Rivera when buying the team last year. Tepper had high praise for Rhule.
"Matt is a very good people manager. And I think a good people manager is a good people manager, college or pro," Tepper explained. "He's going to set standards for people. We're counting on people buying into those standards.
"And it's just the way he thinks. No BS. He's not afraid of constructive confrontation, not afraid to challenge coaches or players. He's a head coach."
Tepper is the richest owner in the NFL, currently with a net worth of over 11 billion dollars. He has been incredibly busy over the past 2 years. Tepper is currently building a facility to house all football operations in Rock Hill, SC set to open August 2022. Tepper just spent $300 million on an MLS team to be fielded by 2021. And now he has spent a reported $60-$70 million for his new NFL head coach.