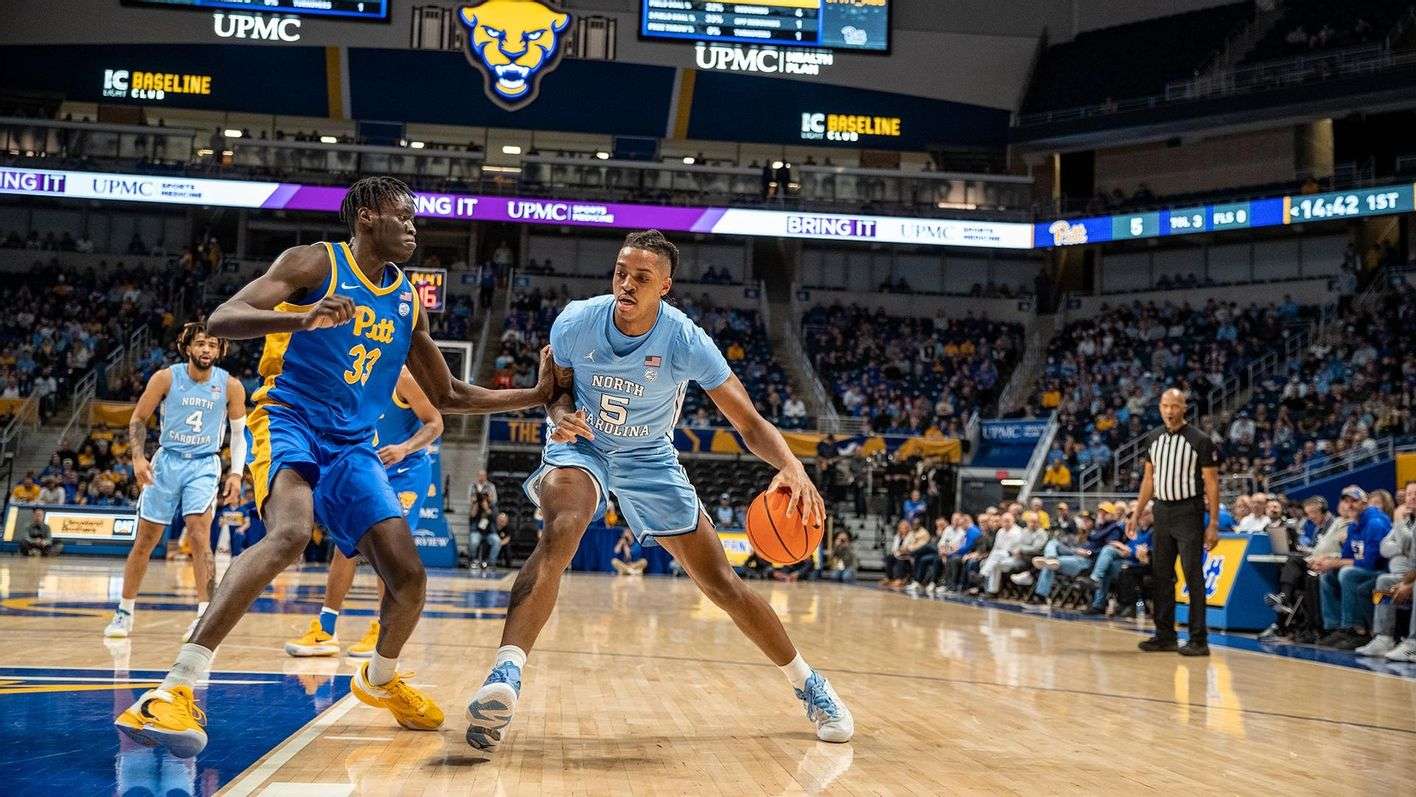 by Matt Bowers


PITTSBURGH—Jamarius Burton scored 31 points as Pittsburgh beat No. 25 North Carolina, 76-74, at the Petersen Events Center on Friday afternoon.
Pitt improved to 3-0 in Atlantic Coast Conference play, winning for the fourth time in the last five meetings in the series. Carolina fell to 9-5 overall, 1-2 in the ACC.
A poor second half doomed UNC, as the Tar Heels shot 33 percent (9 for 27, including 1 for 9 three-pointers) in the final 20 minutes after hitting 52 percent in the opening period. Meanwhile, Carolina allowed Pitt to connect on 50 percent of its attempts from the floor in the second half.
The Panthers outscored Carolina, 31-14, to close the game in the final 12 minutes.
"Defensively, we just didn't have an answer for Burton," UNC head coach Hubert Davis said in his postgame press conference. "Nobody on our team could guard him, and they stepped up and made plays down the stretch. Whether you're at home or on the road, you have to step up and make those plays. We just didn't do that at the end of the game."
Armando Bacot finished with 22 points and 13 rebounds for his eighth double-double of the season and the 57th of his career. He has a school-record 64 double-figure rebound games.
"The second half, we just let it slip away," Bacot. "Playing a team at home, we can't afford to make mistakes and take a deep breath. That's what happens, they beat us."
RJ Davis contributed 16 points and five rebounds despite an off-night shooting the ball that saw him miss 4 of 5 three-point tries. He was 7 for 8 from the free throw line.
Pete Nance scored 10 points while grabbing five rebounds. Leaky Black chipped in nine points and nine rebounds.
The Panthers limited Caleb Love, the ACC's leading scorer entering the game, to seven points on 3 of 9 shooting. Love scored in single digits for just the second time this season and committed a key turnover in the final minute.
After Carolina dominated the boards, 22-12, in the first half, Pitt out-rebounded UNC, 21-16 in the second half. The Panthers scored 42 points in the paint to Carolina's 26 in the game.
The Tar Heels will return to action on Wednesday night January 4 at home against Wake Forest. It will be Carolina's first game in Chapel Hill in over three weeks since a December 13 win over The Citadel. Eight of UNC's last 10 games have been on the road or at neutral sites.