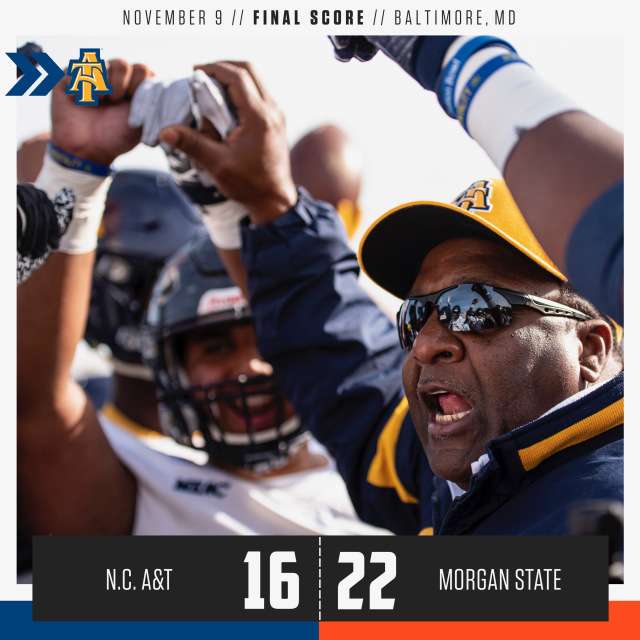 BALTIMORE, Md. – For the second straight season, an underdog Morgan State football team found a way to beat a nationally-ranked team and the defending Mid-Eastern Athletic Conference (MEAC) champions in North Carolina A&T.
This time the upset occurred at Hughes Stadium in Baltimore as the Bears defeated the 14th-ranked Aggies 22-16. But unlike last season, this game counts toward the MEAC standings. Last season when the Bears beat the Aggies 16-13 at BB&T Stadium, it was deemed a non-conference loss because Hampton's departure from the conference created an unbalanced schedule, therefore, teams only played seven conference games instead of eight.
On Saturday, it counted in a painful way. The Aggies are chasing their fourth Celebration Bowl bid in five seasons and their third straight overall. They came in with the task of having to win out to guarantee another berth. But now with their loss coupled with Bethune-Cookman's loss to Delaware State on Saturday, things have become remarkably interesting.
"We just didn't play well," said N.C. A&T coach Sam Washington. "Everything was all about alignment, assignment and effort and I thought we looked horrible in all three areas. We didn't get lined up correctly, we made too many penalties and we didn't get off the field on third down defensively. (Quarterback Kylil Carter) was off his mark. (Running back Jah-Maine Martin) couldn't get it started. I don't know. We weren't very good."
N.C. A&T's path to the Air Force Reserve Celebration Bowl is still pretty simple. The Aggies are 6-3 overall and 4-2 in the MEAC and are in a three-way tie for first place with Bethune-Cookman and S.C. State because the Florida Rattlers, who are undefeated in MEAC play, is ineligible for postseason play and a conference championship.
Therefore, if the Aggies win their final two games, at home against Bethune-Cookman on Saturday, Nov. 16 and at home against rival N.C. Central on Nov. 23, they're headed to Atlanta to play in Mercedes-Benz Stadium against the Southwestern Athletic Conference (SWAC) champion.
The Aggies can also take solace in the fact that they may have had a bad day at the office on Saturday. N.C. A&T's first drive of the game lasted 10 plays but featured four penalties and ended with a rare interception thrown by Carter. It set the tone for the rest of the afternoon as the Aggies committed 13 penalties and another interception in the second quarter that was returned 55 yards led to a Morgan State touchdown.
Yet, N.C. A&T still had a chance to win at the end of the game even though the Bears (2-8, 2-5 MEAC) made in a slim one after they drove 91 yards on 13 plays and scored on a DeAndre Harris 1-yard touchdown run to take a 22-13 lead with 3:27 remaining in the game.
The Aggies answered over the next two minutes by getting into field goal range and allowing junior Noel Ruiz to kick a 46-yard field goal to cut the Bears' lead to 22-16 with 1:20 to play. Ruiz then booted on an onside kick that was recovered by the Aggies at their own 45-yard line. The recovery left the task of driving 55 yards for a game-winning touchdown.
Instead, the Aggies drive was over after four plays giving the Bears another upset win over N.C. A&T. On Monday prior to the game, Washington said Morgan State was the best 1-8 team he has seen in a long time.
"Give their coaching staff a lot of credit. They found us in certain situations and the exploited," said Washington. "But I don't think they snuck up on us at all. We knew they could play. They did things very well and left us dumbfounded."
The Aggies will welcome Bethune-Cookman to the corner of Sullivan and Lindsay at 1 p.m., on Saturday.