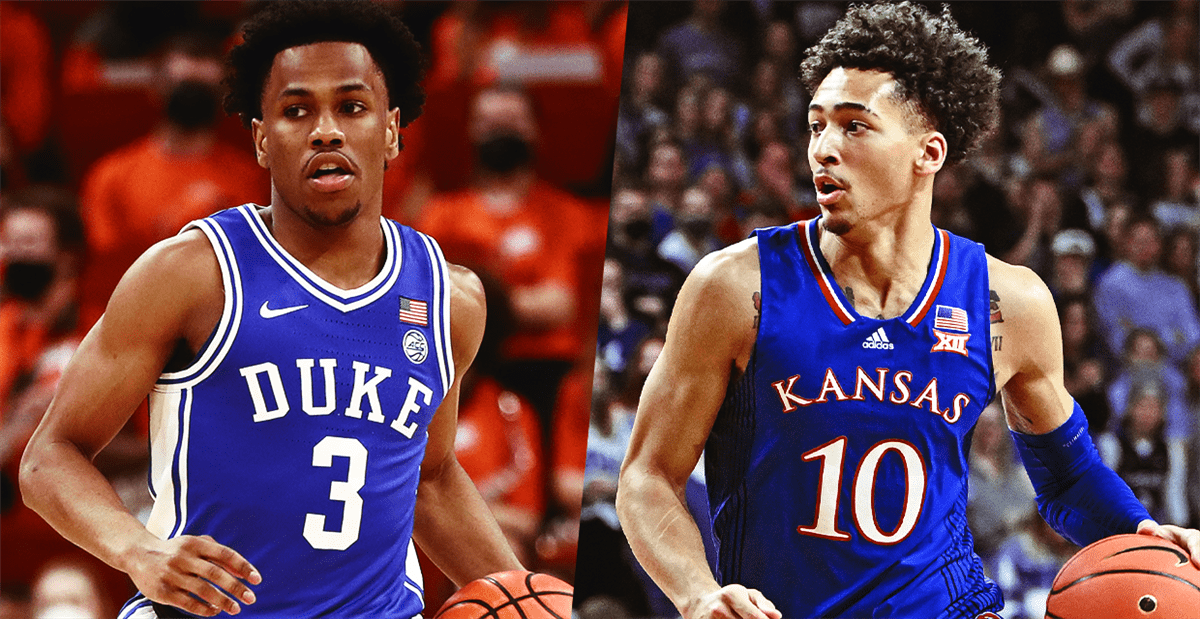 INDIANAPOLIS – No. 7 Duke held a 59-54 lead late in the second half against No. 6 Kansas, but a 15-5 run secured the victory for the Jayhawks at the 2022 State Farm Champions Classic at Gainbridge Fieldhouse in Indianapolis. Kyle Filipowski led the Blue Devils, setting career-highs in points (17) and rebounds (14) en route to his third consecutive double-double.

HOW IT HAPPENED
Duke opened the scoring with back-to-back layups from Jeremy Roach and Kyle Filipowski.
Roach drew Duke within six points, 21-15, with just over eight minutes remaining in the first half.
The junior converted on an old-fashioned three-point play coming out of the final media timeout of the half, cutting Kansas' lead to just two, 27-25.
The Jayhawks held on to a slim lead, 33-29, at the halftime break.
Tyrese Proctor scored four of Duke's first five points of the second half and connected on a three-pointer to give Duke a 41-39 lead with 15:58 to play.
Ryan Young became the first non-freshman to score for Duke in the second half with his layup at the 10:29 mark, ending a streak of 22 consecutive points scored by Duke freshmen.
Filipowski's rebound and put-back layup gave the freshman new career-highs in both rebounds (13) and points (17) and gave the Blue Devils a 59-54 lead with 4:27 left in the game.
Kansas's game-sealing run saw the Jayhawks hit five consecutive shots to claim the 69-64 victory.

GAME NOTES
The game was the 14th in the series versus Kansas, with Duke now leading the series 8-6, including 1-3 in Champions Classic games.
Duke's 7-5 record all-time in the Champions Classic is now tied with Kansas (7-5) for the best among the four teams that annually compete in the event.
All-time in the city of Indianapolis, Duke's record is 12-3.
Duke is now 111-79 all-time in AP top-10 matchups
Duke out-rebounded Kansas, 46-35, including a 21-12 advantage on the offensive glass. Through the first three games this season, Duke has a 57-26 advantage in offensive rebounds.
Filipowski recorded a double-double with career highs in points (17) and rebounds (14). He becomes the first Duke freshman all-time to open a career with three consecutive double-doubles.
Filipowski's 14 rebounds were one shy of Duke's Champions Classic record 15 by Amile Jefferson in 2015 vs. Kentucky.
No Duke freshman has more rebounds through the first three games of a season than Filipowski's 36, surpassing 33 by Mike Gminski (1977-78) and 32 by Zion Williamson (2018-19).
Roach was the other Blue Devil in double figures with 16 points and four rebounds, playing 39:37.
Proctor scored nine points with three rebounds and three assists.
NEXT GAME
Duke hosts Delaware on Friday at Cameron Indoor Stadium. The game tips at 7 p.m. on the Regional Sports Networks.