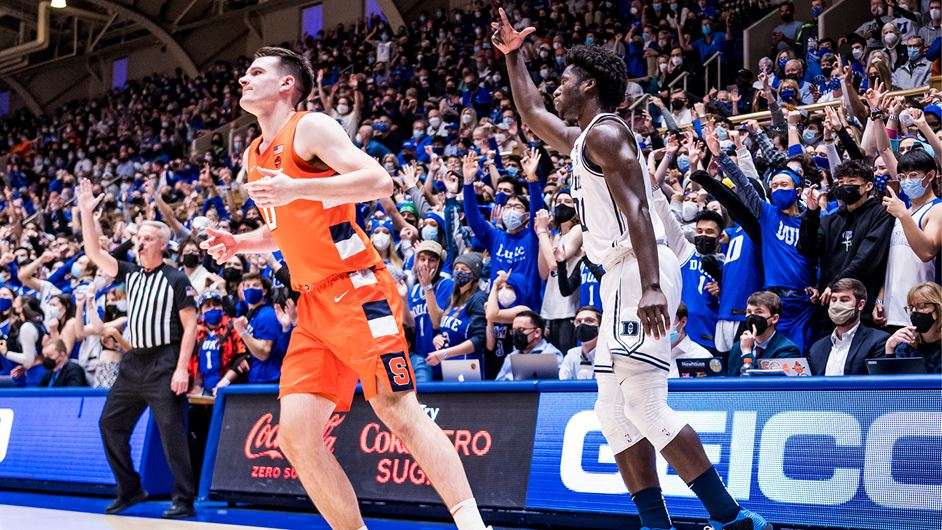 DURHAM – No. 6 Duke hit 14 three-pointers – including five from freshman AJ Griffin – as the Blue Devils cruised past Syracuse, 79-59, Saturday at Cameron Indoor Stadium.
Griffin was one of four players for Duke (15-3, 5-2 ACC) with 15 points, joining classmate Paolo Banchero, junior Wendell Moore Jr. and sophomore Mark Williams. Banchero had 13 rebounds for his fourth double-double of the season.
Jesse Edwards led Syracuse (9-10, 3-5 ACC) with 12 points and nine rebounds. Jimmy Boeheim also had 12 points. The Blue Devils held Buddy Boeheim, who came into the contest averaging 19.2 points per game, to seven on 2-of-15 shooting.
Griffin swished three-pointers on his first two shots to spark Duke's 11-2 run out of the gate. Syracuse surged back with a 13-5 stretch but never took the lead.
A 24-11 run from the Blue Devils to start the second half extended their lead to 27, with Moore tallying 10 points during that span. Duke grew its lead to 31 points during the second half.
Senior Joey Baker had 11 points and sophomore Jeremy Roach dished out a career-high nine assists for Duke. Moore had eight assists of his own as the Blue Devils tied their season high with 25 dimes on 30 made field goals.
Saturday marked the 50th anniversary of Duke's home venue being named in honor of long-time athletics director and men's basketball Eddie Cameron.
Duke is back at Cameron Indoor on Tuesday when the Blue Devils host Clemson at 7 p.m. on ESPN2.