The Carolina Panthers lose to the Pittsburgh Steelers 54-21 on Thursday Night Football. Ben Roethlisberger threw for 328 yards and five touchdowns, James Conner ran for 65 yards and a score before leaving late with a possible concussion and the Steelers pounded the Carolina Panthers 52-21 on Thursday night for their fifth straight victory. 
Cam Newton completed 23 of 29 for 193 yards two touchdowns to Christian McCaffrey and an interception that was returned for a touchdown by Pittsburgh.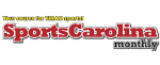 History of Bowman Gray Stadium
Carolina Panthers
Host Desmond Johnson with Rod Funderburk, Brandon Blakney, Aaron Gabriel. Kevin Avery from the...

Gerald McCoy took his talents to the Carolinas and signed with the Panthers.