Boston College vs. NC State: NC State rushed for 225 yards and controlled most of the game before a furious 4th quarter comeback by the Eagles fell just short as the #23 Wolfpack topped Boston College, 28-23. The Eagles were without AJ Dillon who did not travel with an ankle injury. Jakobi Meyers caught 10 passes for 99 yards and a touchdown while Kelvin Harmon caught 9 for 128 and a score as the Wolfpack outgained the Eagles, 533 to 318. NC State is 5-0.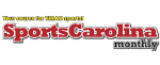 History of Bowman Gray Stadium
Carolina Panthers
Host Desmond Johnson with Rod Funderburk, Brandon Blakney, Aaron Gabriel. Kevin Avery from the...

Gerald McCoy took his talents to the Carolinas and signed with the Panthers.