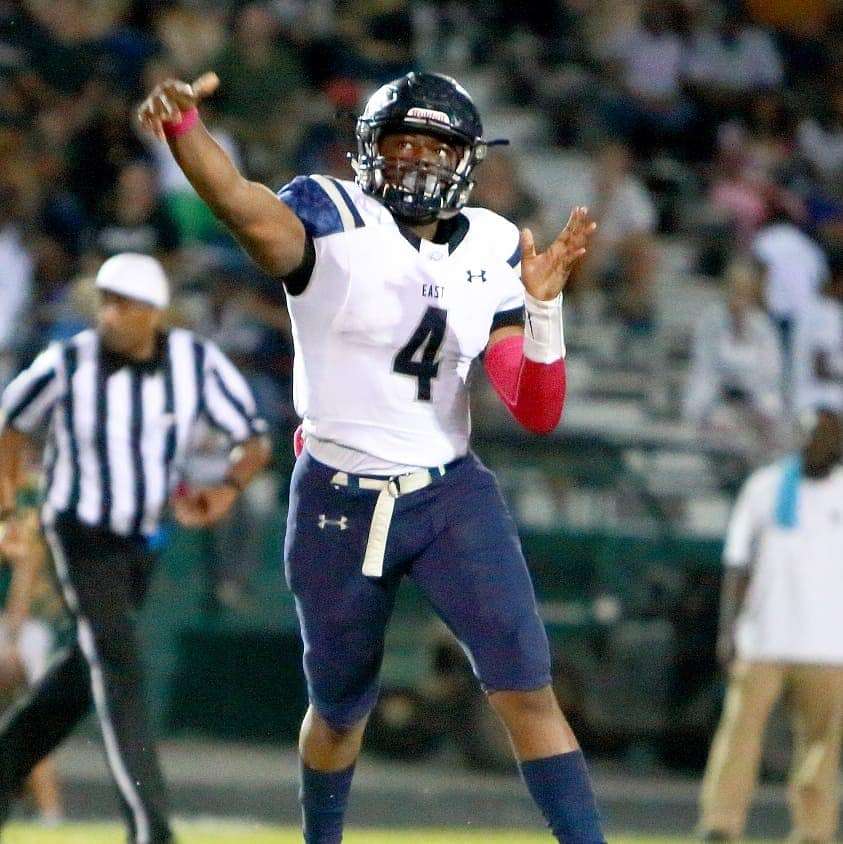 In late August 2019, Head Coach Todd Willert and his East Forsyth
Fighting Eagles started the season in an unfamiliar position.
Defending North Carolina 4A State Champions.
The Eagles had completed a magical season in 2018, going 15-0 and defeating Scotland County in the 2018 4A final 35-28 to win the school's 2nd state title in history, and first since 1992.

Now, a new season was upon them. Full of hope, promise and expectations. But also full of contenders looking to knock East Forsyth off of their newly acquired throne. The Fighting Eagles didnt know it in August 2019…but during the 2019 season they would have obstacles thrown at them like never before. Every team treated a game vs East Forsyth as a measuring stick. East Forsyth treated every game…as business, never personal. Welcome to Myth Becomes Legend 3 – The 2019 East Forsyth Eagles.
I. Preseason
The 2018 East Forsyth Team finished undefeated with a thrilling 4A State title win over Scotland County 35-28. Many players would return for the 2019 season. How did that 2018 season prepare the 2019 team, or did it have any affect at all on the next season? Did you guys use that state title as motivation for the upcoming season? For non players, how did it feel to see the Eagles finally break through after falling short in the past to become the 2nd state championship team in Eagles history with an undefeated 15-0 season the year prior? What were your honest expectations for the Eagles in 2019 at the beginning of the year?
Todd Willert – Head Coach – Finishing perfect in 2018 and bringing back a State title to East Forsyth and Kernersville was a great feeling for me personally. We had been so close a couple times and to finally complete the DEAL was Great!!! Everyone in the Program deserved it and that means everyone who was an Eagle, Players, Coaches, Trainers, Administrators, Faculty, Student body, current and past and the GREAT ALUMNI OF EAST FORSYTH. All the Families, Boosters, Supports, Fans and the Kernersville community.
Going into 2019 we wanted nothing less than another State Title. That is standard now at East Forsyth. I really feel 2018 showed the players and coaches that this Goal was truly reachable. It help create even more focus in the off season in workouts and film sessions.
Torrian Jackson – Senior Defensive End – In 2018, it was my Junior year and I felt the energy in January that we could do something special…something that no other team had done in years. We were stacked in every spot and to finally get over that hump to get to the 4th round was a great feeling and once we got the game plan for the Porter Ridge game, I thought in my head on Monday "we're going to states".
Getting there was just spectacular, it was so much energy in the crowd and the lights were on us that night. When the last quarter ended, every feeling felt unbelievable…it felt unreal. When 2019 started, we needed to build on last year and not stay the same team we were the year before. So it was on the leaders to help with that.
Aaron Beal – Defensive Coordinator As we know every season is a new challenge. What you did the year before doesn't matter…. Going into 2019, I felt really good about the squad we were returning. We had a solid core of players at every position group that were a part of the 2018 championship With that being said our players and coaches knew that we were capable of, not just getting to the big game, we were capable of winning it all. Now we just needed to come together as a team and put in all the work.
Christofer Davis, Senior Offensive Line – I think that winning the state championships in 2018 only caused more hate in 2019. People said we had a one season fluke or that it would never happen again. We gained our own doubt on the team…as I'm sure many didn't expect to win but I have no doubt everyone on the team wanted to win it all. All I wanted was to win in 2019. As a Junior, I didn't play much during the 2018 run and wanted to leave my own story behind.
Doug Lakis – Offensive Line Coach -I was not a part of the 2018 season, as I retired in 2017 from teaching and coaching. I followed the 2018 team with great interest because I had been a part of some teams in recent years that I felt were good enough to win the State Championship, the 2008, 2012 and 2015 all were good enough. The 2018 season was great from start to finish and the team was able to handle various changes in the schedule due to the hurricane in Eastern part of the State. This team made a magical run and quieted all doubters.
Coach Willert asked me to return to the staff in the early spring of last year. Coach Saal wasnt going to be able to coach as he had a couple of health issues to take of. The 2018 OL had 4 senior starters, sometime 5, so 2019 looked to be a rebuilding year up front on offense. However, things seemed to gel through out the spring and summer and by the beginning of the season I was confident that we could be solid up front…although relatively inexperienced. I am not sure that we used the 2018 Championship as motivation but it was certainly the ultimate goal for our time. It definitely was a motivating factor for me as I had still never experienced the thrill of winning the State Championship. As for my expectations for the 2019 team, I really wasnt sure what to expect. We lost alot of key guys and had to count on some inexperienced guys to step up.
Ty Lyles – Junior Quarterback The 2018 team prepared the 2019 team, because they showed us it was possible to win it again and that we could do it. We used it as motivation because we wanted to get back and win another one. Honest expectations were for us to go back to back and be successful.
Ron Horton – Offensive Coordinator I think the 2018 teams win over Scotland County made the title a real goal to be reached as opposed to a dream. We used the 2018 title as the new standard for the players and coaches to strive for both on and off the field. The title in 2018 was just an amazing feeling of validation for the years of hard work and getting so close but falling short. I felt like the 2019 team had a chance to be really good but I wasn't sure about a title. I felt like we were 3rd round at worst
and championship caliber at our best.
Allen Plaster – Athletic Director It felt very good to see East Forsyth finally break through and get the 2018 State Championship. Coach Willert had been knocking on the door to get to a State Final and just couldn't seem to get over the hump. He was finally able to get over the hump in dramatic fashion going undefeated. Understand that over the last 10 years East Forsyth's record was second to none in the area and across the state, but winning a State Title just put icing on the cake. Honestly, going into 2019 I thought we still had some pieces to make a deep run in the playoffs, but we just kept having injuries and they started in spring practice.
Jacob Fletcher – Junior Offensive Line – I think that it was very important we had guys returning because those guys provided the type of effort and discipline needed in order to replicate if we wanted to go back. The 2018 season was definitely motivation because we knew where we wanted to go and didn't want to be the senior's class shadow. In 2017 I was a freshman at East High School and a freshman on the JV team and we played against a school called Harding University and to see our guys give it everything they had and to lose was tough but when we made the historic run in 2018 it was as if it wasn't just for the 2018 team, it was for every team before that and the guys that had built the mentality and laid the foundation on how to be great person and also a great player for East Forsyth.
After the 2018 season a lot of people were talking and thought our 2019 was a year to rebuild and lose in the playoffs, but for me it was to go back to a State Championship and prove it wasn't fluke why East Forysth was there… and to prove to myself that I could play against some of the best talent in the State.
Walk us through those first practices in July/August 2019 as well as the offseason training sessions. Was it hot? How did you feel about the talent level and experience returning for the 2019 campaign in those early camps? Are there any instances you can recall those practices that was noteworthy looking back on the season as a whole? How were the coaches? Were they hard on the players? Did the Players run the practices considering the amount of upperclassmen on the roster? Who were the players that stepped up and took charge early? What major injuries did the team experience in the offseason/early season that affected the mentality going into week 1? Talk about key player additions to the Varsity that stepped up and showed leadership early in the process.
Eric Jones – Co Defensive Coordinator – In the off season it was obvious that we were going to have plenty of talent, we were just inexperienced in some areas specifically the secondary losing all 5 starters from the 2018 team. Jordan Timmons, Javon McCallister, and Jabaz Gorman were all transfers who would end up making major contributions for the secondary in the 2019 season.
The off-season was a little different defensively because we had to replace so many starters but again the talent level was no different. We had guys who stepped up and became more vocal on the defensive side of the ball, such as Elijah Thomas, Sincere Pitino, and Big Tomaz Johnson!
Jordan Timmons, Junior Defensive Back – Starting in July, it was hard and very rough. It was like this though out the whole summer. The chemistry was off because we had so many new players from other schools including me.
Offensive Coordinator Ron Horton – The off season was different than before as we had less time. Banquets, awards and ring ceremonies pushed our start back further than normal. 2019 team had returners but not many bonafied leaders at the beginning. They guys were confident, but the group was different. It
didn't have the same motivation as 18 in fact the staff had to work to find the right buttons to push that would motivate this team. It was hot and I can remember several days inside as there were heat restrictions all the time.
Offensively, we couldn't deny the loss of five senior offensive lineman and two starter senior wide receivers. I felt like the skilled group would be
fine as Ty was back along with all 4 senior RBs but that there were big question marks upfront. I think the coaches were hard on the players as always but I think we quickly realized that 2019 was totally different then 2018. The team make up changes annually but 2019 didn't have the ultimate motivation of never getting to the mountain top. 2019 needed leaders
to step up and lead and early on it wasn't clear who they were.
We had several to step up like Ahmani Marshall, Ty Lyles, Brennan Conway and Chris Davis. Injuries hurt us early as Micah Crowell went down in spring. Our senior center Tyler Akers went down before the
first game. We got Chance McCloud who transferred in and played on the offensive line.
Christofer Davis – During the first bit of workouts, it was a lot chemistry issues I felt. In the beginning, you start with a lot of guys you call friend on the team, but by the start of the season they are weeded out because they are toxic and hurt the team. It was always very hot but that's because we were fired up and if we weren't, coach Stu or someone would make sure to light up the fire. The thing is at East the fire doesn't burn out, all we want is to win.
I think the biggest injury was our center Tyler Akers when he was hurt. Tyler Akers is not only one of my best friends, which came from football, but he also hit harder than anyone out there. Standing 5'10 plying center and eating 200 pounds is not easy but he always wanted to prove everyone wrong. His love of the game and his ability to lead was a game changer which ended when he was hurt in mini-camp.
AD Allen Plaster – During July and August I think the coaches were excited and ready to work, but the injury bug kept rearing its ugly head. Not always was it an athlete lost for the season, but they would miss 2-3 weeks. Then another player would get hurt, etc. Coach Willert kept telling the staff and players, "Next Man Up" and he stuck with that motto all season long.
Ty Lyles – Off Season and summer workouts were definitely tough and we were grinding it out the whole time. The talent level was there and the team looked solid. I can remember everyone trying to pay attention to doing the little things correct and working hard every rep. The coaching was tough and the players on the team were helping the coaches in certain situations. Team was battling lots of injuries throughout the year, but we over came them and people stepped up.
Head Coach Todd Willert – A few things I remembered in the spring were all the college coaches coming to watch our workouts and spring practices. It created a great energy for the players and coaches. The injury to Micah Crowell in the spring was our first major obstacle for the 2019 season. It really took the wind out of me for one simple reason, you hate to see an injury to any player and Micah was working so hard, you just feel so bad for the kid and family. With graduation of Nick Childs and Mizell Hall then Micah's injury we just lost our top 3 receivers in yards. However, Ty, Ahmani and Robbin just kept the guys going on offense.
Another big key going into the 2019 season was the addition of Doug Lakis back to the staff as the Offensive Line coach. Coach Saalwetcher was out for the season because of health reasons so I turned to my good friend and long time coach of East Forsyth, Coach Lakis. He knew our system and we didn't miss a beat with him taking over our offensive line that was only returning 2 starters from the 2018 season.
Asst Coach Doug Lakis – For me the spring was key, I didn't know the Offensive Line very well and I needed time to get to know them and more importantly for them to get to know me! We had a great spring, kids worked hard and seemed to grasp what we were trying to do. I thought they were focused on winning the state from the get go!
Who did you guys consider your top rival or competition going into the 2019 season? Local or statewide? There seems to be a lot of chatter online on social media from envious players and coaches from area teams. Was that sense there in 2019, coming off the state title the year prior?
Head Coach Todd Willert – To be honest I truly feel top to bottom our conference (West, Glenn, Reagan, RJR, Davie) we play in is the toughest in the state. On any given night during conference play you know it is going to be a battle!!! Plus, we set up a tough non- conference schedule. However, we feel that gives us an edge once playoffs start. We even set up a tough scrimmage schedule. We started by traveling down to Raleigh to the Roleville scrimmage. Then we scrimmaged Reidsville who has more state titles than I can even count. But the biggest thing we tried to set up was to play Mallard Creek at the West Forsyth Scrimmage but the weather did not cooperate so that never got to happen. I truly believe a lot of people were disappointed not getting to see that match up.
Christofer Davis – Our top rival always is Glenn but our hardest game was surely West Forsyth. The West versus East game has been hyped up since the beginning of the year, pulling in the largest crowd I have ever seen at the nest. I remember walking through the stands where I started to feel like I was suffocating and then we did our run down onto the field. Once I touched grass, it all felt like normal and it was just another game.
Defensive Coordinator Aaron Beal – Like I always tell people there is never a week off when you play football in the CPC conference. Every team is capable of beating you if you're not focused and you don't bring it during the week. You then take a look at our Non Conference schedule with those teams you see every week we're playing Top 20 teams in the State.
Jordan Timmons – We knew Grimsley and West Forsyth would be our toughest match ups. But we knew no knew no team in the state was as talented as us.
AD Allen Plaster – I consider our rival in the area to be West Forsyth and Glenn. A lot of chatter online about Charlotte area schools being better and the teams we had to play to get to the State Championship. At the end of the day there are always gonna be people who hate on teams that are successful for various reasons, I think Coach Willert and his staff are going to continue doing the things that have gotten them to where they are now.
Asst Coach Doug Lakis – The biggest rivals for us had to be West Forsyth, Glenn and Grimsley. In the small 4A, Grimsley was far and away our biggest challenge. The area players and coaches are always talking and wanting to steal the thunder. The biggest thing for us was to stay focused on what we need to do not worry about other team.
Jacob Fletcher – To us we didn't really see people as rivals because every game we knew it was just another game and tried not to get wrapped in the hype because we knew we had bigger games to come in the playoffs but the chatter online said that Glenn, Grimsley, and West Forsyth were gonna give us a run for our money.
Offensive Coordinator Ron Horton – Id have to say West Forsyth, as our games are always a good matchup and we get each other's best. The county really turns out for the game and the atmosphere is always crazy. We tried to make the current week's opponent the most important, but rivals are just different. I think we expected a great game from Grimsley as well. I didn't sense it from other coaches but online it was apparent. We tried to use it as a source of motivation as much as we could.
II. Regular Season – First Half
First game of the year was a 35-23 road win over AC Reynolds. Do you remember anything about this game that stood out to you? Any particular plays or situations? Anything about the game you can remember, weather, hot? Cold? How did AC Reynolds play? The past two seasons, East Forsyth has opened the season on the road vs tough quality teams. Whats the mentality of the team on the road vs at home at The Nest?
Head Coach Todd Willert – Just looking at our 2019 schedule we knew every Friday night was going to be a battle. The first game going to AC Reynolds was a great first test for us. AD Coach Plaster and I felt it would be great to play someone new and put us on a long road trip to give this 2019 team that traveling experience right at the start of the season. I was really looking as a Head Coach to see how the coaches and players would react to the trip and playing the new competition that we were not familiar with.
Right out of the start I saw after that Friday night game vs ACR that this squad was ready for the new challenges that laid a head of us for this 2019 season. We knew we had even a BIGGER Target than usual on our BACKS this year being the reigning State Champions. We saw the difference Javon McAllister (aka Brick) and Jabez Gorham were going to make with basically a new secondary from 2018, with Brick having 3 interception on the night and Jabez recording 11 tackles on the night. Plus, another question mark was Elijah Thomas our other inside linebacker…could he fill shoes of Kaleb Lundy from 2018. Well ET had 20 tackles on the night and sealed the game in 4th quarter with a pick 6 for over 50 yards. He answered a lot of my questions that night.
Ty Lyles – AC Reynolds was a competitive game we started off slow but controlled the game. The game was hot and we played in the middle of the mountains. Both ways we go into the game with the same mentality and are ready to kill.
AD Allen Plaster – It was a great road win for us against a very good AC Reynolds team. After the first quarter of the game, it was a pretty even game. When we scheduled the game, Coach Willert knew it wouldn't be a cake walk and we would have to come ready to play. We also wanted to make this game like a playoff game. With school not being in session we could leave when we wanted to leave, stop along the way and eat pre game meal, play the game, and the feed the kids afterwards. I think all things were accomplished…..Safe trip up and back and a "W"! The Nest is a hard place for visiting teams to come into and win because of our fan support, student section is always loud and proud. But I do think we are very good on the road as well. I think knowing that we are going to get everyone's best shot make us mentally ready to play.
Torrian Jackson – Every year we love to start off the year with good teams and A.C Reynolds was nothing shy of great. They had slow starts like us, but they got in the groove. For me, I felt like I had something to prove, so that game capped off 4 sacks for the start of the year. It was a crazy game but at that moment I knew I would have a great season.
Offensive Coordinator Ron Horton – The stadium for AC Reynolds was amazing, but I don't think it contributed to our struggles. We were inconsistent in the first game as we worked through the kinks. We knew we had young talent to go along with some returners but some of the young guys really stepped up and made plays. The big run by Ty Lyles early was important to say the least. I also think the vertical for a score to Jamison Warren was huge for us. We left a bunch on the field but it was a win so we were happy with that. AC played like a team with championship tradition and never quit.
The Nest is just different. There is a level of comfort in being at home. I do think we embraced playing road games as we understood that they were imperative if we wanted to win another title.
Jordan Timmons – The first game showed that Coach Willert had faith in us early in the season by taking us hours away to play one of the top teams in the state! Also it really showed us how playing on the next level would feel like.
Defensive Coordinator Aaron Beal – I remember us driving through a monsoon of a thunderstorm when we hit the mountains about 20 minutes from the stadium. Your 1st thought is… are we going to get this game in? Man, it would be awful to drive all the way up here only to have it get postponed because of thunderstorms? I was getting messages from friends who were coaching games back in the Triad. Their games were all being cancelled left and right……You immediately have to get your thoughts under control and focus on your job.
Once we arrived the storms subsided and it was go time! I always get excited about those Week 1 games. We've been grinding since January and the moment is finally here! AC Reynolds is a very athletic, well coached team. I didn't feel we played our best football on defense that night, but we did play well enough to go into a packed hostile environment and come away with a win. It always feels great to start a new season 1-0.
Christofer Davis – A.C. Reynolds was only a tough game because the lack of chemistry in many positions. There was even a lack between Ty Lyles and the offensive line for a little bit. I could write about the whole game probably if I wanted to. Basically, there D-line wasn't lights out but they just had speed that was hard to match. Their linebackers and our starting RB Ahmani Marshall would get into the usual trash talk and the O-line was just struggling against specifically #5 I believe. It was this tall, fast and skinny kid who should have been catching passes, not rushing the QB. They kept calling stunts to make them twist on the interior which really was mainly screwing me up. Coach Lakis yelled at me a few times of course and at one point he switched me from guard to tackle. My one play I remember is the first play I was switched from guard to tackle I was angry. Number 5 lined head up in front of me, he was angled outside of my shoulder so I knew he wasn't going to twist or slant. It was a run play to my side and I decided to take that kid as far back as I could. I drove him back about 18 yards before the play was over, easily too if I may say so. After this, all confidence came back to me and he did not continue to beat the O-line.
Asst Coach Doug Lakis – Opening the season at AC Reynolds gave us a good look at where we were and what we need to fix. They were one of the 3 best teams we played all year. We weren't in School, had 3.5 hr bus ride and the threat of thunder storms was in the picture all night. We started fast, building a big lead and then were able to hang on and beat a very good team. I was pleased with our younger guys stepping up and not being intimidated. Playing on the road is harder because the routine is different especially when you have to travel a long way to play.
After a tough week one win on the road in Asheville vs AC Reynolds, the Eagles returned to Kernersville for their first home game since December 2018. The Opponent? Southwest Guilford, from nearby High Point.
The Eagles would explode with 21 unanswered points in the 2nd quarter. The Eagles rushing attack, led by Senior RBs Ahmani Marshall with 181 yards and Robbin Smith with 101 yards…would rush for 393 yards as a team and manhandle Southwest Guilford 49-13 to move to 2-0 on the season.
Second game of the year was a 49-13 win over SW Guilford. This was the first home game for the Eagles since Dec 2018 and the first home game since winning the 2nd state title in school history. Describe this battle……the offense rushed for 363 yards in this contest. What does it feel like when the Eagles offensive line gets going and can you tell early on what type of day its going to be? Coach Willert mentioned on his weekly coaches show, The NEST, that he had challenged senior RB Ahmani Marshall to be more assertive after week 1. What changes did you see in Marshall's running style from week 1 to week 2 and how did the offensive line adjust to be more attacking?
Head Coach Todd Willert – It was a great feeling coming home and to play at the NEST. So excited to play in front of the home crowd since winning the State Title. It is hard to explain but playing at the NEST just gives you something extra on a Friday night. It is truly a special place to play and you can ask past players and current players it is a GREAT environment to play in. As a Head Coach it is always great to know you can count on the O-Line. It makes game planning and play calling so much easier.
Week 2 also showed me that the O-Line had bought into Coach Lakis, the Offensive Line Coach. I challenged Ahmani to run and finish runs with a lot more force or maybe you could say anger. He was such a big powerful Back that I wanted defenses to feel him when they tried to tackle him. I believe Ahmani ran for over 180 yards and had a couples touchdowns in the game.
Jordan Timmons – When the offense is able to move the ball easily on the first drive, we knew that games would be very much easier for us! Because we knew that our defense would get stops.
Asst Coach Eric Jones – It's always good as a defensive coach to know that the offense can run the ball against the opposition. We were fortunate on our offense to have 7 or 8 offensive lineman that can start any given night and play at a high level. It's also fun for a Ty Lyles to the snap and hand it off to 4 or 5 talented running backs. It was a great offensive night and win for the Eagles. Jabez Gorham had a great game on defense.
Jacob Fletcher – I think the first game back at home energized the whole team and the O-Line was able to capitalize on the energy of the team and it allowed the offense to get the confidence they needed. Marshall really stepped up and started to use his 6'1 215 lb frame and really became more physical and made sure to hit the hole hard. It allowed him to get the yards needed to really make it a dominant performance. The offensive line was constantly told during the week to win the point of attack and be physical and it was evident in that game.
Offensive Coordinator Ron Horton – It was good to be back at home after a solid win on the road to start the season. Our crowd was pretty crazy contributing to a great HS football atmosphere. The run game was working as evidenced by the 300 plus rushing yards. I think it is extremely demoralizing when an offensive line can lean on a defense with a great deal of success. Southwest played hard and early on, the outcome was not set. I think we gained steam as the game went on and we were able to impose our will.
Ahmani seemed to take the responsibility for the running game vs Southwest. He was aggressive and punishing defenders all game. I think that the offense as a whole was better after an inconsistent first week. I think we played faster which is a staple for our offense and allowed us to keep them on their heels.
VIDEO COURTESY OF GAME OF INCHES HS
Asst Coach Doug Lakis – The Southwest game was a good night for us rushing the football. We were more aggressive up front than we were the week before. The RBs ability to run in the hole really helps the OL stay on blocks longer. Our running backs very rarely were tackled on first contact so that helps the stats. We love to run the ball and its really satisfying at the end of the night to see a big number of rushing yards. When the OL gets going, I want to run the ball every play! HA! HA! We played with much more confidence in Week 2, we came off the ball better.
Christofer Davis – Week Two was wild. Our best offensive lineman was out, Jaden Lindsay, the pancake machine. I had to move in to take his place. So normally I start at right guard but the week before I played right guard and tackle and then I was taken out to left tackle. Switching from right guard to left tackle is just like playing Xbox with inverted controls plus you have to block their best player all game.
SW Guilford really played into our hand almost. Having a running back like Ahmani Marshall, you can't run a 3 man front against him. Once he breaks into open field he pulls out his inner Derrick Henry with the Marshall twist. He can be elusive, he can be power, Marshall Is the all around back that you can trust in. Number 15 was their best player for sure, but you could read him like a book. He was a team captain also, about 6'3 or 6'4 and about 230, a very solid kid but very nice too. Coach Lakis said that we were doing man on man blocking, so basically look straight ahead and go hit the guy in front of you. I was a little worried about playing guard all week in practice and just being thrown in at tackle the day of the game. It started out tough, I even let a screen get knocked down but I never let #15 their captain of the team make one tackle. This is the game I won offensive player of the week
Marshall, a Wake Forest signee, would continue to rack up rushing yards and scores in the weeks ahead…first he would stack-up 193 yards in a week 3 week over Mt Tabor…
Week 3 saw defensive battle as East defeated Mt Tabor on the road 24-9. Did you notice something clicking with the defense in practice that week? Can you remember standout performances from any players that week, offense or defense?
Video courtesy of WFMY News 2
Head Coach Todd Willert – Against Tabor the defense only gave up 131 yards and only 40 of those yards came on the ground. That is something special against a great program like Mt. Tabor. Thomaz Johnson was the leader on the defensive line that night having 10 total tackles and 2 tackles for loss. And every D-Line guys dream…an INT!!! A big play down on the goal line as they were threatening to score. Jordan Timmons also had an interception in the game that night. Any night you can come away with a win versus Mt. Tabor is a good night. Coach Brown does such a good job over there.
Jordan Timmons – Mt Tabor was our first real test because the defense had to step up and and get stops because the offense wasn't moving the ball effectively during the first half of the game but after a halftime speech from our coaches we came out in the second and played Eagles football!
AD Allen Plaster – Going into the season I was a little worried about our defense because that is where we lost the most starters. But the defense stepped up and we were able to pick up a big road win.
Asst Coach Doug Lakis – Mt Tabor was one of the best defenses we saw all season. They were big and fast. We struggled at times up front but when we need to move the ball we found ways. It helped us up front when we played better defenses. The guys gained confidence every time.
Christofer Davis– I started something new versus Mt. Tabor I didn't do yet. I started researching the person I was blocking from linebacker to D-like, I knew almost every single one of their names. I can't remember them now but I made sure to watch all of there highlights and find there size or Instagram or something just to know the person. It's something I liked doing, film is actually fun for me. Anyways, we came into this game knowing they had an amazing defense and I think Javon Cobbs and McAllister realized we had to step it up this game. The defense did amazing and as expected there's did good too. They had interior lineman who were about 6'3 290 and were strong as an ox. I think I walked out of this game with two pancakes.
My one play I remember is there was this linebacker, I feel like (his name was) Max or something, but him and Ahmani had been talking trash all game. So it was close to the end of the game and we had a run to the right side where I was lined up. Basically I double teamed with the center up to this kid who had been talking trash to my running back and I drove him back into another kid while Ahmani sped by for a 35 yard touchdown. He looked at me and he said " you aren't good" so I pointed at Ahmani and said "maybe I'm not but with him I don't have to be, scoreboard". Looking back it's really dumb but also it was funny.
Week 4 saw another Eagles win this time 46-7 home winners over Parkland. Parkland had entered the game 3-0 along with the Eagles but would play the game without their star QB Camian Shell who was a game time scratch.
What is it like to prepare for a week keying on stopping a particular player in the game plan….and then finding out hes not playing right before the game…how does that affect focus? 4 weeks in and you guys were 4-0 after this game. How was media coverage at that point? Did the media pay attention to the Eagles yet or were you still flying under the radar…considering you were the defending 4A state champs?
Video courtesy of Under the Radar Highlights
Head Coach Todd Willert – The one thing we worry about at East is us. We heard things all week that he might not play but we just stayed focused on the bigger picture and that was a way to find a way to WIN. We game plan for certain players but at the end of the day football is the ultimate team sport and Parkland still had some dudes on the field. The biggest difference was most likely for Parkland because I am sure Shell brought a lot of leadership and that was gone. The biggest take away from the game for me was that I could see the defense getting better and better.
Jacob Fletcher – I think we don't build our plans around one player but their play style but when having changes like that it's not as big a deal because the team is able to adjust on the fly. The focus is always there, it doesn't matter who we are playing. We know we have to show up and play and if we don't we could lose the game. I think we had some media coverage but not as much as some people were expecting at this point people still believed we were rebuilding and didn't have a chance at winning another state title. I think the teams we played were paying attention and they really wanted to beat us. Still under the radar in the media.
Ty Lyles – Didn't stop our focus we just had to make better adjustments and be ready to stop them no matter the situation. 4-0 felt good but we were hungry, but the media was nice. The media was messing with us. But we were out there but not paying attention to the media.
AD Allen Plaster – Another big win at home against a good Parkland team. I know our guys would have liked to play against Shell, but regardless preparing to win all week and then winning on Friday night is always satisfying. I think the media was paying attention to the Eagles but I don't think they were sold yet that we could win back to back State Championships. I was getting more emails and calls about media outlets wanting to ask questions and come take pictures or cover games.
Jordan Timmons – Parkland game was a very big game for me because it's my old school that I came from so I took this game a little more serious then everybody else on the team. As we warmed up before the game we had seen that there starting quarterback was not playing and we have prepared for him scrambling around all week so once we seen him not playing we didn't know what to expect so Coach Beal just told us to play football and don't worry because the offense is going to put up points.
Defensive Coordinator Aaron Beal – Parkland is another team that has tremendous talent. Whenever you prepare for such a dynamic player all week then you hear 10 minutes before kickoff he's not playing you don't go into panic mode and change the game plan. The plan is the plan and you just go out and try to execute the best you can. Our guys stepped up to the challenge and played great that night. As far as being 4-0 its always great to be unbeaten but then again so were a lot of teams in our area. The season is a marathon not a sprint. As cliche as it sounds we just enjoyed that until Saturday then it was let's go 5-0.
Asst Coach Doug Lakis – Great win vs Parkland. Once again we improved upfront and were really started to become dominant. We pretty much were able to do what we wanted. A lot of times if you prepare for something all week and it doesnt happen it messes things up for a little while until adjusts are made. Our defense played lights out that night regardless who was at QB.
Christofer Davis – I don't know who that guy is exactly (Shell) because I'm on the offensive side of the ball. I would imagine it makes it easier because if you change up your strategy really quickly for one player I bet that's not easy on the team but if you just play a team like you usually would everything is fluid and comfortable. The media headlines looked like this, "Eagles beat easy competition, Will they crack under pressure?" Or "When does the Eagles luck run out". Basically anything to still bring us down. I think it stays this way until Grimsley or so.
Week 5 saw a familiar triad Rivalry with Greensboro Page. Former Metro 4A rivals for years, the game used to determine the winner of the Metro 4A conference many years ago. Today, it was for bragging rights and to keep an unblemished record intact…The Eagles Defense came to play that evening, racking up 6 sacks and an interception from senior Defensive back Jabez Gorham. East Forsyth would rout Page, scoring 29 points in the 2nd quarter…..
East defeated Page 49-7 to move to 5-0. Describe the feeling around this game. Page was having a down year but do you still consider Page one of the Eagles biggest rivals? This game would set up an undefeated showdown with Grimsley, a conference game that would have implications down the road later in the season. Did you sense anyone was looking ahead to one of the biggest matchups in the state the following week?
Video courtesy of Game of Inches HS
Head Coach Todd Willert – No doubt East and Page rivalry has been big and that is why we try to keep each other on the schedule to keep it going and to keep the Alumni into the rivalry as well. Back in 2008 our first conference title as a staff and first title in a long time as a program for East came because of a big win against Page that year. I remember Ty (Lyles) having a big night trowing for like 350 yards I believe and having 2 guys with over 100 yards in receiving Ahmani Marshall and sophomore Da'mon Stoke. Defensive had a big night with like 5 or 6 sacks and over 10 tackles for loss. Seniors Elijah Thomas (LB) and Ahmad Rousseau (D-Line) had big nights. You start thinking as a coach if we click like this on Friday nights another championship could happen.
Ty Lyles – The Page game was hype and both teams were ready. Page is technically considered a rival for East Forsyth dating way back. Yes, there was a lot of talk going into the game but it didn't affect us as a whole.
Asst Coach Eric Jones – Page is another program rich in tradition but was not having a typical Page season. Collectively East played another good game in all three phases of the game. The D Line and Lb's provided constant pressure that allowed the secondary to make plays. Personally I do not consider Page a rival. Once the game was over, we were ready for the week ahead of us.
Jacob Fletcher – I think Page is a good rival, but to me I think the cross town rival Glenn is the biggest to me because we grew up with a lot of those guys and we all like to talk trash to one another. Yeah we had momentum coming out of the Page game and had a huge upcoming game against the Grimsley Whirlies that was clash of the titans and it was highly anticipated as the biggest match up of the season.
Asst coach Doug Lakis – Page is always a big game for us. We are normally 2 of the best teams in the area. We always have a good idea were we stand after playing page. This past season were better than Page and our kids played like it, I dont think anyone looks past Page, we love playing them. We did an outstanding job blocking up front as the usually have a very good DL
I would like to say that I thought the OL was becoming one of the keys to our success through the first part of the season. They guys answered the call every Friday. It felt great to be back and working with these guys.
Christofer Davis – I remember before the Page game, both teams had a prayer for a kid who passed out during practice and I never found out what happened to him but I hope he is alright. I think the Page game isn't as much a rivalry as it used to be, but I think it was a staple game for us before going into Grimsley. It was to show we can run up the score on teams and we messed up a lot. We had so many mistakes as a team from penalties to whatever and still destroyed so if we were to put together a perfect game it would have been lights out on anyone.
I was just looking forward to Grimsley honestly, which turned out to be my two personal best games was against Grimsley. I do have two things I loved about the Page game. Another one of my good friends, LJ, (he plays left guard this game) wasn't having his best game. He ended up getting very angry and one play drove a kid from the 15 to the end zone on a run play. On film it's funny because you see LJ pancake his guy in the end zone and then I run into the end zone blocking my guy and pancake him at the same time. So we destroyed that play basically. The other thing I loved about this game is that we got some of the 2nd team in. My friends Darin, Brady, Arturo all got in and drove the ball too. With 30 seconds left on the clock the 2nd team drove the ball all the way to the opponents 8 yard line…
Offensive Coordinator Ron Horton – We always expect the best from Page who is tough, talented and well coached. The players knew the task at hand was a significant one despite the pirate's record. We preached how important it was to not look forward to the next game and allow a tough-minded team to catch us not focused.
AD Allen Plaster – Page has some very good athletes, so I don't think our coaches or players were looking ahead to the Grimsley game. We wanted to beat Page and remain undefeated. I know Coach Willert preaches to the players don't look ahead, focus on who you are playing now.
Jordan Timmons – We will always see page as a big game at East especially this year because it was our homecoming and you know you can't lose your homecoming game so we stayed focus all week and got the job done that Friday.
Defensive Coordinator Aaron Beal – As a defensive unit going into that game we had to be eagle eye focus! Page had a very athletic QB that could hurt you in multiple ways. We also knew on defense that you had to be prepared for every single thing on film you've seen…. you also have to prepare your guys mentally on defense, because Coach Rolfes is always going to pull something out of his hat that you've never seen and his team is going to run it on offense like they run that package every single week. It's one of those things that if he sees you're not aligned the correct way to that thing he's going to run it and run it until you prove you can stop it. So when he does show that wrinkle you've never seen, don't panic just communicate. Going into that game we had a great week of practice on defense and I felt good about our chances. The team came ready to play and we had a great night. Anytime you can beat Page like that it's special because it doesn't happen very often.
As far as looking ahead goes I never felt our team was ever looking ahead. Again, we're playing Page and if my memory serves me correctly they beat us on the last drive of the game in our house 2 years earlier. Plus, like I said you don't have the luxury of looking ahead when you play in the CPC and you have a non Conference schedule like we play at East Forsyth.
As far as being 5-0 it was great! I've heard it said that a loss can make or break a team but trust me a Win can make or break a team just as much if you're not careful because you can get comfortable and slack off. You sleep on a win and you'll wake up with a loss. So we enjoy it like any other win for a few hours then it's on to the next one…
COMING UP…Part 2 as the Defending State 4A champion Eagles enter the tough part of the 2019 schedule and face adversity and setbacks on the road to Chapel Hill…
Author Desmond Johnson is a proud 1996 graduate of East Forsyth. He is the owner of Sportscarolina Monthly and currently serves as Play by Play analyst for East Forsyth Football via the SCM Radio Network. He is the host of The Rundown with Desmond Johnson available on Youtube and producer of "The Nest with Head Coach Todd Willert" and East Forsyth Football.