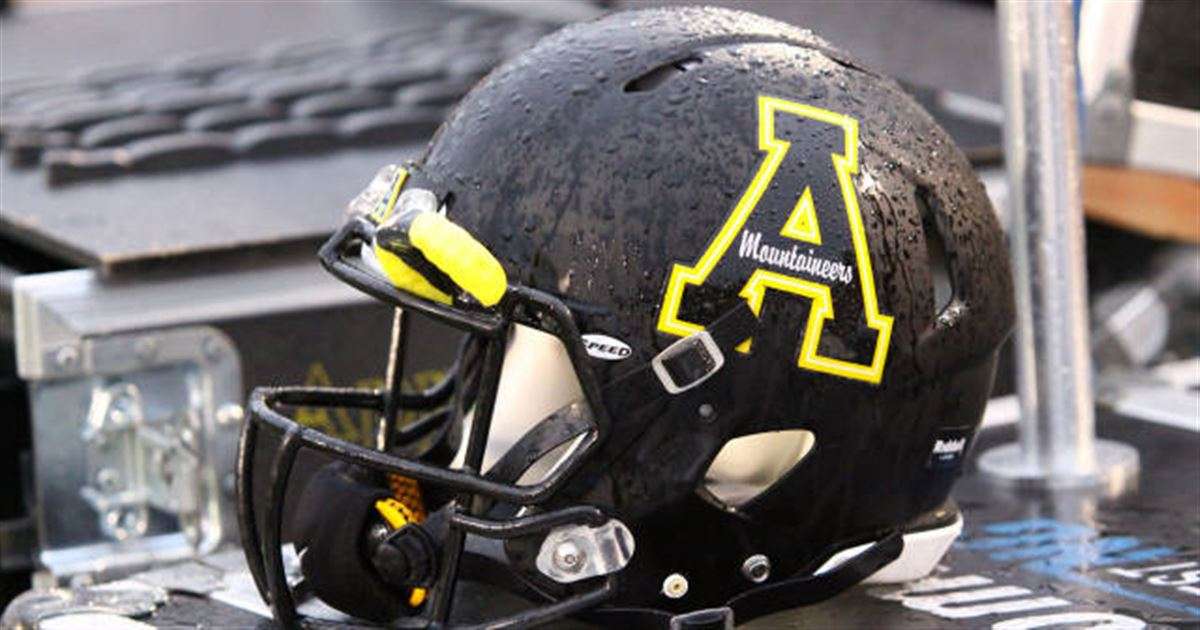 By Bret Strelow | App State Athletics

BOONE, N.C. — An unforgettable day at App State began with ESPN College GameDay's first visit to Boone. It then delivered a second unbelievable, historic ending at The Rock.

Call it Miracle on the Mountain: Part 2.

Chase Brice's 53-yard, Hail Mary touchdown pass to Christan Horn — with help from 6-foot-4 teammate Dalton Stroman's crowded tip at the 5-yard line and Kaedin Robinson's sealing block after Horn made a circling catch of the tip at the 8 — gave App State a thrilling 32-28 win against Troy in their Sun Belt Conference opener.

Thrilling. Historic. Unbelievable. Unforgettable.

What other adjectives are fit to describe all that transpired Saturday in the High Country?
"Wow. I'm thankful for a win and proud of our players for playing 60 minutes," App State head coach Shawn Clark said. "That's what our program is built upon — never giving up. I think God's a Mountaineer today."
Twenty years after App State won the original "Miracle on the Mountain" game by returning an intercepted two-point conversion pass for a go-ahead two points with seven seconds left in a 16-15 home win against Furman, App State (2-1) pulled off a shocker with no time remaining on the clock and, by the end of the celebration, no shortage of stunned reactions from players, coaches and fans who had congregated on the stormed field.
Just like country music star Luke Combs and beloved GameDay personality Lee Corso predicted, with Corso wearing Yosef headgear to close GameDay's appearance in a packed Sanford Mall in the center of campus nearly seven hours earlier, App State did indeed beat Troy.

No one expected it to happen like that.
"It was a surreal moment," Horn said. "I'm still in awe, honestly."
"I threw it, and I'm looking. I'm praying," Brice said. "I see the tip, and Christan, I see him come across, catches it in his breadbasket and I'm like, 'Nobody's there. Nobody's there.' I didn't know what was going to happen, and nobody knows what's going to happen.
"It's like jumping in the (duck) pond with our students. They don't know what to do, so I was in that position. I didn't know what to do, so I started running, hands going up. I run in the (Rock) Garden area, I'm high-fiving people, and I'm noticing people jumping out of the stands. I'm actually helping people down, and I'm like, 'Here's a hand. Here's a hand.' "
Brice's incompletion on a fourth-and-goal pass from the 2 gave Troy (1-2) possession with 1:13 left and a 28-24 lead. The Trojans took a fourth-down safety on purpose instead of punting from the end zone, leaving App State with just 20 seconds to field a free kick and score. Three straight incompletions from the App State 47 set up one final heave with two seconds remaining, and it took three receivers to create one successful, viral connection between Brice and Horn.
The actual name of the play? "Big Ben" — similar to a 63-yard Hail Mary that Florida used to beat Tennessee in 2017, when current App State offensive coordinator Kevin Barbay was the Gators' director of player development.
A crowd of 34,406 fans witnessed more history, although some of those had to return to the stadium after leaving with App State's chances of a victory looking bleak. Immediate fireworks above the north end zone facility signaled to many that something amazing had just unfolded nearby.
It was the fourth-largest crowd in Kidd Brewer Stadium history and the biggest crowd for a non-ACC opponent.
"To have College GameDay here in an atmosphere like this, it was super cool to see that (Friday) night into today, just the fans going crazy," Brice said. "I saw some phenomenal signs out there. I think we left a lasting impression on the College GameDay crew. They were pumped for it, and we were excited for it. A lot of people want to talk about the distraction of it. I think it wasn't really a distraction and didn't really get us off course. I want to give credit to Troy.

"I thought both teams played really hard. I think it's special for Boone to have College GameDay here, and ultimately none of that was too much of a distraction for our team in the long run."
Brice threw for 278 yards with two touchdowns, Camerun Peoples gained 84 yards on 17 carries and Daetrich Harrington added 58 more yards on the ground while scoring a 19-yard touchdown. Horn led App State with 98 receiving yards, and Robinson's 68-yard day included a 42-yard gain.
Nick Ross recorded a career-high 12 tackles and Andrew Parker contributed 10 for a defense that forced one turnover and totaled three sacks.
An already fired-up crowd had more reasons to cheer when Dexter Lawson Jr. intercepted a pass on the first play from scrimmage, giving App State possession at the Troy 38.

Brice's 11-yard pass to Miller Gibbs and Peoples' 10-yard run set up a trick-play touchdown, as Dashaun Davis took a handoff from Brice and threw a high-arching, 17-yard touchdown pass to fellow receiver Christian Wells.

Troy responded with a 13-play, 75-yard touchdown drive in which it went 3-for-3 on third-down conversions and scored on DK Billingsley's 19-yard touchdown run.

App State recorded three first-quarter sacks, with solo efforts from Tyler Bird and KeSean Brown being followed by a combo deal from Nick Hampton and Hansky Paillant, but quarterback Gunnar Watson had two 1-yard sneaks for touchdowns in the second quarter.

Brice's 18-yard touchdown pass to running back Anderson Castle tied the game late in the second quarter but Troy drove 75 yards in 82 seconds and scored on the final play of the half. Keeping its offense on the field from the 1 with three seconds left, and after a long wait with no signal on the sneak, Watson was credited with a tiebreaking score.

Receiving the second-half kickoff, App State tied the game with a nine-play, 75-yard touchdown that included a clutch third-down grab by Horn and a 19-yard touchdown run by Harrington.

App State's defense made a key stand inside the red zone, benefiting from a missed 32-yard field goal, then went 74 yards in the other direction before taking a 24-21 lead on Michael Hughes' 23-yard field goal.

The Trojans moved back ahead with a 12-play, 64-yard touchdown drive that ended with 10:10 left, and App State's offense ate up almost nine minutes with a 17-play, 73-yard march. That drive included a fourth-and-3 pass to Gibbs for 7 yards to the Troy 27 and a fourth-and-3 pass to Ahmani Marshall for 4 yards to the Troy 5, but a third fourth-down attempt from the 3-yard line wasn't successful.
Two run stops, each followed by an App State timeout, preceded a third-down run that allowed Troy to run the clock down. The intentional safety covered five seconds, and Marshall's 13-yard return of the free kick consumed five more.
Three straight incompletions triggered another fourth-down passing opportunity for Brice, and that one will go down in history.
"If you watch the tape, it's to a T how it's supposed to be done," Clark said. "He goes up and touches it, and you have Horn come in and get it. The most impressive thing on the whole deal is Kaedin Robinson blocking for him, just like we practiced it.
"Practice execution is game day reality, and our kids took that to heart."