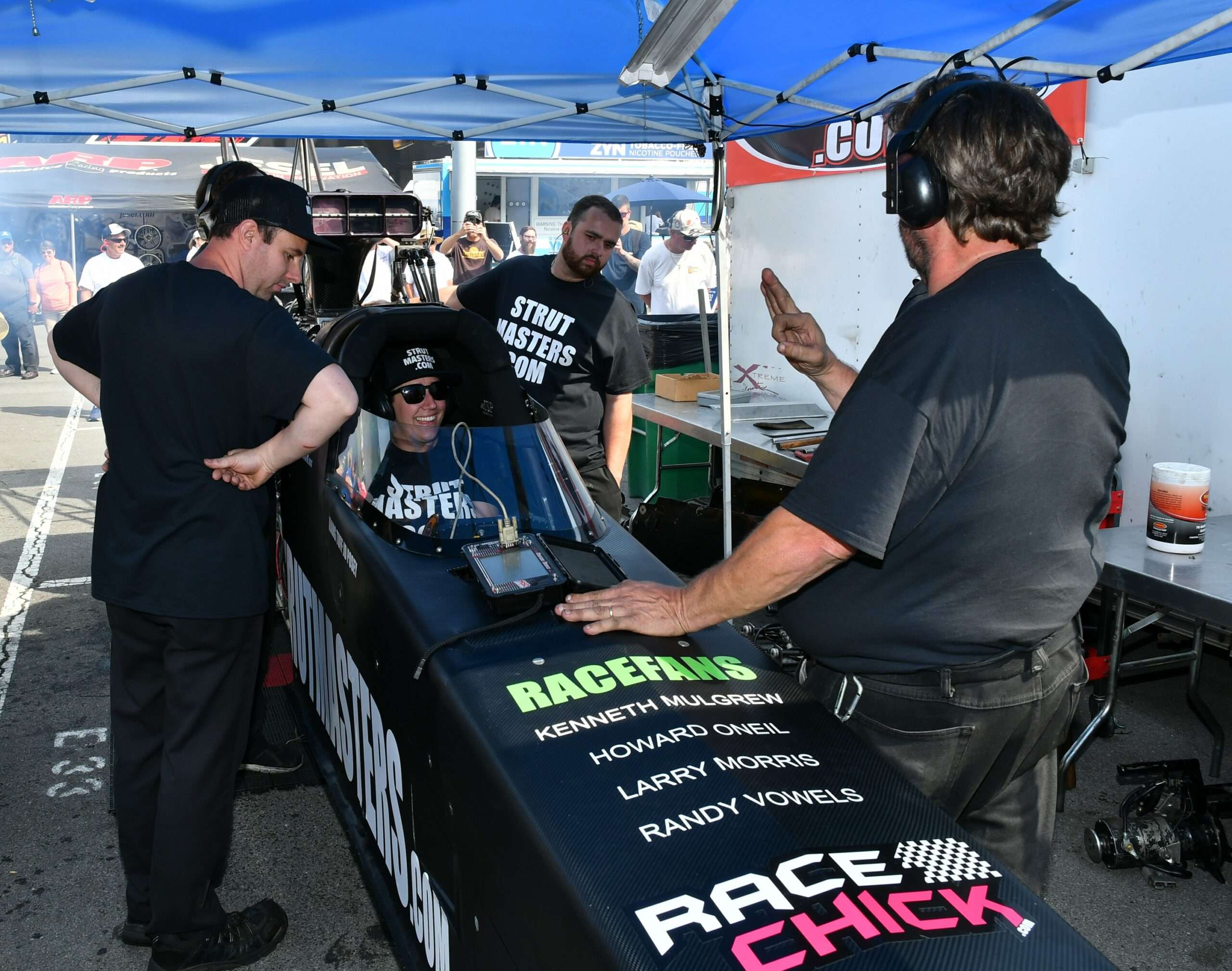 The comparisons to icon Shirley Muldowney are inevitable and so is the scrutiny that will come with them when Pennsylvania drag racer Audrey Worm tackles the NHRA's Top Fuel class in 2020 as an owner and driver.
"I am just trying to live my dream and Shirley is the only woman to have accomplished what I am setting out to do," said 27-year-old Worm, trying to join Muldowney as the only female owner/drivers of an NHRA Top Fuel dragster. "I am honored to even be mentioned in the same sentence as her."
Muldowney blazed the trail decades ago, winning 18 National Hot Rod Association major events and three Top Fuel world titles – mostly in dragsters she owned and maintained with the help of her son John. She was also the subject of a move, "Heart Like A Wheel," released in 1983.
"Shirley set the bar pretty high for every lady drag racer out there, including me," said Worm, the daughter of front-engine Nostalgia Dragster builder John Worm. "Shirley is an icon, one of the best of all time – male or female – in my opinion. Nobody can fill her shoes. I just want to race full time and owning my team is the best way for me to make it happen."
When Worm competed as an NHRA Top Fuel rookie in 2018, she joined some exclusive company. Less than two dozen women have competed in the NHRA's fastest machines, the nitro-burning Top Fuel rail dragsters. Even fewer have won at that level: Muldowney, Lucille Lee, Lori Johns, Shelly Anderson, Cristen Powell, Melanie Troxel, Hillary Will, Leah Pritchett and Brittany Force. Only Muldowney and Force have won Top Fuel titles.
"I think the idea of a woman competing and winning in the NHRA really isn't a big deal anymore," said Worm, who started racing at 16 in her father's Nostalgia Dragsters. "With Shirley leading the way, I think our sport went over that bridge a long, long time ago. We've had many lady winners and several champions at the various levels."
Worm added: "Drag racing is way ahead of NASCAR and Indy Car and most of the other major racing organizations when it comes to female participation. When you put that helmet on and strap in the car, most of our fans don't care whether you're a guy or gal. They just want to see good competition. Shirley was the first woman to run well on a consistent basis, but there have been many other solid female competitors since. The difference with me, is I want to own my team AND drive the car."
The team owner function, Muldowney has said, is like taking on a second job.
"We were on the road more than 300 nights and we netted about $5,000 once all the bills were paid," Muldowney was quoted in a 1981 article. "I did all the bookkeeping in my hotel rooms at night. I carried a calculator and checkbook with me everywhere I went. It was a lot of work trying to drive and do everything else. You have to love it."
Worm said her operation will have her husband Aaron and father John playing key roles in 2020 to make the economics work. "We try to do as much ourselves as we possibly can," she said, "because we simply don't have the funding like most of the larger teams have. We work on the cars, everything from the fabrication work to putting the sponsor decals and wraps on it. My husband and I just want to be able to do this fulltime next year. We're already doing everything, plus working a regular job. I think we could really have an awesome team when we get to where this is all we do."
The team acquired solid associate sponsorship from Strutmasters.com, a family-owned suspension company in North Carolina, that will enable her to at least get to the track regularly. She is actively looking for a larger partner to "do the nitro dance" at all 2020 NHRA national events.
The fuel bill alone for an NHRA Top Fuel team can be a killer. The 500 cubic inch engines are custom built and include special fuel injection systems and a super charger that combine to create somewhere between 10 to 11,000 horsepower. They consume between 15 to 20 gallons of nitromethane each time they make a pass down the track.
"That stuff isn't like putting diesel in your truck," Worm said with a laugh. "With nitro about twenty bucks a gallon, it's like $350 to $500 in fuel alone every time we run that beast down the track. It's definitely an expensive sport at our level."
Making the decision to leave her current team – Michigan-based Leverich Family Racing – at season's end, Worm has been trolling the NHRA pits for the right used equipment.
"My girlfriends are all out shopping for fun stuff like new jeans or shoes and stuff," she said, "but I'm looking at 25-foot-long rail cars and engine parts. Welcome to my world."
Her entry into that world, began when she was about eight years old. "That was the first race I can remember my dad took me to," Worm explained. "It was at Maple Grove Raceway in my home state. I'll never forget that day. It changed my life. All I ever wanted to do since was drag race."
That desire led to time spent in her father's fabrication shops as a young girl. "I would hold some of the metal tubes in place while he welded them," she recalled. "I was so scared I was going to get burned, but I did it anyway. I wanted to spend time with my daddy and I wanted to learn. He built 169 of those really cool dragsters in his shop and I helped on a bunch of them."

After just one pass in a five-horsepower scaled-down Junior Dragster (the preferred choice of most youth in the sport), Worm said she just "took over the driver's seat" from her father's Nostalgia Dragster that he raced on weekends.
"I was 16 when I got in it and there was no looking back," she said, pausing to smile. "There was no way I was letting him drive again. I did it about eight years and won several races. I loved it!"
Worm admits there will be naysayers because she has "skipped over so many classes" going from the 160-mile-an hour Nostalgia Dragsters straight to the fastest machines in the sport. But she has a very good reason for being in such a hurry.
"My father was diagnosed with an early onset of Parkinson's Disease in 2004 and the same thing took my grandfather's life," Worm explained. "I want my dad to be around to see me do this, so I have no time to waste. We talked about it as a family and decided that owning our team was the fastest way to get it done. So, we're taking the plunge and living the dream."