On the latest segment of Live With Brandon Blakney, Prep Hoops Charles Clark hops on after an action packed Triad First 48! The event hosted at Forsyth Country Day School featured some of the top high school basketball prospects from around the Triad battling it out all under one roof! Checkout who caught our eyes and really separated themselves from the pack.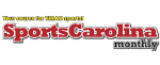 History of Bowman Gray Stadium
Carolina Panthers
*CatMan! R.I.P. Brother *Shaq Thompson wanting to retire here *Camp Battles Part 2 *Monty's...

Over his one year as Panthers owner, David Tepper has shown he's the agent...