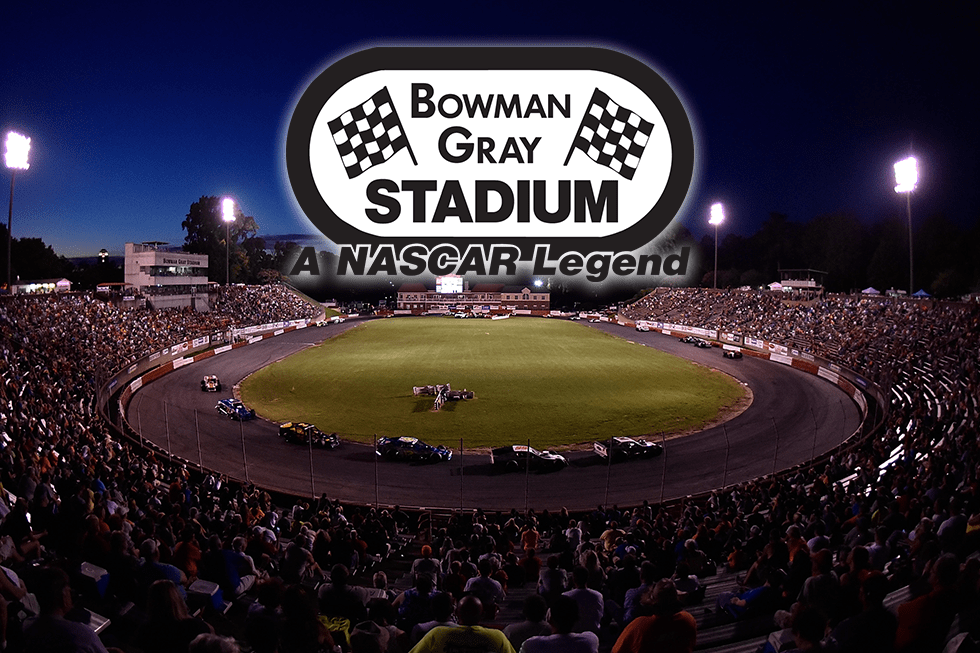 James Stewart – SportsCarolina Monthly
Back in 1968 for my 7th birthday, my brother took me to Bowman Gray Stadium for the first time. I was hooked…he says that was the biggest mistake he ever made!! Pee Wee Jones won that night and since he was from Clemmons and I was from the neighboring town of Lewisville, he became my favorite. Even though I begged every week to go, he took me about 10 times over the next 6 years.
In 1973 I had a 3-year-old cousin that idolized me…whatever I did, he wanted to do. He lived next door and if I was out shooting baskets, he would come over and chase the ball down when I missed. If I was in the field behind the house practicing my hitting, he would chase the balls and bring them back to me. So I told him about the races after going to the 1973 season opener and of course he wanted to go. So he tells his dad, my uncle, about me going and said that he wanted to go to. His dad promised he would take him the following Saturday. Of course my cousin wanted me to go with them, and much to the happiness of my brother, he never had to take me again. My uncle took me and paid for my ticket every race in 1973, 74, 75, 76, and in 1977 until I got my driver's license!!
In 1977 4 buddies and me, all with new drivers licenses, hit the road for races. For 1977 and 78 we were at a race every weekend from the Martinsville Speedway season opening Dogwood 500 modified and sportsman doubleheader to the Martinsville Speedway season ending Cardinal 500 doubleheader. Hickory, Caraway, Asheville, 311, Orange County, Charlotte, North Wilkesboro, Rockingham, South Boston…sometimes 3 races in one weekend!! But we were at Bowman Gray every Saturday night. One of my buddies was Jerry Reeves and his brother Junior raced a street stock that we helped with.
When Pee Wee Jones retired from racing in 1972 I began pulling for Ralph Brinkley, who had just recently moved to the modifieds after winning a Hobby championship, He won his first modified race June 16, 1973 and from July 21 to August 11 of the same year, won 5 straight races, capping off the season with his first of 8 championships driving a modified Corvair sponsored by Hayes Jewelers. Then in 1974 driving the Hayes Jewelers Vega, he won the first 4 races of the year in route to a record-setting 13 wins in one season, which by the way still stands today….and his 2nd championship. Enough about him, back to me, lol!!
In 1979 I couldn't stand it any longer and after graduating high school on a Friday night, Saturday morning, while most of my friends were heading to the beach, I bought a race car! Much to my parents chagrin!! After watching Tony Hulin win 10 of 12 street stock races in 1978, I was gonna put an end to his dominance!! The car I bought for $600 from Monroe York who had driven it the year before was a black and white 65 Chevelle #33. He had blown the engine the first race of 79 and parked it. So after getting it to my house, 3 of my buddies and me removed the blown engine with an old-fashioned block and tackle. Now what to do? About that time the 4th buddy pulled up to see what was going on. We caught him up with details and asked if he knew anyone with a straight 6 engine around……he asked to use the phone.
My friends knew my house like they knew their own…they also knew my mama always had fresh, homemade biscuits sitting on the stove!! When he came back out, with a biscuit in hand, he told us his daddy had an engine just like we needed in his basement, if we would come and get it, I could have it. It was just a stock engine…it had been sitting in his basement for a couple of years. So off we went a few miles around the bend to his house where we manually picked the engine up and set it in the back of my dad's truck. The 4 buddies sat in the back steadying the engine while I drove back. We dropped the engine in by same block and tackle, changed the oil in it, hooked up everything, and when I hit the starter button, it magically roared to life! Oh, this buddy was Lee Stimpson, former Blunderbust and Street Stock winner and sometimes modified driver, brother to former Street Stock champion Kenneth Stimpson, and uncle to current street stock driver KJ Stimpson. By this time it was about 5:00…I grabbed some black paint, changed the second 3 of the 33 into an 8, making it #38, loaded it up, and got to the stadium just in time to miss practice!! So with no practice, I chose to start last in my first race…mind you, I had never driven a race car on the track.
As the 20 lap race progressed, I found myself passing cars, missing wrecks, and when the checkered flag fell, I felt I had a top 10 finish…I knew the winner never passed me so I was on the lead lap. No radios back then and I was pleased. When I got into the pits I drove the car right on the trailer. My dad was the first to congratulate me on finishing…it was the only race he ever went to. One of the buddies then came up and told me they had me finishing 4th!!! Wow!! A couple of drivers complained that a first time driver couldn't have beat them, but the scoring stood and I was paid a whopping $40 for 4th place!! Spider Kimel won the race and told one of the complaining drivers that he passed him twice and never passed me, so get over it!! Well, my thoughts of ending Tony Hulin's dominance went for naught as he had moved up to the limited sportsman division. It's just as well….that first race was my best finish of the year. I did have another top 5 and a couple of top 10's, enough to win the 1979 street stock rookie of the year. That last race though was a doozie!! Due to the Winston 350, yes 350 laps for the modifieds, running long the week before and thus the curfew stopping the street stocks from running, we were running a 40 lap race on the last night and opening the show. I started 7th and by lap 37 had worked my way to 2nd place when the caution came out for a blown engine. As we lapped the track under caution, I felt that I could get past the leader if I could get a good jump on the start. When the green flew I jumped to the inside and dived into turn 1….except the car kept going straight….into the wall. Caution again. I backed up, thinking the track hadn't been cleaned good, put it in gear and was gonna burn out of there, Except I went straight into the wall again…this time harder…the right front wheel was at my windshield post, and my season was over. On inspection the next day it was discovered that my steering box had locked up and even though the steering wheel turned….the wheels didn't!
So over the winter the 65 Chevelle body came off and was replaced with a 67 Chevelle body purchased from former limited sportsman and then modified driver Bill Wilder. The crunched up frame was straightened with a tree and a come along. Lee Stimpson painted the car for me and the number was changed to my favorite number, 57. When Bowman Gray opened on May 3, 1980, I drew the pole for the first race of the year. Excited for the new year to begin, I missed a shift on the start and fell back to 8th before I got back in line, eventually finishing 6th. The next few weeks were bad draws and finishes between 10th and 15th. The last race in June before the annual 4th of July break maybe would fare better as my girlfriend, now my wife of 35 years, Tracee, drew the pole for me. Riding around under caution before the green I really felt this was going to be a season changer…and it was…but not the way I hoped. I led the first 3 laps until the first caution came out….because of my blown engine. At least we had the next week off to get another engine although I had planned to race at Caraway on the 4th.
As for the next engine, I was trying to decide where the $$ would come from to buy one as I wasn't getting rich racing. Lo and behold, a next door neighbor that bought junk cars had just bought an old bread truck that had…you guessed it…a straight 6!! He gave it to me for mowing his yard a couple of times!!! I told him I would paint his name on the car! The buddies and me pulled the engine out of the truck and put it in the 57 and we were ready to go again.
After the 4th break was a couple of rainouts, then a couple more bad draws and so so finishes, one a wreck that tore out the grille and busted the radiator when I tried to go between 2 spinning cars and the hole closed up. 2 tops 10's the next 2 races, and that brings us to the last race of the year. A couple of drivers were battling for points and were very close. One of them approached me before practice and handed me a $100 bill and said I could keep it if I would take the other guy out. I took the money and after practice went to the other driver and told him what happened. He laughed and then he gave me a $100 dollar bill and said I could keep it if I would take the first guy out. I took the money! I had no idea what I would do but the draw helped. I drew 3rd and the other 2 drivers drew 5th and 6th. As luck would have it, I guess you could call it that, going into turn 3 on lap 1, I blew another engine, and although not intentionally, took out both of the drivers that had given me $$!! Mission accomplished!! That ended my season, but it was also the biggest payday I ever had at the Stadium…$210 for 1 race!!
Knowing I was getting married in 1981, I parked the car, hoping to some day race again. After a couple of years it didn't happen and I sold my car to Pat O'Brien. The 2 years I raced I had sponsors, but most of them were help and not money. My Uncle Carl, the uncle that took me to the races when I was young, owned the Lewisville Shell Station and was my primary sponsor. I would get any parts I needed on the store account at the then Lewisville Auto Parts and he would pay for them. I also got my gas each week from the Shell and added a little Octane 104 boost! He also owned and operated H Carl Stewart Hauling and Grading.
My friend Kyle Pearce supplied the tilt bed trailer with which we hauled the car…his business was Kyle's Bikes and Mowers. Jersey City Sport Shop made us 2 dozen team tshirts for their spot on the car. Clay Stimpson Building supplied the first engine, Sunbeam Bakery the next. My car was strictly stock….not cheated up like most are today. My buddies and me were all teenagers and we did all the work ourselves….no radios, no modern equipment. We used country boy technology, even fighting off copperheads while lying in tall grass to pull a rear end out of an old junk car. Everything was hand painted and hand-lettered, no vinyl graphics and wraps like today. For all I spent and invested on the car in 2 years including purchase, I broke even when I sold it. Not many can say that! $$ spent on purchase….$$ spent over 2 years…experience and fun….PRICELESS!! I had a blast! Since then I've not missed many races and have been a sponsor on cars in every division, helped a few drivers, but mostly now, just a fan again. Sometimes I get the itch, but I just scratch it away.
A couple of years ago my wife bought me a Richard Petty driving experience for Christmas. I went to Charlotte and had an 8 lap average of 150mph…the cars in the group I was driving in were governed at that speed. That was a blast also, something that was on my bucket list. Still, sometimes the Stadium beckons….I'm not getting younger though, so I'll just take my seat in Section 8 and watch….it's my weekend relaxation!!
Oh yeah, and since Ralph Brinkley retired, I stuck with Hayes Jewelers and now pull for Tim Brown. 10 championships, most all time wins, most all time poles, and fastest lap ever…I guess he'll make it!!!