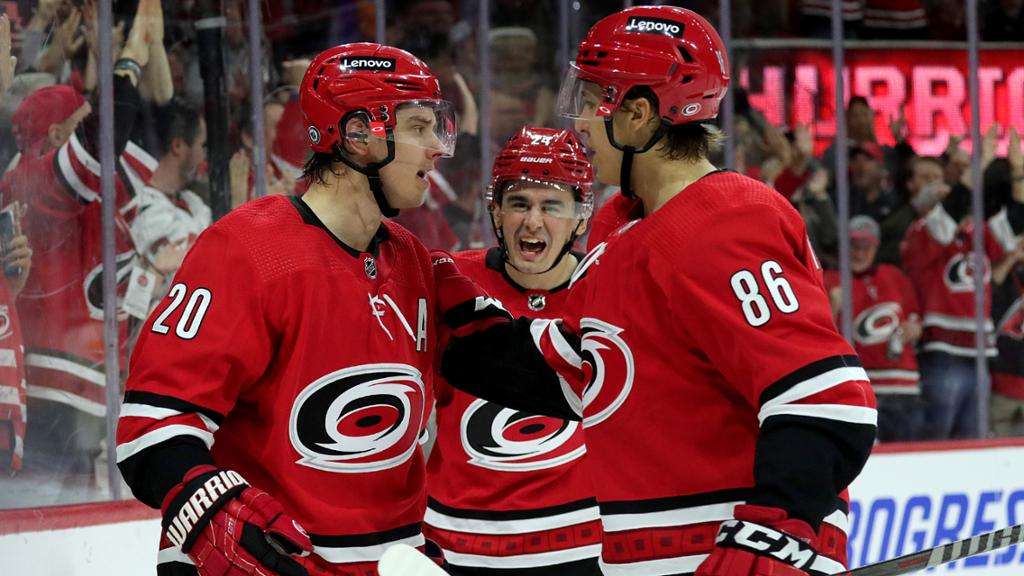 By AIDAN JENSEN
All momentum the Carolina Hurricanes had in the first two rounds is no longer.
They have scored three goals in three Eastern Conference Final losses against the Florida Panthers, who are one victory away from advancing to the Stanley Cup Finals.
Carolina's latest blunder came on Wednesday, May 22, when they dropped a 1-0, defensive battle on the road in Game 3.
Yes, this is the same Carolina (0-3) team who scored 24 goals in five games against the New Jersey Devils. The same squad who turned previous games into a track meet with their precision passing and ability to out-skate opponents. The same group who limited an explosive offensive New Jersey team to five goals in four losses.
So why are these Canes struggling to put pucks in the net?
Two words: Sergei Bobrovsky.
After playing through an up-and-down regular season in which he carried a 24-20-3 record, 3.07 goals against average and .901 save percentage, Bobrovsky now looks like the same goalie who previously won the Vezina Trophy (NHL's top goalie) twice.
Bobrovsky saved all 32 shots he faced in Wednesday's Game 3 shutout. He now has 132 saves through three games.
In his last five starts, all in the playoffs, Bobrovsky has over 200 saves.
If you're simply just looking at the box scores, Carolina is struggling offensively. You could say they're not putting pucks on net or creating chances.
That's not true.
The Canes have created plenty of chances – whether skating past Florida's defense to the net, creating turnovers and earning odd-man rushes or sending shots in from the blue line, a Brian Burns specialty. They outshot the Panthers 32-17 in Game 3.
Stefan Noesen had arguably the Canes' greatest chance in the opening period of Game 3.
Burns pushed the puck around the boards to a waiting Aho, who found a streaking Noesen behind the Panther defenders. Noesen kept skating, gathered the puck with his stick and snapped a wrister high on Bobrovsky.
Shot saved.
Early in the second period, it was Noesen's turn to find Aho for a solid opportunity.
Noesen won a puck battle with Florida's Aaron Ekblad, then passed to Aho in front of the net. Aho powered a shot high on Bobrovsky, only for it to be saved – again.
Aho had another chance moments later on a one-timer – denied.
Carolina challenged Bob throughout the game's remainder, but none as much as the previous two chances.
The Panthers, meanwhile, converted one of their few chances when Sam Reinhart scored a second-period powerplay goal. He took a pass off a faceoff win and blasted it just over the right shoulder of Canes goalie Frederik Andersen.
That goal was all Florida needed.
You can point to Carolina's plethora of missed chances – they hit the post three times in Game 3.
It's tough thinking the Canes wouldn't have scored against any other goalie – Bobrovsky is playing like the postseason's best goalie by a mile.
It's also tough knowing that, despite your strongest efforts every night on the ice, there is a brick wall of a goalie in Bobrovsky standing between the pipes.
If Carolina wants to pull off a miraculous comeback from a 3-0 series deficit (best to seven games), they're going to have to burn through Bobrovsky and make him uncomfortable. The Canes have that next chance, on the road, Thursday, May 24 at 8 p.m. on TNT.
All the Canes need is one puck to bounce their way.
Follow us on Social media for the latest news on the Carolina Hurricanes
Facebook: SportsCarolina Monthly
Twitter: SportsCarolina Monthly and Aidan Jensen