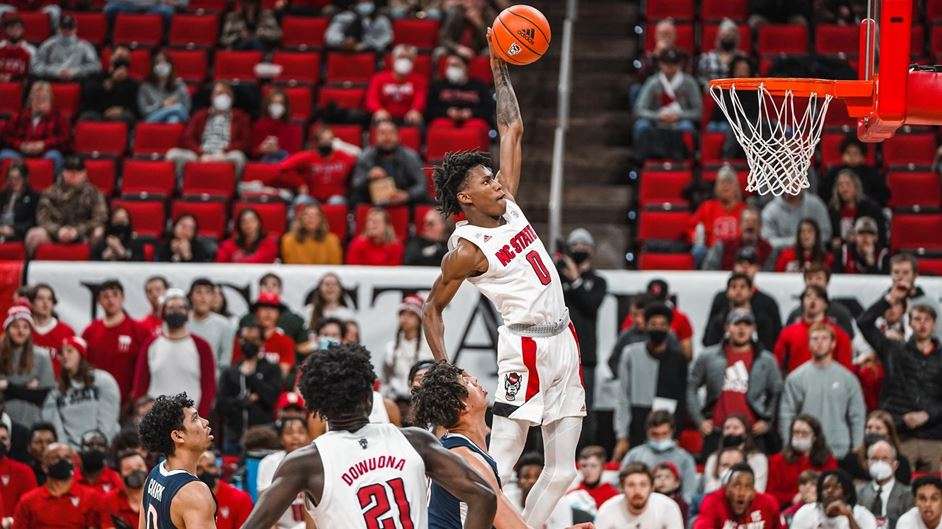 RALEIGH, N.C. – The NC State men's basketball shot a season-best 60 percent from the field to knock off Virginia, 77-63, Saturday evening inside PNC Arena.
The Pack's 77 points were the most allowed by Virginia this season and NC State's 60 percent shooting for the game was only the second time in 417 games as head coach of Virginia that Tony Bennett's squad has given up a 60 percent shooting performance to an opponent.
Jericole Hellems led the Pack with 21 points on 8-of-12 shooting, including 5-of-9 from three-point range. Terquavion Smith added 20 points on 8-of-13 shooting and shot 4-of-7 from three-point range.
Dereon Seabron continued his streak of scoring in double figures in every game this season with 13 points and led the team with five assists.
Former Virginia player Casey Morsell added 12 points on 5-of-7 shooting and had a team-high seven rebounds.
NC State tied its season-high with 12 three-pointers in the win and also outscored UVA, 34-16, in points in the paint.
NC State used a 38-11 run that spanned both halves to take control of the game.
Virginia led 26-18 with 8:58 left in the first half when the Pack went on an 11-0 run over the next three minutes to take the lead. Ebenezer Dowuona started the run with a bucket, Breon Pass made a lay-up and Casey Morsell stole the ball and laid it in to bring NC State within two at 26-24. On the Pack's next possession, Jericole Hellems gave NC State the lead with a three-pointer and then Dereon Seabron stole the ball on UVA's ensuing possession to give the Pack a three-point lead.
Virginia tied the game up with a three, but Hellems made another three with 4:13 left in the half to put the Pack in front 32-29. Hellems' three kick started a 14-3 run for NC State to go into the halftime locker room up 43-32.
The Pack's 11-point halftime lead was the largest this season for NC State. The Pack hit nine three-pointers in the first half which was the most in a half this season for NC State and also was more three-pointers than the Pack had made in 13 of its 19 games.
Morsell started the second half with a bucket to push NC State's lead to 13, UVA responded with a three on the other end to cut the deficit to 10, but would never get closer than 10 points the rest of the game.
The Pack went on an 11-2 run after UVA got within 10, pushing its lead to 19, 56-37, on a Pass three-pointer with 15:27 to go.
Virginia would not get closer than 15 points until its final field goal of the game brought the Cavs within 14 at 77-63.
NC State returns to action Wednesday evening when it plays at Notre Dame. Tipoff against the Fighting Irish is scheduled for 9 p.m. and the game will be televised by Regional Sports Networks (Bally Sports South in North Carolina).