The Magic defeated the Hornets tonight in Charlotte by a final score of 122-114. Terrence Ross led the Magic with a season-high 35 points (12-19 FG, 6-10 3pt FG), to go with 6 rebounds, while Aaron Gordon added 27 points (11-18 FG) and 7 rebounds in the victory. Kemba Walker led the Hornets with 43 points (16-25 FG), 5 assists and 2 blocks, while Jeremy Lamb totaled 22 points (6-12 FG) and 8 rebounds in the losing effort. With the win, the Magic finish the regular season 42-40, while the Hornets finish their season 39-43. The Magic will be the 7-seed in the Eastern Conference playoffs and will face off against the 2-seed Toronto Raptors in the first round. The Hornets have been eliminated from playoff contention by virtue of the Pistons' victory earlier tonight.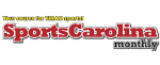 History of Bowman Gray Stadium
Carolina Panthers
Host Desmond Johnson with Rod Funderburk, Brandon Blakney, Aaron Gabriel. Kevin Avery from the...

Gerald McCoy took his talents to the Carolinas and signed with the Panthers.