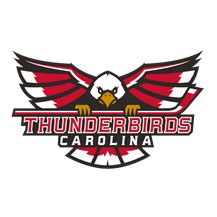 Hello various media members, here is the weekly Thunderbirds recap report.
It was a very successful weekend for the Thunderbirds to open their 2018-19 campaign. The team took 6 points out of 6 with a 4-3 win on Friday night and a 6-0 win on Saturday night over the Port Huron Prowlers.
Friday's game was a back and forth affair that was ultimately decided by the captain Josh Pietrantonio scoring his first goal of the season on a tip from Stan Vlasov's shot with 3:10 to go in the game to secure the opening night win. Pietrantonio, Jiri Pargac, Joe Cangelosi and Vlasov all had multi point nights to start their 2018-19 campaigns off strong.
Saturday's game started with a couple of roster moves for both teams. After Friday's game both Edgars Ozolins and Austin Fetterly for Port Huron were suspended and unavailable for the Prowlers. On the Thunderbirds side, Viktor Grebennikov was promoted to the 20-man roster, Cody Oakes was de-activated in a corresponding move.
The Thunderbirds took full advantage of the smaller Port Huron roster and came out on fire notching four goals in the first period en route to a 6-0 win to sweep the weekend vs. Port Huron. Defenseman Karel Drahorad had two goals and an assist in the first period alone, and goaltender Henry Dill secured his first professional shutout with a 22 save night.
During Saturday's game, head coach Andre Niec was ejected during the second period and team president and GM Scott Brand came in to finish behind the bench. The FHL is currently reviewing Niec for a possible suspension.
The Thunderbirds sit atop the FHL Standings with a 2-0-0-0 record for 6 points.
CAR 2-0-0-0 (6)
DAN 1-1-0-0 (5)
WAT 1-0-0-0 (3)
ELM 0-0-1-0 (1)
MEN 0-0-0-1 (0)
PTH 0-0-0-2 (0)
Thunderbirds point leaders:
Pietrantonio, Josh 2G-2A-4P
Drahorad, Karel 2G-1A-3P
Pargac, Jiri 1G-2A-3P
Stan Vlasov 1G-2A-3P
Blaszka, CJ 0G-3A-3P
Thunderbirds goalie leaders:
Dill, Henry 2-0-0-0, 1.50 GAA, .940 SV%
Carolina now prepares for the upcoming weekend against the Elmira Enforcers Friday and Saturday night at the Fairgrounds Annex.
Captain and Assistant Coach Josh Pietrantonio: "Overall, it was a pretty successful first weekend. I think the boys did a great job of sticking up for each other and having each other's backs. We stuck to together all weekend long and that is huge moving forward. I think there were a few mistakes to correct and some inconsistencies to address but that's typical in early season hockey as guys are getting used to their new linemates. Time and practice will help improve that."
"The fans and atmosphere were amazing this weekend. Everyone involved in Game Day Ops did a wonderful job in the offseason preparing a show for the fans outside of the game itself. The atmosphere was electric and we really were able to hear the roars in the crowd and fed off of it later in the game when we felt like slowing down, it gave us an extra gear to hit and keep going. That was huge in helping bring in 6 points"
Thunderbirds goalie Henry Dill: "It feels really good to get the wins over the weekend, there's no monkey on my back to worry about when I'm going to get in the net or get a win, and the shutout was just the cherry on top with my dad in town. For all that he's done to support me to have that game in front of him was great."
"I've only know these guys for a couple of weeks but some of the older guys come and tap me on the pads after a save and that support from the guys and the work ethic that we all have really makes me feel good about this team and what we're doing here"