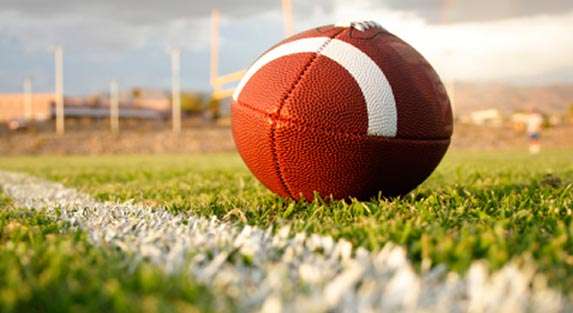 By Brandon Blakney
1. Ty Lyles gives East a Fresh Dynamic
East Forsyth (6-0, 0-0), remained undefeated with an impressive offensive showing against Page. The Eagles triumphed 42-14 over the Pirates and they had a different element we aren't used to seeing from them.
For the second straight week sophomore signal caller Ty Lyles has had the big arm for East, in their most recent contest Lyles tossed out three touchdowns in a winning effort. Lyles looked smooth in the pocket, he's agile, Lyles is persistent he makes quick reads and gets the ball out to these playmakers out wide. Lyles can really stretch the field he threw for 220 yards on the night. Lyle's presence mixed with these speedy receivers gives this offense big play capability through the air.
We are used to seeing East ground and pound teams into submission but now with this new air raid option, the Eagles are as dangerous as ever. They have a collision course set up with conference foe West Forsyth this Friday, the game could have major implications down the line.
2. Reagan looks for real 49-7 over High Point Central
The Raiders are now (5-1,0-0), on the year and it's time to take this group serious as a real contender. If things stand the conference matchup with East Forsyth on, October 19th, there is a chance both teams could be neck and neck still. Reagan looked balanced offensively coming off a bye week, junior quarterback Gabriel Hollingsworth led the way with four total touchdowns. Hollingsworth threw two touchdowns and scrambled for two more. He has taken a big step forward this season, he's thrown nine touchdowns and ran for several more on the year, these skill players have also benefited.
Hollingsworth has a knack for extending plays and turning chaos into magic when his feet get
moving, Hollingsworth is accurate on the run, and he's not afraid to take a hit in the open field either. Senior Kallai Buyna has been a reliable pass catcher his awareness to keep constant movement on broken down plays have led to big plays this year. Buyna is a good route runner and he's hard to tackle in space, he has racked up a lot of yardage in the YAC column.
Junior running back DJ Moyer has provided balance from the backfield, he's a tough runner and he has the speed to break things open. Defensively Reagan has only given up more than twenty points once on the year, they have nice athleticism on the line, the linebackers are physical, and the secondary doesn't give up a lot of big plays.
3. Dudley shuts out Southwest Guilford 30-8
The "D Boyz" of Dudley, ( 5-1, 1-0), have their swagger back and it's dripping all over Guilford county, after a statement win over the Southwest Cowboys. This defense was one muffed punt away from pitching a shutout, they held the cowboys to just one first down for 75 percent of this contest. The Panthers massive defensive line owned the line of scrimmage from kickoff, Sophomore Payton Page helped establish the tone early, Page is ranked as the top defensive lineman in NC for the class of 2021 according to 247Sports. Page currently holds several power five offers, ( UNC, UGA, Tennessee, and Texas A&M), are among them. Fellow Sophomore Milan Summers racked up two sacks from the linebacker position, this group has really grown up and come together in recent weeks.
Offensively new starter Tawahn Young seems to be getting more comfortable by the week after making the move from receiver to quarterback. In start number two Young threw for two touchdowns and the Panthers also punched in a couple of scores on the ground. The run game is an inexperienced quarterbacks best friend in these situations, moving forward Young and this group could rely on the ground game to open things up through the air.
4. West Forsyth is getting Hot at the right time
The Titans now sit at, (4-2,0-0), on the year after their recent 43-27 win over Northwest Guilford, this week sets up a huge game for West Forsyth. The Titans will host an undefeated East Forsyth team that has looked like one of the best teams in the state. West Forsyth finds themselves in a powerful position, they are entrenched in one of the toughest conferences throughout the state and still control their own destiny with two non conference losses.
West still has to play the two teams in front of them, if they can beat East this Friday and get past Reagan they will be in the thick of things. The Titans have been led by a stout defense, they have won three straight now, and it seems they're playing their best football of the year. The Titans offense has gotten rolling as well, they have put up big points in the last three victories.
Junior quarterback Jalen Ferguson looked confident he's really begun to settle in and turn this passing game into a strength. Ferguson threw for two touchdowns and he got rid of the ball quick to allow these receivers to make plays. Running back Jahmonty Wilson also ran for two touchdowns on the ground, West has some serious firepower in the backfield.
5. Quick Hitters
Breon Pass, ( Reidsville 7-0, 0-0)- The sophomore has four touchdown receptions in the Rams last two games. Pass also tossed a touchdown, through the game the two – way athlete accounted for three scores. Pass also picked up an offer from NC State due to a big summer on the basketball court, it seems like this youngster can do it all.
Kamell Smith, (Eastern Guilford, 5-1, 2-0)- In consecutive weeks the sophomore field general has come up big for the Wildcats. In Eastern Guilford's most recent win Smith completed 12- of- 14 passes for 206 yards through the air, Smith also connected on two touchdown passes and ran for another score. The Wildcats are rolling after their 53-14 drubbing of Southwestern Randolph.
Camian Shell, (Parkland 7-0, 2-0)- Shell overcame an early injury to lead a heroic comeback in the second half for the Mustangs. Shell completed six passes for 147 yards and he accounted for three total touchdowns, Shell helped the Stangs to 34-20 conference win over Smith and the group remained undefeated on the year.
Justin Mathews, (Eastern Guilford 5-1, 2-0)- Mathews has been a swiss army knife for the Wildcats all season, he's got the skills to line up almost anywhere on the field. On Friday Mathews had the full arsenal on display, he accounted for 140 total yards and three touchdowns. Mathews caught two touchdown passes and scored one on the ground as well, he continues to be the ultimate offensive weapon for Eastern.