Wake Forest vs. Florida State: Seminoles quarterback Deondre Francois threw for 353 yards and running back Cam Akers racked up 126 total yards and 2 rushing touchdowns in a 38-17 win over the Demon Deacons. Brian Burns led the defense with 2 of FSU's 5 sacks. Wake Forest quarterback Sam Hartman threw for 227 yards and 2 touchdowns in the loss.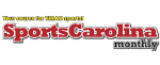 History of Bowman Gray Stadium
Carolina Panthers
Host Desmond Johnson with Rod Funderburk, Brandon Blakney, Aaron Gabriel. Kevin Avery from the...

Gerald McCoy took his talents to the Carolinas and signed with the Panthers.