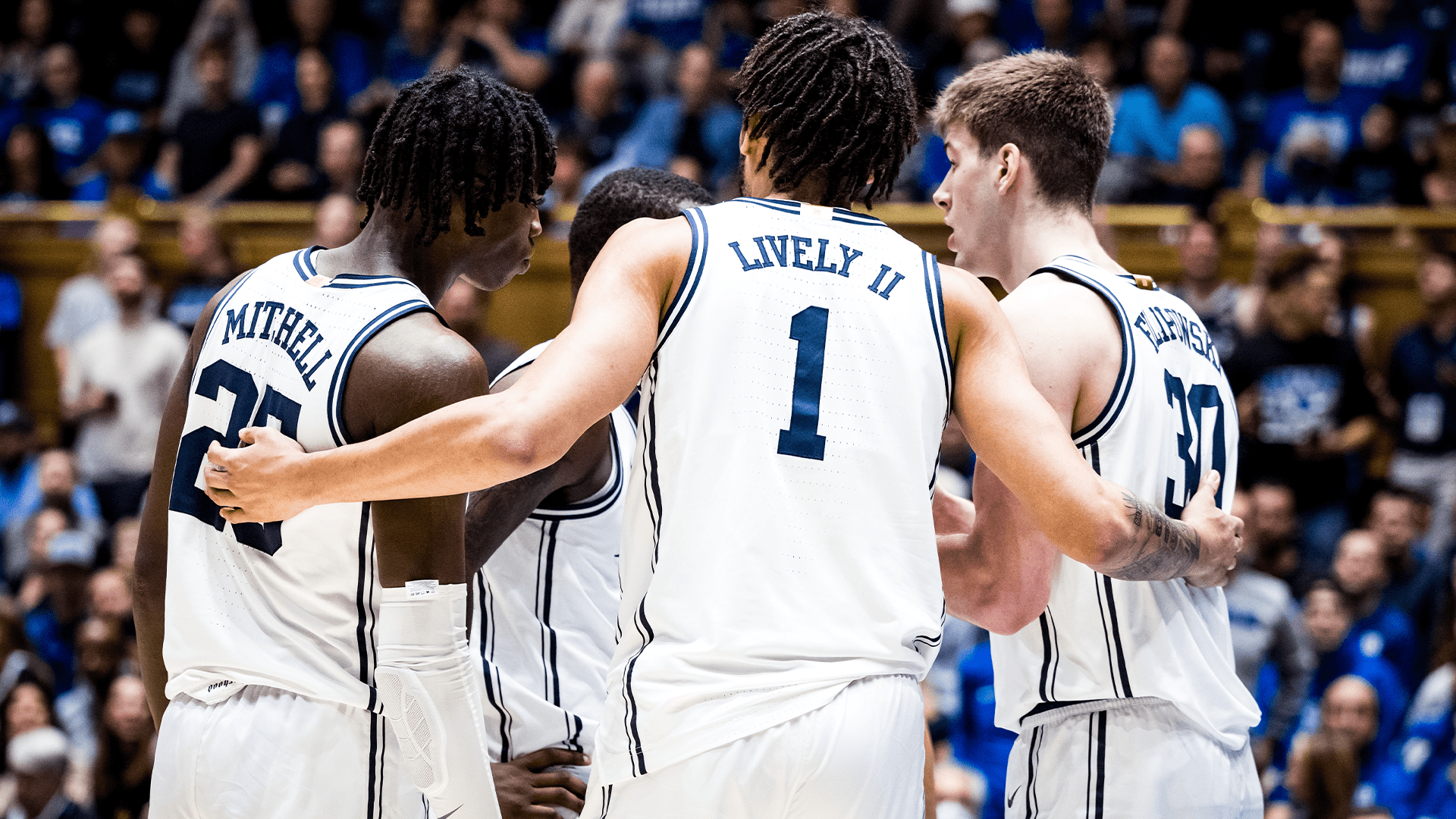 BLACKSBURG, Va. – Duke freshman Kyle Filipowski logged his fourth consecutive double-double, but Duke fell to Virginia Tech on Monday night, 78-75. Filipowski scored a career-high 29 points while grabbing 10 rebounds for the Blue Devils (14-6, 5-4). Tyrese Proctor and Dariq Whitehead also finished in double-digits with 10 points apiece. Whitehead scored all 10 of his points in the first half, before exiting the game late in the first half with a lower-leg injury.
Filipowski set a new career-high in scoring on 9-of-17 shooting from the field (.529), including a new career-high four shots from beyond the arc. The Westtown, N.Y. native now has 10 double-doubles on the year and is averaging 23.0 points and 13.3 rebounds over his last four games. The freshman has scored 10 or more points in 18 of Duke's 20 games this season, including in each of Duke's last six contests.
HOW IT HAPPENED
Duke got off to a quick start, scoring seven points in the first 1:20 of the game. Kyle Filipowski scored four of the Blue Devils' first seven on a put-back layup and a breakaway dunk.
The Hokies used a hot performance from beyond the arc, 5-of-7 (.714), to grab a 25-19 lead with 11:30 remaining in the first half.
Dariq Whitehead reached double-digits for the sixth time in the last eight games with his third three-pointer of the first half and narrowed the Blue Devils' deficit to eight, 38-30, at the final media timeout of the opening frame.
The Blue Devils came out of the locker room after halftime on a 13-5 run and knotted the score at 51 apiece with a three-pointer from Mark Mitchell less than four minutes into the second half.
A layup by Tyrese Proctor capped off a quick 7-0 burst by the Blue Devils and established up a five-point Duke lead, 58-53, with just under 14 minutes remaining to play.
An 8-0 run by Virginia Tech helped the home team reclaim the lead before the two teams went back and forth for a majority of the second half. The Blue Devils trailed by just five points, 72-67, at the final media timeout.
Filipowski connected on one of two free throws with 90 seconds remaining to reach 29 points, a new career-high.
Proctor drilled a three-pointer to tie the game at 75, forcing a timeout by the Hokies with 35.3 seconds on the clock. Virginia Tech connected on a mid-range jumper to reclaim the lead and then hit one-of-two free throws to finish off the evening's scoring.
NOTES
Duke held a 30-27 rebounding advantage, including a 9-5 edge in offensive rebounds. It marks the 16th time in 20 games this season that Duke out-rebounded an opponent.
Duke is now 13-3 this season when out-rebounding the opponent and 11-3 with an advantage in offensive rebounds.
Duke is averaging 15.0 assists over its last 11 games (10 games in that stretch with double-digits)
Duke finished with 17 assists on 29 field goals and has totaled 36 assists over the last two games.
Duke has now connected on at least one three-point field goal in 1,173 consecutive games – the nation's second longest active streak.
Freshman Kyle Filipowski scored a career and game-high 29 points on 9-of-17 shooting, including 4-of-8 from three-point range and 7-of-9 from the free throw line.
He recorded his 10th double-double (fourth consecutive) with 10 rebounds to go with two assists, two steals and a blocked shot.
Over his four game double-double streak, Filipowski has scored 92 points (23.0 avg) and grabbed 53 rebounds (13.3 avg).
Filipowski's nine field goals and four three-pointers made were each career highs.
Dariq Whitehead, Duke's second-leading scorer in ACC play, scored 10 points – all coming in the first half on 4-of-6 shooting and 2-of-2 from three-point range.
Freshman Tyrese Proctor was Duke's third player in double figures with 10 points, six assists and one turnover in 31 minutes.
Proctor has scored in double figures in four consecutive games, averaging 13.0 points in that stretch.
QUOTES
"That was a hard-fought game. I thought Virginia Tech was as good as they've been. They were ready to go. The way they shot the ball in the first half, you have to tip your cap to them. I thought our guys really competed, really battled, put ourselves in a position to win that game coming back from down 13. And really, at halftime, just for us to dig down and get some stops, trust the pass, work together, I thought we had some beautiful connecting passes. But ultimately, just really one play short. You can point to a few plays, but they made one more play than us, that's how it can be on the road." — head coach Jon Scheyer
"It just shows the fight that we have. It shows the potential of our team and how we've been growing over the season. We fought hard, we dug ourselves into a hole for sure in the first half. We just let guys get open threes, and all that kind of stuff, so we kind of put it on ourselves. But that's the fight that we need all 40 minutes, we can't just do it for one half, we've got to do it for all 40." — junior guard Jeremy Roach
To stay up to date with Blue Devils men's basketball, follow the team on Twitter, Instagram and Facebook by searching "DukeMBB".