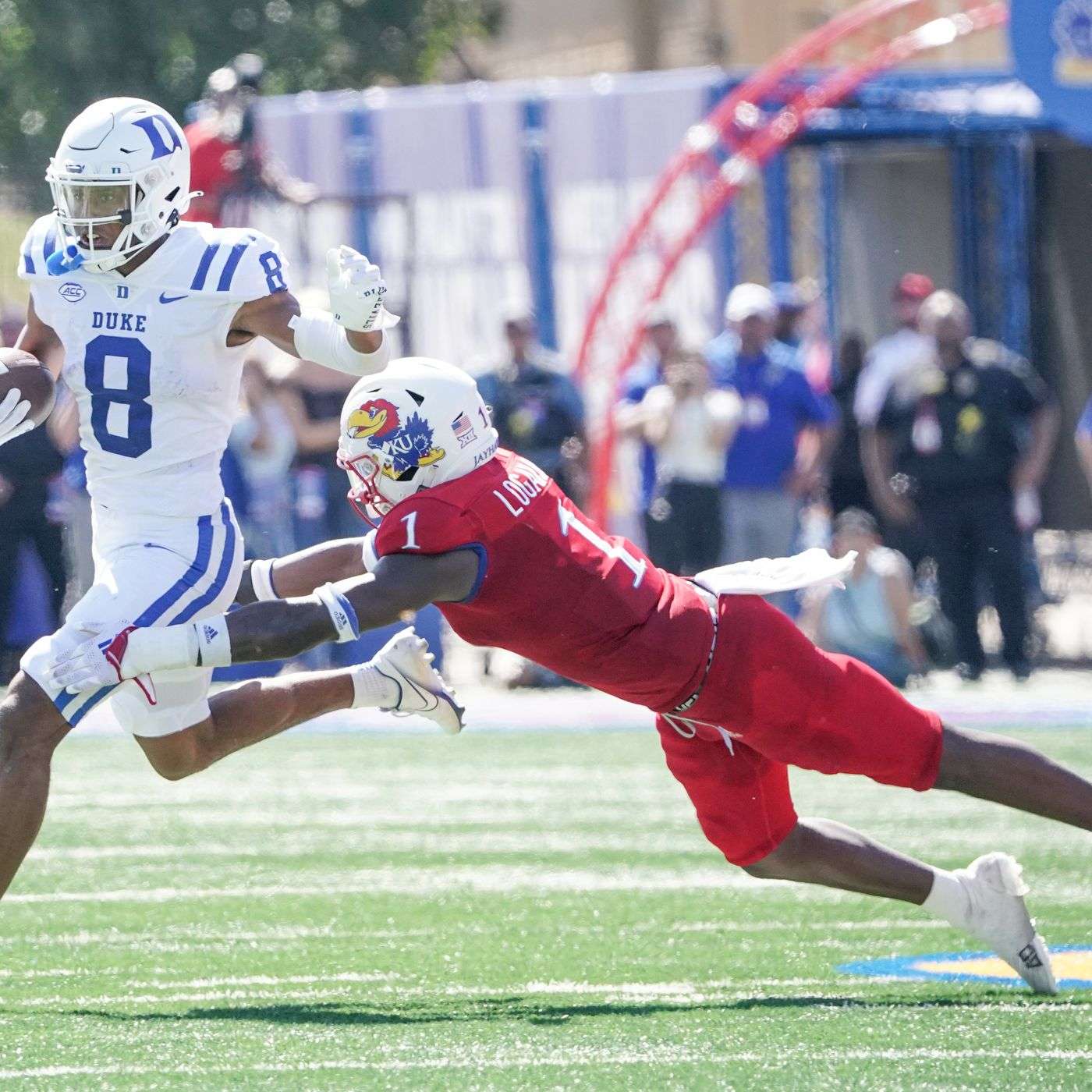 LAWRENCE, Kan. – Duke's fourth quarter comeback effort fell short on Saturday afternoon in Lawrence Kan., as the Blue Devils dropped a 35-27 decision to Kansas in front of a capacity crowd of 47,233 at David Booth Memorial Stadium.

After quarterback Riley Leonard's 27-yard touchdown strike to Jalon Calhoun with 2:40 remaining in the contest pulled the visitors to within eight points, the Blue Devil defense forced a punt to return possession to Duke at the 2:16 mark. Leonard guided the Blue Devils into Jayhawk territory, but his 4th-and-7 pass from the 31-yard line intended for Eli Pancol was incomplete.

Leonard completed 24-of-35 pass attempts for 324 yards and one touchdown while adding a team-high 54 rushing yards. His counterpart, Jalon Daniels of Kansas, threw for 324 yards and four touchdowns.
How It Happened
Kansas struck first with a six-yard touchdown reception by Trevor Kardell with five minutes remaining in the opening frame.
Duke answered on its ensuring drive when running back Jaylen Coleman muscled his way into the end zone from five yards out to knot the score at 7-7.
Early in the second quarter, the Jayhawks added to its total when Daniel Hishaw broke free for a 73-yard touchdown reception.
The Blue Devils again responded, driving 70 yards in 12 plays, but were held to a 22-yard field goal by Charlie Ham.
With 1:04 left to play in the first half, Kansas found paydirt again when Luke Grimm scored on a 19-yard reception.
Duke would use nearly all the remaining time in the half to drive 55 yards for a 37-yard field goal by Ham to cut into the lead at 21-13.
Midway through the third quarter, the Jayhawks recorded their fourth touchdown of the day when Arnold Lawrence hauled in a 36-yard reception to extend Kansas' edge to 28-13.
Duke continued to chip away, using a 10 play, 92-yard scoring drive to pull within 28-20 with 8:54 remaining in the game. Running back Jordan Waters scampered in for the three-yard touchdown jaunt.
The Jayhawks answered right back on their next drive after Daniels rushed into the end zone from three yards out to cap an eight play, 75-yard drive to make it a 35-20 ballgame.
The Blue Devils would not go away though, as Leonard connected with Calhoun for a 27-yard catch-and-score with 2:29 remaining to pull the visitors within eight.
After a quick three-and-out by Kansas, Duke received the ball back at its own five-yard line. Leonard quickly connected with Calhoun for a 40-yard gain to begin the drive. A few plays later the Blue Devils were facing 4th-and-seven at the Kansas 31 with 1:18 left to play. Unfortunately, Duke was unable to gain the needed yardage to keep its hopes alive and the Jayhawks held on for the win.
Notables
Both teams compiled 450-plus yards of total offense.
The Blue Devils went 5-of-15 and 2-of-4 on third and fourth down conversions, respectively, throughout the game. Kansas finished 6-of-10 and 1-of-2.
Calhoun led all receivers with 93 yards on five catches with his first touchdown of the year.
Fellow wideouts Jordan Moore and Pancol chipped in with 68 and 62 yards, respectively.
Coleman earned his fourth touchdown in as many games, while Waters registered his third score of the season.
Darius Joiner led all tacklers with 10, his second double-digit tackle game of the year.
Anthony Nelson forced a fumble in the opening frame to give Duke six caused fumbles this season.
Jaylen Stinson collected his second career fumble recovery.
Kansas had not allowed a sack all season until Joshua Pickett worked his way into the backfield late in the third quarter to take down Daniels for the Blue Devils' only sack.
Porter Wilson punted three times for 154 yards for an average of 51.3 yards per punt.
Up Next
Duke returns to Brooks Field at Wallace Wade Stadium on Saturday, Oct. 1 for its first ACC matchup of the season against Virginia. The game will be broadcast on RSN.
Virginia fell to Syracuse on Friday night 22-20 in its first ACC contest of the year.
For more information on Duke Football, follow the Blue Devils on Twitter, Facebook and Instagram by searching "DukeFOOTBALL".

#GoDuke