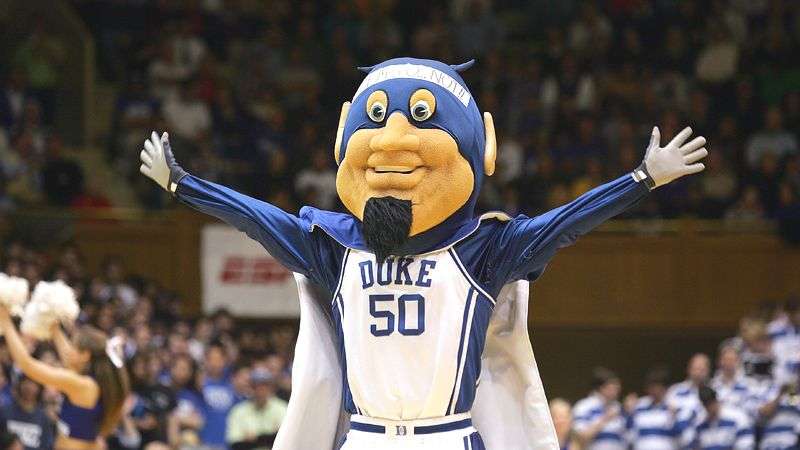 DURHAM – The No. 8 Duke men's basketball team played its third consecutive game against a reigning conference champion on Monday night, defeating Bellarmine, 74-57, at Cameron Indoor Stadium. Kyle Filipowski led three Blue Devils in double figures with 18 points and was joined by Tyrese Proctor with a team-high eight rebounds.

HOW IT HAPPENED
Duke opened its scoring with two consecutive three-pointers by Kyle Filipowski.
The Blue Devils held Bellarmine scoreless for over four minutes while utilizing a 11-0 run to take a 22-9 lead with 9:33 remaining in the first half.
Filipowski became the first Duke player in double-figures, knocking down two free throws to help the Blue Devils take a 41-33 lead into halftime.
Mark Mitchell and Filipowski helped Duke start the second half the same way as the first, connecting on two three-pointers in a row.
The Blue Devils eclipsed their previous season-high for three-pointers in a game with their 11th of the evening, courtesy of Jeremy Roach at the 17:06 mark.
Duke's defense kept Bellarmine's offense at bay in the second half, including a 1-of-12 stretch from the field, to take a 66-50 lead with just over five minutes to play.
The Blue Devils limited the Knights to just 24 second-half points, their second-lowest point total in a half so far this season.

GAME NOTES
Duke out-rebounded Bellarmine, 37-25, including 11-6 on the offensive glass. Through the first five games, Duke has an 84-38 advantage in offensive rebounds.
Duke has opened the season with a double-digit advantage in rebounding margin in each of its first five games – it marks Duke's first five-game stretch of double-digit advantage in rebounds since the 2017-18 season.
Duke held a 15-2 edge in second-chance points. Through five games, Duke is +69 (97-28) in second-chance scoring.
Duke allowed 57 points (24 in the second half) and has held each of the five opponents this season to less than 70 points and four of the five to less than 60.
Duke's 266 points allowed through five games are its second fewest through the first five games of a season in the AP Poll era (since 1948-49) – the 1948-49 team allowed 232 through the first five games.
Of Duke's 10 halves played, the Blue Devils have held the opposition to less than 30 points six times and to less than 25 five times.
Duke finished with 18 assists on 25 made field goals.
Duke was a season-high 14-of-35 from three-point range with six players knocking down at least one three. The 14 threes were Duke's most since hitting 15 at Syracuse on Feb, 26, 2022.
Filipowski was Duke's leading scorer for the fourth time this season with 18 points to match the career-high 18 he scored versus Delaware. He also had eight rebounds and two assists in 20 minutes.
Filipowski was 4-of-8 from the field, 3-of-5 from three and 7-of-8 at the line.
Freshman Tyrese Proctor tied Filipowski for the game lead in rebounds with eight and has 18 boards over Duke's last two games. He also blocked a game-high two shots.
Graduate Jacob Grandison recorded his third double-digit scoring game this season (59th career) with a season-high 16 points on 6-of-9 from the field and 4-of-7 from three-point range.
Sophomore Jaylen Blakes played 19 minutes off the bench and was a game-high +15 with eight points, two rebounds and two assists. He has scored five or more points in each game this season.

UP NEXT
Duke plays Oregon State on Thursday in the opening game of the Phil Knight Legacy in Portland, Ore. The game tips at 3 p.m. ET (12 p.m. local) on ESPN.