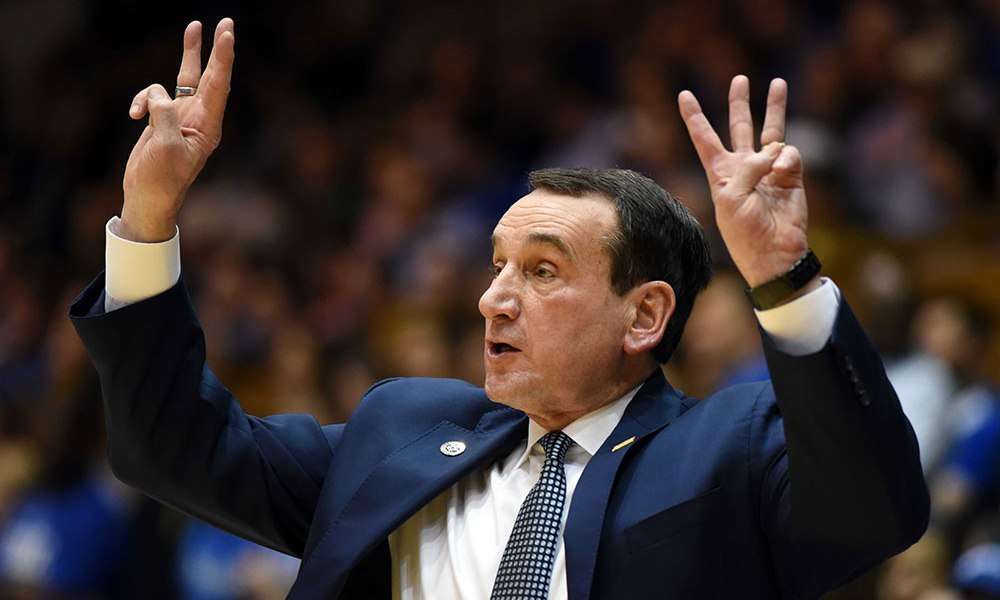 BY JAY SPIVEY
There is not a lot of certainty anymore in men's college basketball.
But one thing that's pretty much a given is that Duke will be good and will contend for the ACC championship.
That's certainly true again this season for Coach Mike Krzyzewski, in his 41st season, and the Duke Blue Devils. The Blue Devils are loaded with talent, and with all that talent comes praise. The ACC media just picked the Blue Devils to finish second, just behind Virginia, and ahead of defending-champion Florida State, as well as North Carolina.
One issue that has cropped up for Duke, as it has for all of the United States, especially college sports, is the huge spike in COVID-19 issues. The 2019-20 season was cut short because of COVID-19 and Duke, which finished 25-6 overall and 15-5 in the ACC had its season halted for good in March after most of the ACC Tournament in Greensboro was canceled, as well as the NCAA Tournament, because of COVID-19. Duke, which had a double bye in the ACC Tournament, was scheduled to play rival N.C. State in the quarterfinals of the ACC Tournament, but the tournament was canceled that afternoon.
COVID-19 is still plaguing most of the country now. The NCAA had already pushed back the start of the college basketball season from Nov. 10 to Nov. 25. Duke was scheduled to play host to Gardner-Webb on Wed., Nov. 25, but that game was postponed because of COVID-19 concerns. Duke had already announced that no fans would be allowed this season at Cameron Indoor Stadium to keep the spread of the virus to a minimum. As of now, the first scheduled game for Duke is home on Sat., Nov. 28 against Coppin State.
All of Duke's nonconference games are scheduled for Cameron Indoor Stadium. Following the Coppin State game, Duke will play Michigan State on Dec. 1 in the Champions Classic, followed by Bellarmine on Dec. 4, Elon on Dec. 6, Illinois on Dec. 8 in the Big Ten/ACC Challenge, and Charleston Southern on Dec. 12.
The Blue Devils lost sophomore Tre Jones, and freshmen Vernon Carey Jr. and Cassius Stanley to the NBA Draft. All three players were selected in the second round — Carey to the Charlotte Hornets, Jones to the San Antonio Spurs and Stanley to the Indiana Pacers. Alex O'Connell transferred to Creighton, and Justin Robinson, Javin Delaurier and Jack White all graduated.
Even with all those losses the Blue Devils are still loaded. Leading the Blue Devils' returners is sophomore Wendell Moore, a 6-foot-5, 216-pound forward who played at Cox Mill High School on Concord. Moore missed some time last season as a freshman with a broken hand, but he came back on Feb. 8 and scored 17 points and had 10 rebounds against North Carolina. He also had 25 against Wake Forest on Feb. 25. In 25 games Moore averaged 7.4 points and 4.2 rebounds per game. Moore is a preseason Second Team All-ACC by the media.
Senior Jordan Goldwire is returning and should be a key bench player for the young Blue Devils. Goldwire averaged 4.7 ppg, 2.5 rpg and 2.3 assists per game last season.
Krzyzewski has also assembled another great recruiting class, with six players, who are all either four- or five-star recruits as stated by Scout, Rivals, 247Sports and ESPN. The best of the freshmen is probably Jalen Johnson, who is a 6-9, 220-pounder from Wassau, Wis. He transferred to IMG Academy in Bradenton, Fla., but he never played for them. He transferred back to play for Nicolet High School in Glendale, Wis., and was ruled eligible on Feb. 8. In nine games Johnson averaged 24.6 ppg, 10.9 rpg and 4.8 apg. Jeremy Roach, a 6-1, 175-pound guard, is another five-star recruit from Washington, D.C. and Paul VI High School in Fairfax, Va. Roach averaged 19.1 ppg, 6.3 rpg and 2.8 apg. Mark Williams is another five-star recruit from Norfolk, Va., and IMG Academy in Florida. Williams, a 7-0, 243-pounder. The final five-star recruit is DJ Steward, a 6-2, 163-pound guard, averaged 22.5 ppg and 3.5 apg last season for Whitney Young High School.
The four-star recruits are Jaemyn Brakefield, a 6-8, 216-pounder from Jackson, Miss. and Huntington Prep in West Virginia. He averaged 19.2 ppg and 8.3 rpg. The final four-star player is Henry Coleman, a 6-9, 229-pound forward from Richmond, Va. and Trinity Epicopal. He averaged 22.8 ppg, 12.8 rpg and 3.4 apg last season.
With all this talent the Blue Devils it all comes down to the ACC portion of its schedule. Duke is scheduled to open its ACC schedule on Dec. 16 at Notre Dame before playing its ACC home opener on Dec. 29 against Pitt. Duke will play at Florida State on Jan. 2. Duke its scheduled to play its first of two games against Wake Forest in Durham on Jan. 9, the second meeting is scheduled for Winston-Salem on Feb. 17. Duke is scheduled to play home against North Carolina on Feb. 6 and at Chapel Hill to finish the regular season on March 6.