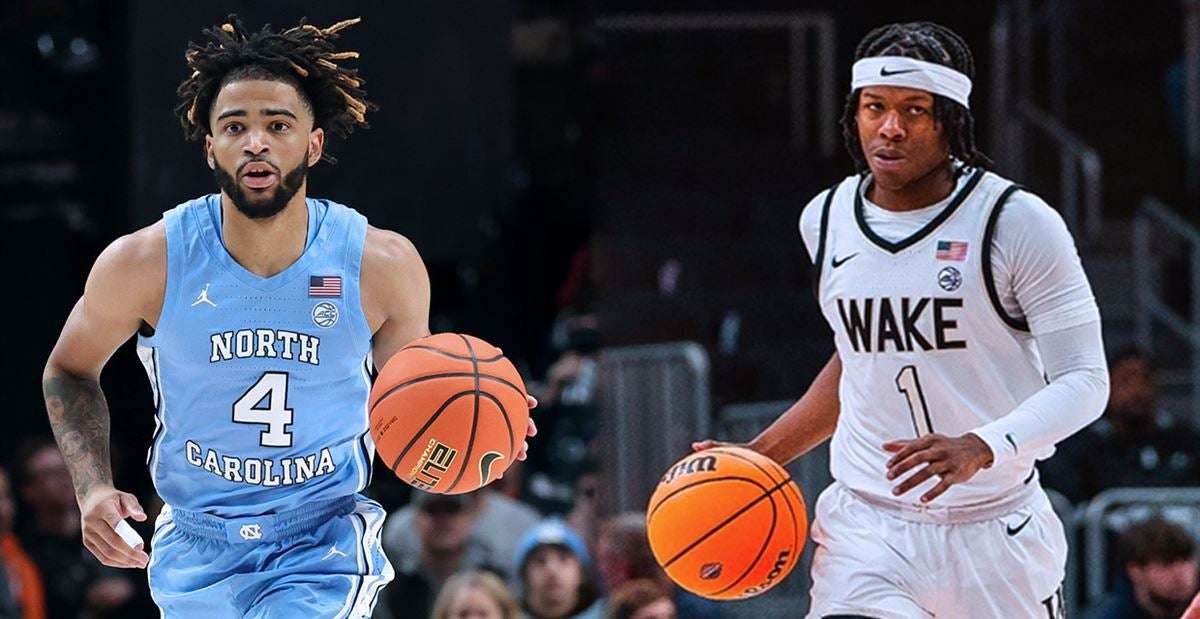 by Matt Bowers


CHAPEL HILL, N.C.—RJ Davis scored 22 second-half points and 27 overall to lead North Carolina to an 88-79 win over Wake Forest at the Smith Center on Wednesday night.

Davis hit 8 of 11 shots, including 4 of 6 three-pointers, after the break, carrying the Tar Heels for portions of the game's final 20 minutes after Leaky Black did the same in the first half.

Black had his best offensive game of the season, scoring 14 points before halftime and finishing with a career-high 18 while hitting a season-high three three-pointers, one off his career high.
"I'm super proud of Leaky," Davis said. "I told him that he looked like Steph [Curry] out there. His ability to not just play defense but also be aggressive on the offensive end was a huge impact, and we need more of that from him. He stepped up. He made big-time threes. He attacked the lane aggressively, so I'm super proud of him."

The win improved the Tar Heels to 10-5 this season, 2-2 in the Atlantic Coast Conference as they bounced back nicely from a loss at Pitt on December 30. Wake Forest fell to 10-5, 2-2.

Armando Bacot posted his fourth consecutive game with at least 20 points, doing so for the first time in his career. He posted 21 points and nine rebounds, hitting 7 of 11 shots from the floor and dishing out a team-high five assists. Freshman guard Seth Trimble scored a season-high 11 points.
"Mando's [Armando Bacot] a handful," said Demon Deacon head coach Steve Forbes. "We tried to play him one-on-one. We double-teamed him. When we did get stops, they got a couple of really big offensive rebounds and we just couldn't get the ball. Those things just kind of all add up."
The Tar Heels shot 60 percent in the second half as a team and 51.7 percent in the game.
"As soon as I walked into the locker room, I told them how proud I was of them," UNC head coach Hubert Davis said afterward. "One of the things we've talked about for us to be successful, we have to dig deeper. You know find the joy in how hard it is to be the best you can be individually and as a team. It's just going to be difficult at times, you are going to be met with adversity so in those times you have to be connected to the discipline and the details and the things we talk about and drill in practice everyday."
Carolina started the game strong but allowed Wake to seize the momentum late in the first half by holding it without a field goal in the final 5:31 of the first half. In the second period, UNC held Wake without a point for nearly three minutes to take a 67-64 lead with 8:33 remaining and never trailed for the remainder of the contest.

RJ Davis become Carolina's NCAA-record 81st 1,000-point scorer, joining Bacot and Caleb Love. Davis hit the 1,000-point mark in his 83rd game, the 38th-fewest games needed by a Tar Heel to score 1,000.

UNC's Pete Nance started the game but headed to the locker room after playing less than two minutes due to a back injury. He did not return to the game.

The Tar Heels will return to action on Saturday morning at 11:30 a.m. at home against Notre Dame in the Smith Center.