Clemson vs. Wake Forest: The No. 4 Tigers dominated the line of scrimmage, rushing for 471 yards and racking up 12 tackles-for-loss on defense in a 63-3 win over the Demon Deacons in Winston-Salem. Travis Etienne, Lyn-J Dixon, and Adam Choice all ran over 100 yards, the first time Clemson has had 3 100-yard rushers since 2006. Kendall Hinton came on and ran for 92 yards for Wake Forest in the loss.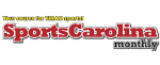 History of Bowman Gray Stadium
Carolina Panthers
Host Desmond Johnson with Rod Funderburk, Brandon Blakney, Aaron Gabriel. Kevin Avery from the...

Gerald McCoy took his talents to the Carolinas and signed with the Panthers.