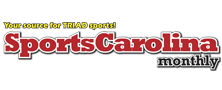 SportsCarolina Radio
  Feb 3 2018 – Host Desmond Johnson with John Olszewski and Chris Lea (WXII Sports). Today's topics...

SCM owner and editor Desmond Johnson is sitting in all week, producing WSJS Sports "One on One with...
SportsCarolina Monthly Owner and Editor Desmond Johnson will be a guest next week on...

SportsCarolina Monthly Head Editor and Owner Desmond Johnson joins the Sports Mayhem crew to...

In tonight's show, we had the pleasure to speak with Atlanta Braves Prospect Bradley...