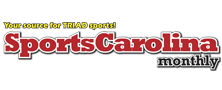 Prep
Lots of movement in the polls this week. In 4A Greensboro Page and East Forsyth clock in to...

By Brandon Blakney 2019 6'2 185 Donavon Greene (Wake Forest Commit), is one of the most electrifying athletes...
by Brandon Blakney This past weekend brought fresh cut grass and hard hitting pads,...

By: Brandon Blakney  The hopes of success on the gridiron and hardwood for the...

The 5th annual Josh Level Classic All Star Basketball game will be streamed via...