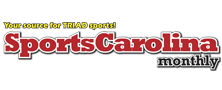 NFL
By Patrick Magoon For the first time since his rookie season (2011), Cam Newton will be working alongside...

Hedge Fund Manager David Tepper answers questions in Charlotte Tuesday after completing purchase of Carolina Panthers. Tepper discussed...
By Patrick Magoon July is here, which means, training camp is just a few...

by Patrick Magoon Last week Pro Bowl center Ryan Kalil wrapped up the final...

By Patrick Magoon Carolina Panthers wide receiver Devin Funchess will be playing out the...