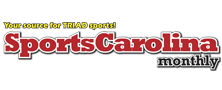 NFL
CHARLOTTE, N.C. — Last week, the Panthers targeted RB Christian McCaffrey in the passing game 14 times, taking...

  In this video, 4 Man Rush takes a look at the Cincinnati Bengals who visit the Panthers...
By Kenny Bowers Week 3 is here! Hope that your season-long fantasy teams are...

Coming into the 2018 season, we honestly didn't know what to expect from offensive...

  Highlights from the Panthers 31-24 road loss to the Atlanta Falcons on Sunday...