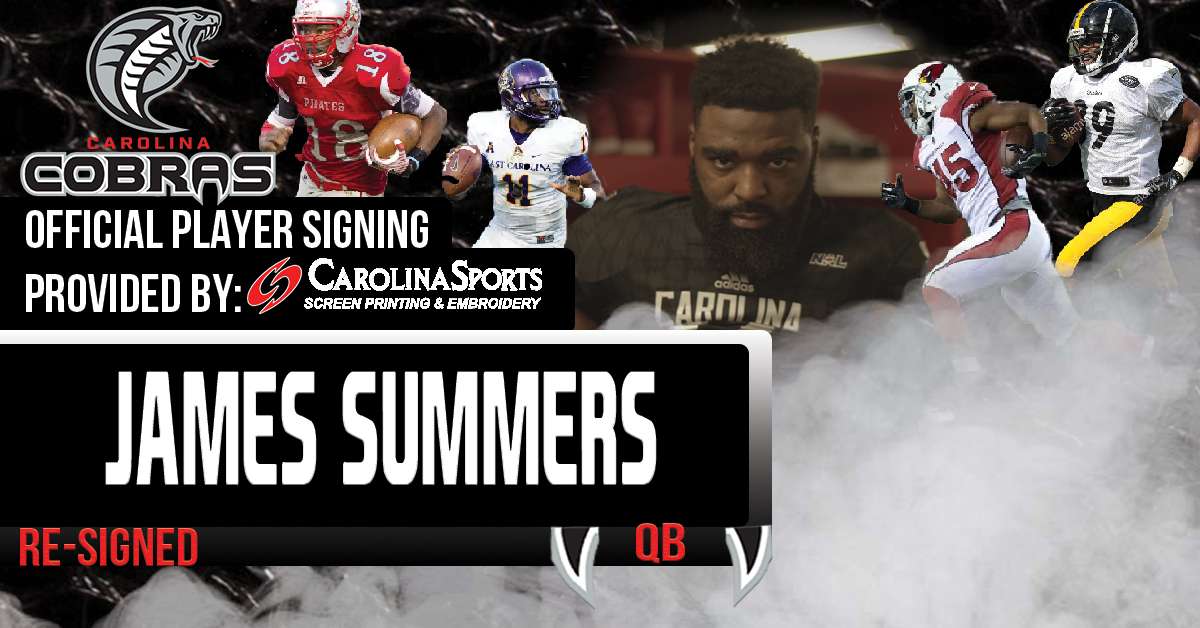 Greensboro, NC
The Carolina Cobras announce the re-signing of former Page High School legend and ECU Pirate QB James Summers for the 2020 season. James Summers (6' 3" 223 East Carolina) a Greensboro native who starred for the Page Pirates before going to the East Carolina Pirates where he was converted from QB to RB and thrived in that role. 

Following his career at ECU, Summers than went on to spend the pre-season with the Arizona Cardinals where he played in five games, rushed for 95 yards and a scored a touchdown.  He later spent the following pre-season with the Pittsburgh Steelers to round out his NFL career.  Last year Summer's made his arena debut with the Cobras.  He only played in five games for the Cobras, as he left for an invite from the Cleveland Browns during the season.  In those games with the Cobras, he had eight rushes for 18 yards and a TD, as well as six receptions for 113 yards and four TDs. 
This season with the Cobras he will moving back to the QB position that made him famous at Page High. We asked James for his thoughts about 2020 and he said "I am overly excited to return to Greensboro for another season.  My first season was fun, and I enjoyed the staff and players.  This year is a little more special, not only will I be returning to Greensboro, I'll be returning to QB.  This year will be more about our city, 2019 was a tough year for us.  We are going to make this year better with a hope and joy
from your Carolina Cobras by hanging up another banner!  We will be more active in our community and will help make our city a safe place.  The last, but most important, key to success for me and the team is
Coach Res!  We share the passion, love and physicality of the game.  We are like one in the same and I'm so excited to work with him again because he was my QB coach in high school my Junior year.  He left my Senior year when we went undefeated and won the state title.  We definitely have some un-finished business to handle!"

Coach Resignalo, who was the QB coach for Summers during his junior year at Page, said, "This is a great opportunity for Summers to get back to his roots of playing QB.  He had a couple opportunities to play
RB in the NFL, but with the way the landscape of dual threat QBs are in the NFL right now James has a chance to show his talent as a dual threat. 
"This is also a chance for him to show the XFL what he can do, to show just how dangerous he can be with the ball in his hands.  This will definitely help lead the Cobras to a very successful season. "
"For Summers this has been a long journey from where he was a high school champion and then went to ECU and onto the NFL and back here now.  This just shows that he knows the long road in football, and is a perfect example of the grind and there is still opportunity out there.  He is going to come in and compete to be the leader of the team and help lead the organization.  It is going to be a very interesting QB competition in camp and I am excited to see it all come together.  It is pretty cool to be able to coach someone in High School and in the Pro's.  Not many people know his
ability as a QB, it is going to be good to work with him to showcase that to the NAL."
 
ABOUT THE CAROLINA COBRAS
The Carolina Cobras are members of the National Arena League (NAL). Founded in 2017, the Carolina
Cobras are starting their third season in 2020 and were the 2018 National Arena League Champions. The
Cobras play their home games at the Greensboro Coliseum. Cobra Season Ticket Memberships are on
sale now call (336) 445-7232 or visit carcobras.com. Follow the Cobras on Facebook
at facebook.com/carcobras, twitter.com/carcobras and instagram.com/carcobras.