The Carolina Hurricanes took the league by storm (no pun intended) last season. They wowed fans with their speedy, physical play, positive attitudes, "Storm Surge" celebrations, and their run to the Eastern Conference Finals. The Canes were by far one of the league's coolest teams to watch in the 2018-2019 NHL season.
Adding to that coolness factor, the Canes just unveiled their new road jerseys for the upcoming 2019-2020 season. Unlike years past, in which the Canes would have their primary logo on the front of their jerseys, the away uniform looks a little different.
While the Canes will still have their primary logo on the sides of their helmets, the front of the jerseys will say "Canes," with the Hurricane flag in the C. The warning flag with the hockey stick will be on each shoulder. This unique style gives Canes fans (and players) a combined taste of old and new uniform elements. Will the new style translate to success on the ice?
Just like last season, too, the Canes will bring back their popular home jerseys with the big Eye of the Storm on the front. In addition, the Canes will continue to wear their black alternate jerseys, which have the Hurricane Warning flag with the hockey stick on the front.
Three different styles of uniforms. I am a guy who is superstitious about clothes and performance on the ice, field, or whatever sporting venue my team is playing on. If the Canes succeed in these fresh new jerseys, I would keep wearing them.
Fans will have a chance to first see the Canes in these fresh new jerseys on Tuesday, September 17, as the Canes travel to Tampa Bay for their first preseason game. While fans might not make the trip down to the Sunshine State, they will likely be able to watch the game on Fox Sports Carolina. When the Canes return home the very next day for their home preseason opener, fans may get to see their squad don the away jerseys in person (as long as the jerseys do not clash with Tampa Bay's).
Get excited, Caniacs. Hockey is right around the corner…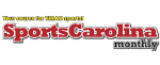 Carolina Panthers/NFL
Observations from the Panthers Week 2 20-14 loss to the Tampa Bay Buccaneers

Host Desmond Johnson with Rod Funderburk, John Olzsewski, Sawyer Dillion, Aaron Gabriel. Dez gives...
ACC Football
NC State vs. West Virginia: The Wolfpack lost a tough one on the road...

Duke vs. Middle Tennessee: Duke went on the road to Middle Tennessee and came...

North Carolina vs. Wake Forest Football: Wake Forest had to hold on late, but...