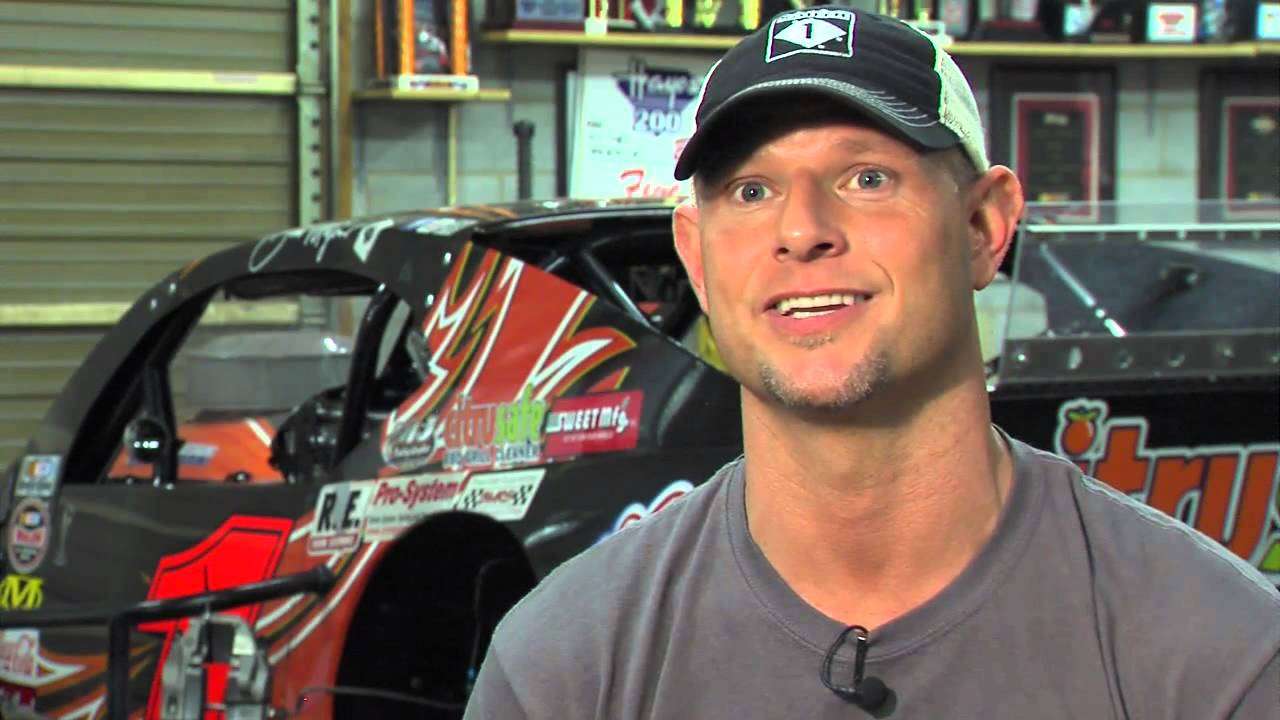 Burt Myers had a decision to make in the late stages of the Carolina Farm Credit Modified race: Go for a victory that had eluded him since 2012 or focus on a tenth Bowman Gray title.
"I talked it over with my guys and we decided to not take any chances," said Myers, whose third place finish in the August 17 finale was enough for the 2019 Bowman Gray Stadium Modified championship.
A late crash by points rival Tim Brown cemented the decision by Myers to willingly gave up the race lead at lap 154 and slide back to third. James Civali assumed the lead and held it for a short stint until Brandon Ward grabbed control in the race's final lap (extended from 150 to 166 laps due to late caution flags).
It was a career-best fourth victory of the 2019 season for Winston-Salem resident Ward and his third in the past four editions of the season finale.
Myers led the division with five 2019 triumphs, but admitted he was fine foregoing the chance at victory number six.
"James Civali had pitted and put new tires on his car and I knew it would be too much for us," said Myers after securing his fourth straight Bowman Gray title. "I banked on the championship at that point and it paid off for us."
Tommy Neal won a 40-lap Sportsman race as fourth finisher Justin Taylor secured his first Bowman Gray championship. It was Neal's fourth victory of the season on the way to second in the points.
Taylor said he "might just stay up all night" celebrating a track title. He had an incredible 17 top five finishes in 19 starts and three victories.
Street Stock division points leader Jacob Creed struggled in a 20-lap race won by his father David Creed. The younger Creed eventually dropped out with a flat tire. That opened the door for Billy Gregg to overcome a 14-point deficit and capture his second title at the Madhouse.
Gregg had to bulldoze his way past a team car of points rival Jeremy Warren in the final lap to secure his first title since 2012. "Warren's bunch had that car (driven by Austin Harris) here for one reason only — to prevent me from winning the championship," said Gregg. "I did what I had to do."
Brandon Brendle won a 15-lap race for the Stadium Stock four-cylinder machines. Chuck Wall's eleventh top five finish of the seasin was enough for him to secure a fourth Bowman Gray title in that division.
"It is so tough to win races over here," said Lexington's Wall. " It is really an honor to be the champion again."
Wall was the point leader entering the finale, just eight ahead of rival AJ Sanders on a night where double points were awarded in all four divisions.
"I was just trying to run a clean race and keep that 24 car (Sanders) behind me," said Wall. "It's Bowman Gray and you never know what might happen."
Sanders and Wall will continue a friendly rivalry as they battle for the Ace Speedway Mini Stock championship on August 30. Both men are scheduled to appear on an upcoming edition of the Triad Racing Podcast.
2019 RACE RESULTS – August 17

MODIFIED: Brandon Ward
SPORTSMAN: Tommy Neal
STREET STOCK: David Creed
STADIUM STOCK: Brandon Brendle
2019 POINTS STANDINGS
final 2019 points


BRAD'S GOLF CARS MODIFIED SERIES
| | | | |
| --- | --- | --- | --- |
| RANK | CAR | DRIVER | POINTS |
| 1 | 1 | Burt Myers | 649 |
| 2 | 79 | James Civali | 626 |
| 3 | 83 | Tim Brown | 606 |
| 4 | 04 | Brandon Ward | 554 |
| 5 | 22 | Jonathan Brown | 549 |
| 6 | 4 | Jason Myers | 517 |
| 7 | 18 | Daniel Yates | 508 |
| 8 | 75 | Lee Jeffreys | 507 |
| 9 | 16 | Chris Fleming | 502 |
| 10 | 5 | Randy Butner | 484 |
| 11 | 53 | John Smith | 437 |
| 12 | 44 | Daniel Beeson | 324 |
| 13 | 65 | Danny Bohn | 310 |
| 14 | 81 | Zack Clifton | 275 |
| 15 | 8 | Darin Redmon | 257 |
| 16 | 41 | Chris Williams | 225 |
| 17 | 77 | Susan Harwell | 214 |
| 18 | 3 | Danny Propst | 202 |
| 19 | 24 | Andrew Harrah | 192 |
| 20 | 51 | Drew Moffitt | 149 |
| 21 | 40 | Frank Fleming | 132 |
| 22 | 78 | Jody Fritts | 132 |
| 23 | 66 | Ronnie Clifton | 130 |
| 24 | 24 | Carson Ware | 111 |
| 25 | 2 | Joseph Brown | 98 |
| 26 | 31 | Zach Brewer | 98 |
| 27 | 12 | Dean Ward | 87 |
| 28 | 11 | Brian Loftin | 78 |
| 29 | 69 | John Holleman | 71 |
| 30 | 34 | George Brunnhoelzl III | 71 |
| 31 | 51 | Bobby Measmer Jr. | 64 |
| 32 | 78 | Bradley McCaskill | 62 |
| 33 | 30 | Steven Lane | 48 |
| 34 | 50 | Michael Clifton | 46 |
| 35 | 00 | Kevin Orlando | 40 |
| 36 | 15 | Jeremy Gerstner | 38 |
| 37 | 17 | Zack Staley | 38 |
| 38 | 36 | Cory Lovette | 38 |
| 39 | 76 | William Smith | 37 |
| 40 | 6 | Marty Butner | 35 |
| 41 | 07 | Johnny Sutton | 24 |
| 42 | 2 | Gabriel Saavedra | 24 |
| 43 | 36 | Bobby Labonte | 23 |
| 44 | 73 | Andy Jankowiak | 20 |
| 45 | 33 | Jason Tutterow | 18 |
| 46 | 78 | Stan Welborn | 12 |
| 47 | 58 | Jody Utt | 4 |
| 48 | 36 | Marty Edwards | 4 |
| 49 | 30 | Brennan Poole | 4 |
MCDOWELL HEATING & AIR SPORTSMAN SERIES

| | | | |
| --- | --- | --- | --- |
| RANK | CAR | DRIVER | POINTS |
| 1 | 12 | Justin Taylor | 708 |
| 2 | 21 | Tommy Neal | 676 |
| 3 | 7 | Dylan Ward | 658 |
| 4 | 19 | Michael Adams | 620 |
| 5 | 92 | Kyle Southern | 613 |
| 6 | 31 | Chase Robertson | 531 |
| 7 | 22 | Wesley Thompson | 509 |
| 8 | 2 | Amber Lynn | 502 |
| 9 | 55 | Zack Ore | 485 |
| 10 | 4 | John Holleman | 477 |
| 11 | 02 | Derek Stoltz | 410 |
| 12 | 30 | Blake Shupe | 404 |
| 13 | 07 | Kevin Neal | 344 |
| 14 | 3 | Jeff Garrison | 300 |
| 15 | 03 | Sterling Plemmons | 297 |
| 16 | 4 | Spencer Martin | 272 |
| 17 | 38 | Mitch Gales | 265 |
| 18 | 50 | Ross Dalton | 261 |
| 19 | 17 | Michael Caudill | 195 |
| 20 | 56 | Dale Fishel | 182 |
| 21 | 80 | Brian Shupe | 164 |
| 22 | 68 | Robbie Brewer | 133 |
| 23 | 66 | Tim Giesen | 127 |
| 24 | 14 | Terry Thompson | 99 |
| 25 | 0 | Steve Holleman | 88 |
| 26 | 9 | Ryan Dixon | 85 |
| 27 | 27 | Coy Beard | 83 |
| 28 | 5 | Bubba Tilley | 81 |
| 29 | 71 | D.J. Moore | 77 |
| 30 | 25 | Matt Bodenheimer | 74 |
| 31 | 11 | Wayne Hill | 68 |
| 32 | 71 | Austin Taylor | 34 |
| 33 | 1 | Nick Wall | 30 |
| 34 | 2 | Mike Staley | 26 |
| 35 | 14 | Brandon Flowers | 8 |
LAW OFFICES OF JOHN BARROW STREET STOCK SERIES
| | | | |
| --- | --- | --- | --- |
| RANK | CAR | DRIVER | POINTS |
| 1 | 98 | Billy Gregg | 690 |
| 2 | 97 | Jeremy Warren | 688 |
| 3 | 08 | Jacob Creed | 656 |
| 4 | 02 | David Creed | 642 |
| 5 | 22 | Brian Wall | 610 |
| 6 | 19 | Corey Rose | 604 |
| 7 | 1 | Christian Joyce | 596 |
| 8 | 99 | Bryan Sykes | 540 |
| 9 | 69 | Gerald Robinson Jr | 518 |
| 10 | 28 | Nate Gregg | 488 |
| 11 | 40 | Taylor Robbins | 462 |
| 12 | 16 | Brad Lewis | 460 |
| 13 | 33 | Dennis Lanier | 422 |
| 14 | 2 | Willie Wall | 410 |
| 15 | 13 | Kevin Gilbert | 350 |
| 16 | 6 | Austin Powell | 306 |
| 17 | 62 | Kevin Hedgecock | 214 |
| 18 | 23 | Andy Spears | 188 |
| 19 | 31 | Brandon Butner | 166 |
| 20 | 29 | Bradley Potts | 162 |
| 21 | 52 | Fletcher Whaley | 126 |
| 22 | 12 | Nick Wall | 114 |
| 23 | 09 | Trevor Ward | 80 |
| 24 | 3 | Brian Rose | 74 |
| 25 | 00 | Donnie Martin | 68 |
| 26 | 11 | Hunter Hutchens | 66 |
| 27 | 91 | Austin Harris | 58 |
| 28 | 0 | Shane Tuttle | 56 |
| 29 | 3 | Jeff Potts | 32 |
| 30 | 15 | Clay Jones | 32 |
| 31 | 66 | Tim Gieson | 16 |
| 32 | 18 | Chad Brooks | 12 |
Q104.1 STADIUM STOCK SERIES
| | | | |
| --- | --- | --- | --- |
| RANK | CAR | DRIVER | POINTS |
| 1 | 81 | Chuck Wall | 666 |
| 2 | 24 | A.J. Sanders | 650 |
| 3 | 43 | Brandon Brendle | 628 |
| 4 | 1 | Grayson Keaton | 600 |
| 5 | 47 | Tyler McDonald | 586 |
| 6 | 01 | Chris Allison | 520 |
| 7 | 16 | Stephen Sanders | 498 |
| 8 | 51 | Junior Snow | 496 |
| 9 | 80 | Luke Smith | 480 |
| 10 | 69 | Brandon Crotts | 452 |
| 11 | 3 | K.C. Myers | 446 |
| 12 | 60 | Brad Mickalowski | 442 |
| 13 | 68 | Tyler Bush | 400 |
| 14 | 27 | Austin Cates | 396 |
| 15 | 10 | David Hopkins | 362 |
| 16 | 76 | Billy Cameron Jr | 358 |
| 17 | 44 | Justin Whitaker | 358 |
| 18 | 33 | DJ Dean | 352 |
| 19 | 03 | Cody Gum | 350 |
| 20 | 40 | Kenny Dixon | 346 |
| 21 | 14 | Ken Bridges | 346 |
| 22 | 31 | Junior Smith | 338 |
| 23 | 20 | Scarlett Dahmer | 312 |
| 24 | 54 | Justin Owens | 310 |
| 25 | 23 | Blake Spears | 302 |
| 26 | 5 | Joel Stewart | 288 |
| 27 | 28 | Robert Mabe | 284 |
| 28 | 37 | Josh Osborne | 274 |
| 29 | 34 | Steven Stoneman | 274 |
| 30 | 31 | Kyler Staley | 268 |
| 31 | 39 | Patrick Mullen | 240 |
| 32 | 70 | Jeffery Burrow | 220 |
| 33 | 74 | Matt Alley | 202 |
| 34 | 5 | Connor Keaton | 188 |
| 35 | 22 | Adam Thomas | 186 |
| 36 | 35 | Johnny Baker | 166 |
| 37 | 11 | Chad Hopkins | 152 |
| 38 | 88 | Mickey Tuttle | 150 |
| 39 | 18 | Jonathan Simacek | 146 |
| 40 | 49 | Shawn Hayes | 140 |
| 41 | 2 | Jason Everhart | 134 |
| 42 | 25 | Justin Emory | 130 |
| 43 | 30 | Jeremy Seeley | 126 |
| 44 | 01 | Derek Taylor | 122 |
| 45 | 61 | Braxton McDaniel | 116 |
| 46 | 0 | Carlos Clifton | 110 |
| 47 | 40 | Scott Dixon | 106 |
| 48 | 4 | Jeff Houston | 88 |
| 49 | 4 | Andy Southern | 80 |
| 50 | 4 | Tim Giesen | 76 |
| 51 | 15 | Dwayne Bryant | 58 |
| 52 | 00 | Daryl Bryant | 50 |
| 53 | 9 | Robbie Shrewsbury | 50 |
| 54 | 04 | Josh Broome | 46 |
| 55 | 4 | Doug Rembold | 44 |
| 56 | 21 | Shane Tuttle | 42 |
| 57 | 4 | Brandon Bassett | 40 |
| 58 | 4 | Tommy Stewart | 40 |
| 59 | 0 | Shane Clifton | 38 |
| 60 | 29 | Cody Arrington | 38 |
| 61 | 38 | Eddie Hunter | 38 |
| 62 | 09 | Shane Canipe | 32 |
| 63 | 4 | Andrew Sanders | 30 |
| 64 | 61 | Jason Keaton | 28 |
| 65 | 4 | Mark Baker | 28 |
| 66 | 29 | Steve Hauser | 26 |
| 67 | 72 | Dennis Weaver | 26 |
| 68 | 21 | Peyton Johnson | 26 |
| 69 | 4 | Matt Smith | 22 |
| 70 | 99 | Blake Walker | 20 |
| 71 | 18 | Kenny Flippen | 20 |
| 72 | 4 | Roy Cunningham | 18 |
| 73 | 57 | Ronald Spach | 14 |