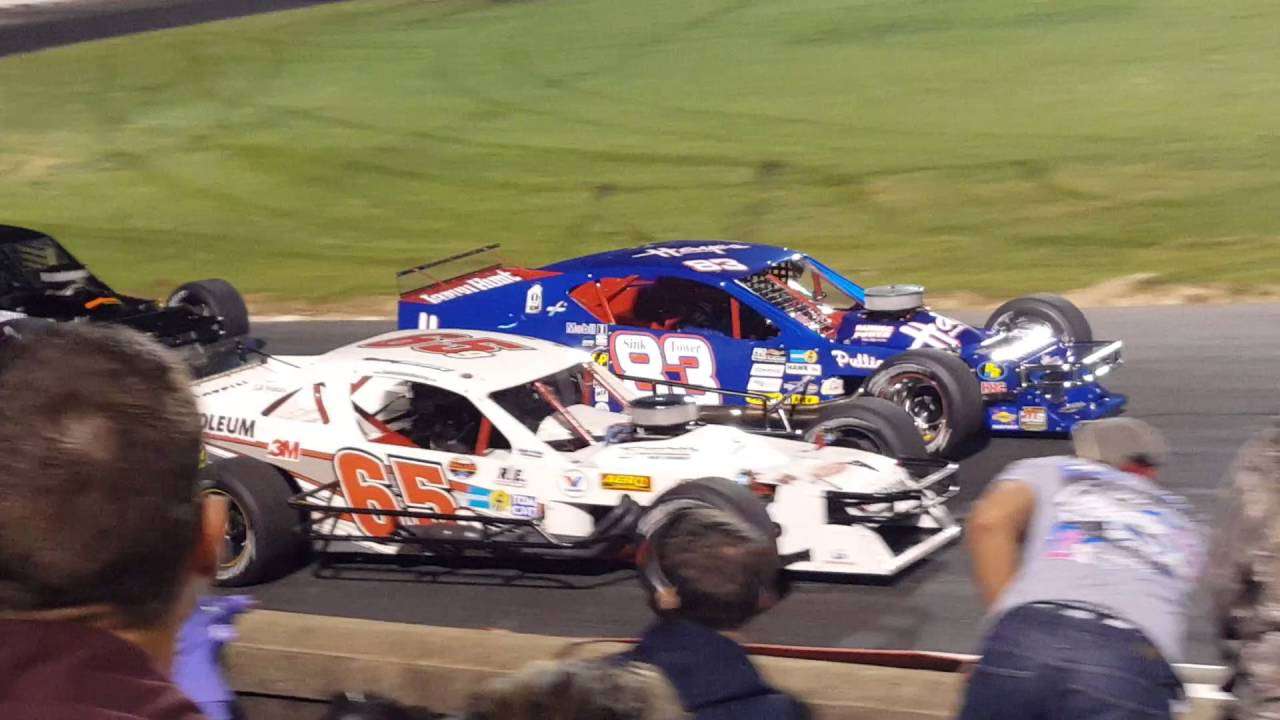 By James Stewart
As the new decade began at Bowman Gray Stadium, in 2000, Earl Baker won the opening 200 lap race. Jr Miller would win the 199 lap race that replaced the 2nd 200 lapper, win 6 races to lead in that category and win his 4th championship. 2001 saw Burt Myers win the 200, John Smith the 199. Tim Brown and Burt Myers would tie with 3 wins each and Myers would win his 2nd championship. 2002 found Brad Robbins winning the 200 and Jr Miller the 199.
Jr Miller would edge out Rupert Sink with 4 wins and Tim Brown would win his 4th championship. 2003 saw Jr Miller winning the 200, Rupert Sink the 199. Tim Brown and Burt Myers would once again tie with 3 wins each but it would be Jr Miller winning his 5th championship. 03 would also see another Myers, Burt's younger brother Jason, win his first modified race.
2004 opened with Tim Brown winning the 200, John Smith won the 199. Burt Myers and Michael Clifton tied with 3 wins each, but it would be Clifton's cousin, Tim Brown, winning his 5th championship to tie Jr Miller and be only one short of tying the 6 championships by Pee Wee Jones.
2005 started with a 200 lap win by another 2nd generation driver, Lee Jeffreys. Burt Myer would lead with 4 wins but it would be Tim Brown winning his 6th championship, moving ahead of Jr and tying Pee Wee. 2005 also saw NASCAR bring the Whelen Southern Modified Tour to BG and Burt Myers won this race.
2006 started off as many years in the past had with Jr Miller winning the season opening 200. Jason Myers would win the WSMT 199. Jr Miller would win 5 races on the way to his 6th BG championship, making it a 3 way tie with Pee Wee Jones and Tim Brown. 2007 began with Burt Myers winning the 200 and he also won the WSMT 199, had the most wins with 5, and won his 3rd championship. 2008 saw Burt Myers open the season again with a 200 lap win, Brian Loftin would win the WSMT 199. Tim Brown would win a season high 7 races en route to his 7th championship.
On April 28, 2008, Tim set the track record which still stands today with a lap of 12.966. 2009 would find Tim Brown once again opening the season with a 200 lap win. Luke Fleming won the WSMT 199. Burt Myers would win 6 times but it wasn't enough to keep Tim Brown for winning his 8th BG championship, tying the championship record of 8 held by Ralph Brinkley.
As a new decade turned, could anyone stop Miller, Brown and Myers? 2010 opened with Tim Brown again winning the season opener. LW MIller would win the WSMT 199. Burt Myers would win 5 races and his 4th championship. 2011 opened with Burt Myers winning the 200 lap opener and LW Miller would repeat as WSMT 199 winner. On May 7, in only his 3rd race ever at the Stadium, New Jersey transplant and 3rd generation modified driver Danny Bohn won. Remember that name!
2011 would also be the first year that a new NASCAR division, the K&N Pro Series, would race at BG. Current Cup driver Matt DiBennedetto would win that first K&N race. Burt Myers and Tim Brown would once again tie for most wins, this time with 4, but it would be Myers winning his 4th title. Burt Myers won the 2012 season opening 200. Corey Lajoie would win the K&N race and George Brunnhoelzl 3rd the WSMT 199. Tim Brown would win a season high 8 times and win his record setting 9th championship. Brown would open the 2013 season with a 200 lap win. Current NASCAR Camping World Truck Series driver Ben Kennedy won the K&N race and Ryan Preece won the WSMT race in his first ever start at BG. Burt Myers 6 wins would lead him to his 5th championship. 2014 began with Burt Myers winning the opening night 200 and the first 2 races. Would he repeat as champion? Current NCWTS driver Ben Rhodes won the K&N race, Danny Bohn won the WSMT 199. But what happened July 19 changed the season.
The points battle was very tight between Tim Brown and Burt Myers, everyone else a distant 3rd. The 2 veteran drivers had already had a couple run in this season. It all came to a boil when it appeared that Myers spun Brown while Brown was leading. Brown retaliated and the 2 crashed and trashed each other's car until neither could continue. It was unfortunate that 3rd place Lee Jeffreys got caught up in the melee. That gave the lead to Danny Bohn and while the mess was being cleaned up, the skies opened with heavy rains, ending the race and Bohn was declared the winner. Brown and Myers were both docked 100 points for the incident and what was once a runaway for the 2 was now a 3 driver race between Bohn, Lee Jeffreys, and Jason Myers..Myers and Brown both threatened to sit out the rest of the season in protest.
Brown did sit out and returned for only the last race. Myers decided to continue racing, but the 100 point penalty was too much to overcome. It all came down to the last race between Bohn, Jeffreys, and J Myers. Basically, the points were so tight that whoever finished in front of the other would be the champion. For the first time in 16 years, someone with a name other than Miller, Brown, or Myers was going to be the champion. The stands are always packed, but it was ultra tight this night. As mentioned earlier, Tim Brown returned and promptly won the pole position. Danny Bohn would qualify 2nd. Brown led the first 50 laps before getting caught in traffic allowing Bohn to slip by and take the lead. He would lead the rest of the way and become Bowman Gray Stadium champion in only his 4th year racing at the Stadium!
For the 2015 season, Bohn decided to cut back on his modified racing to pursue other ventures, so when the 2015 season opened it was Burt Myers winning the 200 lap opener. Scott Heckert won what would be the last K&N race at BG as NASCAR has decided to not race at BG this year defending champion Bohn raced 8 times at BG in 2015 winning 4 races including a repeat in the WSMT 199. Jason Myers won a season high 7 races, but it would be Tim Brown winning his unprecedented 10th BG championship. During the season he also passed Jr Miller for most all time wins at BG, currently 2 ahead of Miller. Also on August 15 Bowman Gray held its 1000th race meet as the longest continuous running track in NASCAR. Bobby Allison returned to the venue as grand marshall for the night and many other NASCAR dignitaries were there.
So as it stands, Tim Brown has the record for most championships, most wins, most poles, and the fastest lap on record. It's here, the time is now….LET THE SEASON BEGIN!!!
Make sure to visit SportsCarolinaMonthly.com each week for extensive coverage of Bowman Gray Stadium Racing!