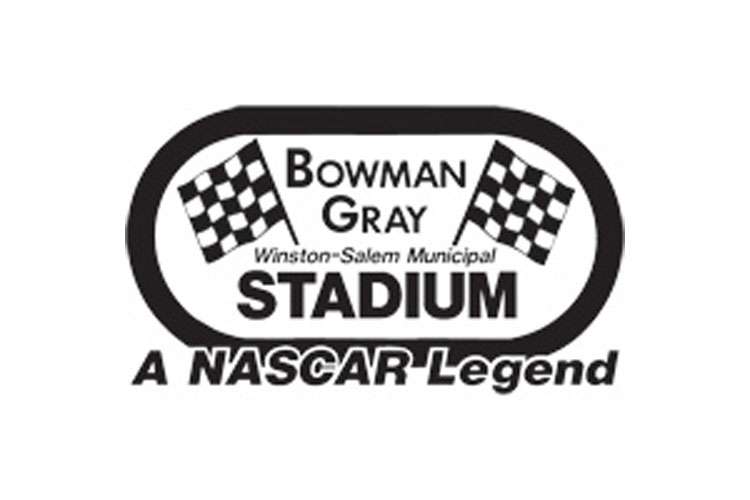 By James Stewart
As the 1970's rolled into Bowman Gray Stadium, dominate drivers at BG had either retired or would soon. Perk Brown, Max Berrier, Pee Wee Jones, Ken Rush, joined the already retired Junior Johnson, Glenn Wood, and Rex White. New drivers were coming in that would make names for themselves such as Junior Miller, Johnny Bryant, Satch Worley.
Some that raced in the 60's such as Billy Hensley and Paul Radford were hanging around and still competitive. Hobby and Sportsman drivers like Ralph Brinkley, Don Smith, Robert Jeffreys, Gary Myers, Al Hill, and Bubba Beck made the transition to modifieds. The cars changed as the Hobby and Sportsman divisions went from mid 50's Chevies and Fords to more late model cars such as Chevelles, Novas, and Falcons. The modifieds changed from the old coupes and coaches to cars like the Pinto, Vega, Gremlin, Capri, and Monza. And in the 1970's, the Blunderbust Division started. Pictured with this article are photos…late 70's Sportsman #17 Jimmy Johnson, early Blunderbust car Joe's Landscaping and a 1978 modified start. Lets begin.
1970 opened with a win by veteran Paul Radford, a name that will see victory lane numerous times during these 2 decades, but the season was dominated in wins by 1963 champion Billy Hensley with 6 and Max Berrier with 5, but the 1970 BG champion with only 1 win was Winston Salem's own Don Miller. In 1969, NASCAR had began a new series called the Grand American cars. These cars were mostly midsize cars such as Mustang, Camaro, and Javelin. Bowman Gray was awarded a GA race in 1970 that was won by Max Berrier. The 1970 schedule also provided 2 Grand National races, won by Tiny Lund and Richard Petty. The 1971 season opener was won by Max Berrier who also won the most races, 8, and claimed his first BG championship.
The 1971 GA race was won by Tiny Lund and the GN race by Bobby Allison. Oddly enough, at the shorter tracks, the GN cars ran on, the GA cars were being allowed to run with them. The 1971 win by Bobby Allison was in a GA Mustang and never credited to him as a GN win, while most others winners of combined races counted. Bobby mentioned this at last year's 1000th event where he was grand marshall. 1972 NASCAR announced that the GN races were going to be scaled back in 1973 to about 30 races and would be known as the Winston Cup.
Short tracks all around would no longer be hosting the GN cars and BG, even with all it's NASCAR ties, would run their last GN race in 1972. The GA race was won by Jim Paschal and the last GN race, a combo event with the GA cars, was won by Max Berrier. Wayne Lambeth won the 72 season opener, the most wins in the season were 5 by Perk Brown, and Max Berrier won his 2nd straight championship. Max Berrier opened the 1973 season with a win and when Ralph Brinkley won his first modified race June 16on a modified Corvair of all things, not much was thought about it, just that another driver had added their name to the prestigious BG winners list. Brinkley won again on July 21 and won 5 races in a row, including sweeps of 2 straight madhouse scrambles.
Back then the second race was a complete inversion of the first race with the winner starting last. Brinkley's 6 wins were the most for the year and led him to his first BG championship. Perk Brown would win 3 races and retire at the end of the season. As good as Brinkley was in 1973, the 1974 season would set a record that has yet to be matched or broken. Brinkley and his Corvair opened the season with 2 doubleheader sweeps and 4 straight wins. He would sweep 2 more nights and ended the season with his 2nd championship and 13 wins, the most ever in one season!
The 1974 season was also the first season of the modifieds longest race of the year, the Winston 350, and was won by Gerald Compton. Could Brinkley be stopped in 1975? The Corvair was replaced with a Vega and Brinkley won the 2nd race of the season after finishing 2nd to Johnny Bryant's Gremlin in the season opener. Bryant and Brinkley would battle all year, Brinkley would win 4 races, Bryant would win 8 including the Winston 350, but it was old timer Billy Hensley that would win 5 times and collect his 2nd championship in a #07 Pinto prepared by Speedy Thomas, a number that would win many times with different drivers. If you remember the New Years Day, Easter Monday, and after Christmas races from the 60's, then in 1975 BG ran what was to be the inaugural Turkey 200 on Thanksgiving Day. The race was rained out and run during the day on Saturday in freezing temperatures. Ralph Brinkley won the race that would never be run again, and the points from that race were to be included with the 1976 points.
1976 season started with Brinkley leading the points because of the Thanksgiving race, but it was Paul Radford who won the opener in the famous 07 car that Billy Hensley had vacated. Radford would go on to win 9 races,including the 350, but it would be Brinkley that captured the 1976 championship. In 1977 BG decided that it would open the season with a 200 lap race giving out national points, so besides the track regulars. drivers from all over the US came to get points. Rome, NY's Jerry Cook won the season opening Winston 200. Philip Smith won the Winston 350 only a year removed from being severely burned in a fiery crash during the 76 race. Paul Radford won 9 races and won his first BG championship.
The 1978 season opened with Paul Radford continuing his hot streak and winning the Winston 200, also winning 10 races and his 2nd BG championship. The 1978 Winston 350 was rained out and not rescheduled. The 1979 Winston 200 season opener was won by modified legend and hall of famer, the late Richie Evans.On June 19, driving a modified Plymouth Arrow, Jr Miller won his first BG race….keep that name in mind.Philip Smith won 4 races to lead in wins, but it was consistency that led Gremlin driving Don Smith to his first BG championship….without winning a race! Al Hill won the 1979 Winston 350.
As the 1980's came in the Pinto, Vega, and Gremlins were being phased out by Cavaliers, J2000s, Omnis, and Firenzas. The sportsman cars left the Chevelles and Novas for Malibus and Thunderbirds, while the Falcons still ran strong. The 1980 Winston 200 season opener was won by another modified legend and Hall of Famer, also winner of the 1977 race, Jerry Cook. Johnny Bryant won 5 races, but Ralph Brinkley broke a 3 year drought with his 4th BG championship.
Coming up: The 1980s at Bowman Gray
Listen to weekly coverage of Bowman Gray Racing on SportsCarolinaMonthly.com with The Rundown with Desmond Johnson Saturday mornings during racing season and each week with the Triad Racing Podcast with Randy Pettitt!