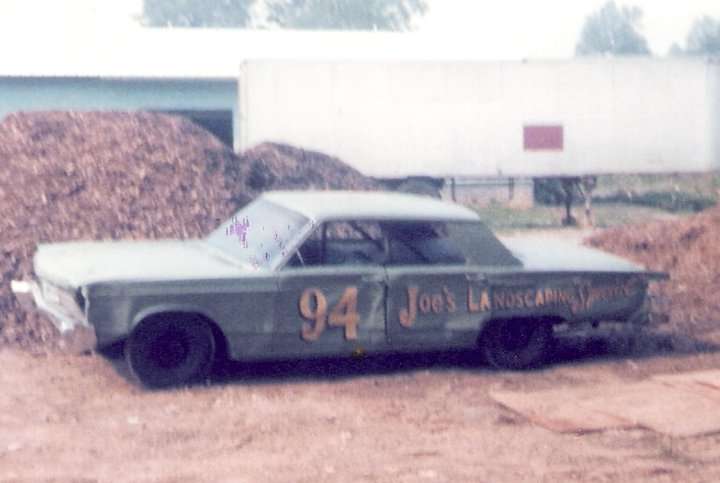 By James Stewart – SportsCarolina Monthly
Previously posted 4/13/16
In an earlier article, we went thru the entire history of Bowman Gray Stadium as a race track and football field. This week we look at the history of racing at the Stadium from it's first NASCAR race in 1949 thru the 50's and 60's. I've included 4 pictures that show action from a 1951 event, a coupe that shows how the cars looked in the 50's, and an orange #3 coupe of RE Brim and a #26 Coach of Paul Radford, that shows how the cars looked thru the 60's.
As was told in the previous article, NASCAR president Bill France and Bowman Gray promoter Alvin Hawkins were good friends and wanted to bring NASCAR racing to Bowman Gray. The first race was May 18, 1949, a Wednesday night. In the early days of NASCAR it was common for races to be held every night of the week somewhere. Most of the drivers that raced in that first race were from North Carolina and raced other nights of the week at tracks in Asheville, Charlotte, Gastonia, Hickory, Greensboro, High Point, Raleigh, Hillsborough, Boone, and on Sunday afternoons at another Winston Salem track, Peacehaven Speedway.
Fonty Flock of Charlotte, NC won that first race , a 100 lap event that started 47 cars! Can you imagine 47 cars on that track at one time? The 2nd event was won by Joe Eubanks, the 3rd and 4th by Curtis Turner, The 5th night of racing was a rainout, followed the next week by a win for Tim Flock. What happened the next 3 weeks set the stage for BG racing as we know it today.
The next 3 weeks were rainouts. By this time drivers were complaining of the spread out nights, BG on Wednesday, Hillsborough on Thursday, Boone on Friday, Asheville or High Point on Saturday, Charlotte, Peacehaven, and Raleigh on Sunday, Greensboro and Hickory on Monday. and Gastonia on Tuesday nights. It was hard to race every night of the week with most drivers only having 1 car plus working public jobs. To make it easier on the drivers, the 11 tracks split into an east and west division and most moved their racing to Friday, Saturday, and Sunday. Drivers could race where they wanted, but to cut down on travel, the west was made up of Boone on Friday night, Asheville on Saturday at noon, Hickory on Saturday night, Gastonia on Sunday at noon and Charlotte on Sunday night. The east consisted of Hillsborough on Thursday night, Raleigh on Friday, High Point and Bowman Gray on Saturday, and Peacehaven and Greensboro on Sundays.
NASCAR wanted BG to run on Sunday night after running Peacehaven on Sunday afternoon, but Hawkins would not agree, saying Sunday was the Lord's day, and as long as he had anything to do with the track, they would never race on a Sunday. ……and they never have! So BG went to Saturday night, which after the 3 weeks of rainouts, Hawkins had considered this already. The first Saturday race was July 23 and was won by Pap White. Tim Flock won 3 more races that year and after winning the season finale on September 3rd was crowned the season champion. He also won the most races that year with 4. Oddly enough, one of the names that is famous with BG racing raced that year but didn't win…the brothers Billy and Bobby Myers, but that would soon change. Many thought that BG would never make it, but if you look at those 11 original tracks, only BG and Hickory continue to operate. Many of these tracks shut down in the 50's.
The 1950 season opened with a win by Jimmy Lewallen, followed the next 4 weeks by wins for Billy Myers, Joe Eubanks, a 2nd win for Lewallen, and a rainout. Frank Mundy then won 4 in a row interrupted by a rainout, then Curtis Turner won 5 in a row before Lewallen collected win #3 and Ted Swaim winning the season ending race. Though it seems that Mundy and Turner, with 5 wins, the most that year, dominated the year, Lewallen was the 1950 champion. The 1951 season opener was won by Fonty Flock and the names of Billy and Bobby Myers became frequent on the winners list. 1951 was also the year that NASCAR had formed the Grand National division, which allowed drivers to just race selected races instead of having to try to race every night at various tracks. Bowman Gray was put on the GN schedule and the first GN race at BG was won on July 23 by Curtis Turner. Billy Myers was the 1951 BG champion and also had the most wins with 4. 1952 opened with a win by Bobby Myers, who also won the 1952 BG championship. Bobby and Curtis Turner were the big winners that year with 4 each. The GN race that year was won by Lee Petty.
1953 opened with another win by Bobby Myers, but his brother Billy would be the 53 champion. Were we beginning to see a domination here by the Myers brothers? 3 championships in a row!! The 53 GN race was won by Jim Reed and Glenn Wood led in wins with 4. 1954 season opened with a win by Curtis Turner who would have a season high 5 wins but the 54 championship was won by Glenn Wood, with Jim Reed again winning the GN race. In 1955 the season was to start on New Years Day with the Tobacco Bowl but was pushed back to Jan 8 because of rain. The inaugural Tobacco Bowl was won by Curtis Turner, but the 1955 season was dominated by Billy Myers with 12 wins and his 3rd championship! Lee Petty won the GN race that year. The 1956 Tobacco Bowl was won by, you guessed it, Curtis Turner, who along with the Myers brothers, had certainly found the niche for winning at the quarter mile. Also in 1956, NASCAR scheduled 2 GN races at BG, won by Jim Reed and Pee Wee Jones. The wins leader in 56 was Pee Wee Jones with 6 and he also won his first of 5 straight BG championships!
Carl Burris won the 1957 Tobacco Bowl, we already know Pee Wee Jones won his 2nd straight track championship, Rex White and Jim Reed won the 2 GN races, Tom Webster led with 4 wins. Also there was a race added to the Saturday after Christmas that would last until 1962. On August 17, Bobby Myers won what would be his last win at BG, as a little more than 2 weeks later, he would lose his life in Darlington's Southern 500. There was no Tobacco Bowl in 1958 as the area was going thru a very harsh winter, Bob Welborn won the first race of the year on April 7, Easter Monday. The 1958 season would be led with 6 wins by George Dunn, Pee Wee Jones won his 3rd championship, Bob Welborn and Lee Petty won the GN races. But the tragedy that happened April 12th in the season's 2nd race, put an end to what seemed like could be a family dynasty. Only 7 months after Bobby Myers tragic death at Darlington, Billy Myers would suffer a fatal heart attack while leading at BG. After this happened, the following year and until they stopped running the GN cars at BG, the GN races were known as the Myers Bros Memorial. The first GN races of the season were 200 laps, the 2nd 250 laps. In 1959 season Carl Burris won the Tobacco Bowl and Pee Wee Jones won his 4th straight championship. Jim Reed and Rex White would win the GN races and Ralph Earnhardt would lead with 4 wins.
As the new decade started, the decision to drop the Tobacco Bowl was made and the season would always start on Easter Monday. In the state of NC, Easter Monday was a holiday. 1960 opened with a GN race won by Glenn Wood, who also won the 2nd GN race there later in the season. Pee Wee Jones won his 5th straight championship with Glen Wood winning 7 times to top the wins list. the 1961 season opened with a win by Rex White, who would sweep the 3 GN races run at BG that year! Perk Brown would lead with 8 wins, but it was Glenn Wood that would break Pee Wee Jones championship run with Wood's 2nd championship. 1962 Rex White opened the season with another GN win, the other 2 GN races won by Johnny Allen and Richard Petty(some people thought this guy could make it big…wonder what ever happened to him, lol?!!) Perk Brown would win a season high 8 races and his first BG championship!
1963 rolled around with a one year comeback of the Tobacco Bowl, with the legendary Ed Flemke taking the win. The 3 GN races were won by Jim Paschal, Glen Wood, and Junior Johnson. Perk Brown would once again lead with 5 wins, but it would be Virginia's Billy Hensley crowned the 63 champion with only 1 victory. 1964 BG dropped back to just 2 GN races, won by Marvin Panch and Junior Johnson. Paul Radford would win his first BG race April 18…keep that name in mind. Ken Rush would win a season high 6 races and also the 1964 championship. 1965 Billy Hensley opened the season with a victory, Junior Johnson would sweep the 2 GN races in his last year as a racer, Hank Thomas would lead with 3 wins, but Carl Burris won his lone championship that year. David Pearson opened the 1966 season with a GN win and also won the 2nd GN race that year. Carl Burris would lead with 4 wins, but it would be Ken Rush winning his 2nd, and last championship at Bowman Gray….and he won the championship without winning a race! Consistency!!
1967 season started with a GN win by Bobby Allison, the 2nd GN race that year was won by Richard Petty as part of a string where he won 10 GN races in a row and 27 for the year, a record that still stands!! Perk Brown led the way with 5 wins, but Pee Wee Jones would win the season finale and record his 6th and final BG championship. 1968 the season opened with a win by Perk Brown. The GN schedule had been cut back some and BG from here out would only have one race a year. The 1968 GN winner was David Pearson. Billy Hensley and Perk Brown would tie for most wins with 3 each, but it would be Brown that would claim his 2nd BG championship.
The 1969 season drew the first two decades of BG racing to an end. Perk Brown once again opened the season with a win, Max Berrier led the season win total with 6, On August 23, the GN race was won by Richard Petty. Petty had for his whole career driven a Plymouth, but when the 69 Plymouth showed hardly any difference from the 68 Plymouth, Petty asked to switch to a more aerodynamic Dodge Charger. He asked twice…Chrysler denied him twice. So Petty shocked everyone by switching to a Ford Torino. Most know that he switched back the next year with the Plymouth Superbird. Most also know that Petty is the all time leader in NASCAR's top division with 200 wins. The 1969 win was not only in a Ford, but it was also a milestone victory for Petty as it was his 100th win! The second decade of Bowman Gray racing would end with Perk Brown winning his 3rd and final BG championship.
The next 2 decades would bring about major changes. Next week, Bowman Gray, Then and Now Part 2.