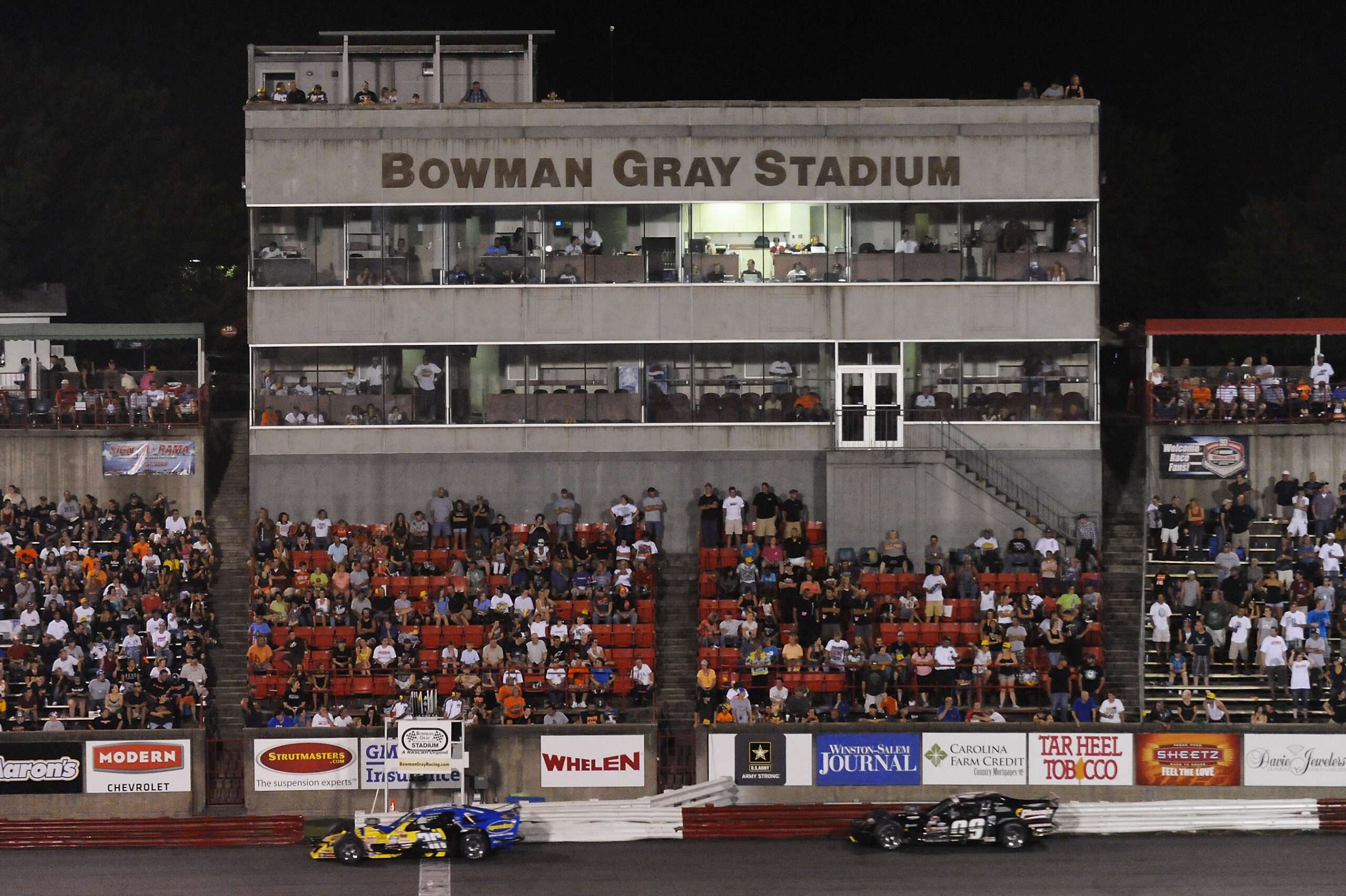 Week 6 is in the books! It was the Thunder Road Grill Stadium Stock 50, along with twin Modified and Sportsman races, plus with Street Stock and a wild "Slobber Knocker" as the great Jim Ross (announcer for WWE/AEW)would say in the Chain Race.
The night would kick off with Street Stock, as Brad Lewis would start on the pole. Lewis would go to battle with future daughter-in-law Taylor Robbins early on in the race. They would race for the lead, until contact made between Robbins and Lewis causing Robbins to fall back. Defending champion Billy Gregg would make his way through the field and try and make a run at the lead. Brad Lewis would go on to hold off Gregg and pick up his first win of the season and first win in 21 years. Also Lewis became the sixth different winner in six weeks in the Street Stock Division. Nick Wall third, Bryan Sykes fourth, and fifth David Creed.
Next up would be the first of two Sportsman races, Dylan Ward would start on the pole and lead flag to flag as he picked his first win of the season in a clean 20-lap race. Tommy Neal finished runner up. Wesley Thompson third, Kyle Southern fourth and Justin Taylor fifth.
The first of two modified races would follow as Jason Myers would start on the pole and lead flag to flag holding off "The Show Stopper" Chris Fleming to pick his first win of the season and becoming the sixth different winner in the nine Modified races of this season. It was also Myers 36th career race, putting him 10th in stadium history just two behind his father.
Brandon Ward would finish third, Jonathan Brown fourth, Tim Brown fifth.
Sportsman's second race would come up next, as Amber Lynn would start on the pole after the invert from race one. Zack Clifton would take the lead from Amber Lynn on lap eight, and not look back as he would hold off Amber Lynn and go on to win the second Sportsman Division race. It was Clifton's first win of the season with Tommy Neal would finish third. Justin Taylor fourth and fifth Chase Robertson.
In the final modified race of the night, after the invert Austin Pack and Lee Jeffreys would start on the front row. Unfortunately, there would be trouble between the two as they would make contact sending Jeffreys straight into the wall hard in turn one on the first lap. Tempers would flare as Jeffreys would get out of his car try and go after Pack all while telling him he's number one. Jeffreys would take the long walk back to the pits, but first Jeffreys would stop and grab a cone and throw it at Pack's car as Jeffreys continued to walk back to the pits. Once the green flag flew again, it became the "Junior Snow Show." Snow would win his first Modified race of his career, holding off Dean Ward, Zach Brewer third, and Burt Myers fourth, John Holleman fifth.
Time for the main even the Thunder Road Grill 50-lap in the Stadium Stock. Coming into the night AJ Sanders and Tyler McDonald both had three wins each. Grayson Keaton, Blaine Curry, and Brandon Brendle looked to add to their win totals for the year. There was also a surprise appearance from "Pintang" himself, Chris Allison driving the 7 car. Allison would start on the pole and lead a handful of laps. It was AJ Sanders would sneak away with the win to win his fourth race of the season. Levi Holt second, Chris Allison third, Grayson Keaton fourth and fifth Kyler Staley.
Next week's scheduled at Bowman Gray Stadium will include two Modified 50-lap races sponsored by Thunder Road Grill as well as races in Sportsman, Street and Stadium Stock.
RACE RESULTS: June 11
BRAD'S GOLF CARS MODIFIED SERIES
race one
| | | |
| --- | --- | --- |
| FINISH | CAR | DRIVER |
| 1 | 4 | Jason Myers |
| 2 | 16 | Chris Fleming |
| 3 | 04 | Brandon Ward |
| 4 | 22 | Jonathan Brown |
| 5 | 83 | Tim Brown |
| 6 | 55 | Jeremy Gerstner |
| 7 | 69 | John Holleman |
| 8 | 1 | Burt Myers |
| 9 | 5 | Randy Butner |
| 10 | 12 | Dean Ward |
| 11 | 79 | Zach Brewer |
| 12 | 51 | Junior Snow |
| 13 | 75 | Lee Jeffreys |
| 14 | 99 | William Smith |
| 15 | 3 | Danny Propst |
| 16 | 78 | Austin Pack |
| 17 | 77 | Susan Harwell |
| 18 | 05 | Bussy Beavers |
| 19 | 6 | Greg Butcher |
| 20 | 14 | Corey Lovette |
| 21 | 88 | Brad Robbins |
| 22 | 2 | Mike Adams |
BRAD'S GOLF CARS MODIFIED SERIES
race two
| | | |
| --- | --- | --- |
| FINISH | CAR | DRIVER |
| 1 | 51 | Junior Snow |
| 2 | 12 | Dean Ward |
| 3 | 79 | Zach Brewer |
| 4 | 1 | Burt Myers |
| 5 | 69 | John Holleman |
| 6 | 55 | Jeremy Gerstner |
| 7 | 22 | Jonathan Brown |
| 8 | 83 | Tim Brown |
| 9 | 16 | Chris Fleming |
| 10 | 5 | Randy Butner |
| 11 | 04 | Brandon Ward |
| 12 | 4 | Jason Myers |
| 13 | 99 | William Smith |
| 14 | 05 | Bussy Beavers |
| 15 | 3 | Danny Propst |
| 16 | 6 | Greg Butcher |
| 17 | 14 | Corey Lovette |
| 18 | 78 | Austin Pack |
| 19 | 77 | Susan Harwell |
| 20 | 2 | Mike Adams |
| 21 | 88 | Brad Robbins |
| 22 | 75 | Lee Jeffreys |
MCDOWELL HEATING & AIR SPORTSMAN SERIES
race one
| | | |
| --- | --- | --- |
| FINISH | CAR | DRIVER |
| 1 | 08 | Dylan Ward |
| 2 | 21 | Tommy Neal |
| 3 | 22 | Wesley Thompson |
| 4 | 92 | Kyle Southern |
| 5 | 12 | Justin Taylor |
| 6 | 81 | Zack Clifton |
| 7 | 31 | Chase Robertson |
| 8 | 2 | Amber Lynn |
| 9 | 19 | Michael Adams |
| 10 | 03 | Sterling Plemmons |
| 11 | 07 | Riley Neal |
| 12 | 54 | Braden Mills |
| 13 | 38 | Mitch Gales |
| 14 | 55 | Zack Ore |
| 15 | 7 | Connor Branch |
| 16 | 6 | Kirk Sheets |
| 17 | 02 | Terry Thompson |
MCDOWELL HEATING & AIR SPORTSMAN SERIES
race two
| | | |
| --- | --- | --- |
| FINISH | CAR | DRIVER |
| 1 | 81 | Zack Clifton |
| 2 | 2 | Amber Lynn |
| 3 | 21 | Tommy Neal |
| 4 | 12 | Justin Taylor |
| 5 | 31 | Chase Robertson |
| 6 | 07 | Riley Neal |
| 7 | 22 | Wesley Thompson |
| 8 | 19 | Michael Adams |
| 9 | 55 | Zack Ore |
| 10 | 08 | Dylan Ward |
| 11 | 03 | Sterling Plemmons |
| 12 | 54 | Braden Mills |
| 13 | 38 | Mitch Gales |
| 14 | 6 | Kirk Sheets |
| 15 | 7 | Connor Branch |
| 16 | 92 | Kyle Southern |
| 17 | 02 | Terry Thompson |
LAW OFFICES OF JOHN BARROW STREET STOCK SERIES
| | | |
| --- | --- | --- |
| FINISH | CAR | DRIVER |
| 1 | 16 | Brad Lewis |
| 2 | 98 | Billy Gregg |
| 3 | 15 | Nick Wall |
| 4 | 99 | Bryan Sykes |
| 5 | 02 | David Creed |
| 6 | 7 | Zack Staley |
| 7 | 24 | Austin Jones |
| 8 | 1 | Christian Joyce |
| 9 | 10 | Kendell Craig Hartless |
| 10 | 51 | Austin Taylor |
| 11 | 40 | Taylor Robbins |
| 12 | 13 | Kevin Gilbert |
| 13 | 69 | Jordan Atkins |
| 14 | 28 | Nate Gregg |
| 15 | 8 | Bryan Sykes Jr |
| 16 | 22 | Brian Wall |
| 17 | 97 | Charlie Gregg |
| 18 | 06 | Chase Lewis |
Q104.1 STADIUM STOCK SERIES
race one
| | | |
| --- | --- | --- |
| FINISH | CAR | DRIVER |
| 1 | 24 | A.J. Sanders |
| 2 | 58 | Levi Holt |
| 3 | 7 | Joel Stewart |
| 4 | 76 | Grayson Keaton |
| 5 | 31 | Kyler Staley |
| 6 | 46 | Wyatt Sapp |
| 7 | 69 | Brandon Crotts |
| 8 | 43 | Brandon Brendle |
| 9 | 27 | Austin Cates |
| 10 | 17 | Andy Southern |
| 11 | 03 | Cody Gum |
| 12 | 40 | Kenny Dixon |
| 13 | 8 | Stephen Sanders |
| 14 | 81 | Chuck Wall |
| 15 | 48 | Junior Smith |
| 16 | 51 | Andrew Cates |
| 17 | 25 | Matt Goodwin |
| 18 | 71 | Corbin Foster |
| 19 | 74 | Matt Alley |
| 20 | 54 | Justin Owens |
| 21 | 16 | Blaine Curry |
| 22 | 59 | Dakota Warden |
| 23 | 28 | Robert Mabe |
| 24 | 05 | Victor Flores |
| 25 | 14 | Ken Bridges |