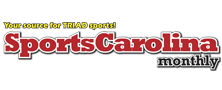 Bowman Gray Q&A: Derek "Primetime" Stolz
by Cody Heacox
Ladies and Gentleman, welcome to this week's Bowman Gray Q&A! While a lot of Saturday nights racing was washed out due to the rain last week, fans had the opportunity to at least see 29 laps of the Sportsman Division that had some exciting battles. The crowd was also treated to the return of Derek "Primetime" Stoltz as he returned after taking a break from racing. I had the chance to interview him and get to know him.
While Stoltz started racing in the Sportsman Division in 2008 and has raced in that division up until 2015 when he decided to step away, he started his racing career in the Street Stock Division in 2003. In that division, he was able to pick up multiple wins before he moved up to Sportsman. He has won a lots of races including the 2012 Sportsman Championship.
Q: What got you interested in racing?
A: When I was 9, I saw my first go-kart race. I had been going to BGS for years because my dad and uncle helped Jimmy Johnson and the Clifton's. I sucked at anything involving a ball so I wasn't good at that. And I always liked things that had engines.
Q: What is your most memorable race win?
A: Favorite win was 2 weeks after my pawpaw died. We crashed the car in the first 20 laps of the night and loaded the car and my brother said get that car back out and put your suit back on. They worked and taped and strapped parts back on it and crews and fans even chipped in and got me back in the second race that night and we kicked their butt.
Q: What holds your love/attention about racing?
A: I'm a family and friends guy. I like being surrounded by them and the race car seems to hold everyone together. I also like the attention that comes with it lol.
Q: I read an article where you mentioned "you lost some of the passion for the sport" what made you decide to come back this season to race?
A: I lost some of the passion when some of my family had health problems and between racing and my job which is a family business I was stretched to the max and couldn't put the time into the car it needed. But we got everyone healthy now and back to normal which was most important to me. I got a awesome family, kids and friends on my side along with a very awesome girlfriend Jessica that keeps me in line.
Q: Ever since you announced you were coming back fans have wondered what are your intentions, running for championship or wins? Why?
A: My intentions have never changed. I love winning races and putting on a show for a crowd. The more they are pumped up, the more I get pumped. If a championship is something that comes with the wins then so be it. I won a championship in 2012 just to see what all the hype would be about and there was none.
Q: You had a fast car this weekend before the rains came, you and Holleman battled it out for 10 or so laps. Be honest did it come across your mind "wreck him and win" to continue the feud or what?
A: Ya know…..You can live by grudges or let them go. I start every season fresh and it's always helped me. I know some drivers think I'm unpredictable on the track and I feel that way about some also. I never had any thoughts cross my mind about crashing John. I knew if it went green I could have worked him and passed him. The rain came and it went in his favor this time and it was a hell of a race for the lead. We talked and we seem to have the same view on the respect thing. We will see when the rolls are reversed. A good race for the fans and no tore up race cars are better than a grudge match and working all week putting those cars back together. We both have awesome sponsors and know money isn't a problem but your labor in the shop all week is worth just as much. Far as your question goes there isn't a feud in my mind because I'm not living off the past.
Q: If you could set a goal of how many races you'd like to win… What would it be?
A: It ain't a goal, its how many I'm GONNA win. 10.
Be sure to come out to the Old Madhouse Saturday April 29th to see "Primetime" in action as he looks to get back to victory lane, along with all the other action. The Modified Series will go for 200 laps, followed by a 40 lap Sportsman race, plus Street Stock and Stadium Stock.
Cody Heacox is the Bowman Gray Racing beat reporter for SportsCarolina Monthly. Got an idea for an interview or story? Contact us at johnsonmediagroup1@gmail.com! Visit us each week to receive in depth Bowman Gray Racing Coverage!
Click here for reuse options!


Copyright 2017 SportsCarolina Monthly