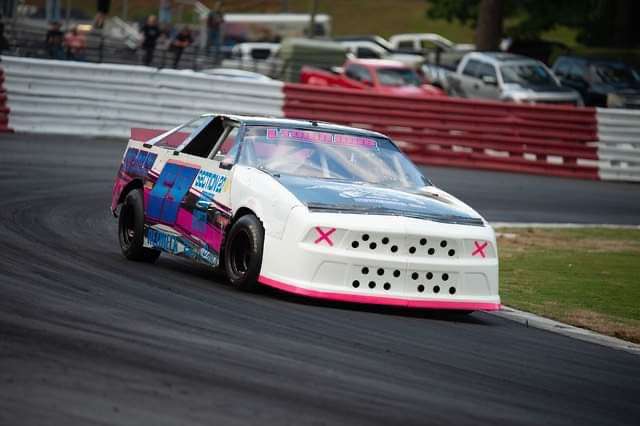 Ladies and Gentlemen, I had the opportunity to interview the driver of The 'NotRod' sponsored by Lindley Plumbing Co, Redneck Race Parts, MADD Discs, LTownMob and Section20, Brandon Crotts. Crotts is currently sitting 3rd in points in Stadium Stock. In just 69 Starts, he has 34 top 10's with 16 top 5's. Crotts doesn't have a win yet but it is definitely coming very soon!
Q: What got you interested in racing?
A: I began racing go karts around 2002. My Aunt Marty was a loyal Bowman Gray fan that would ultimately bring me to the stadium and get me addicted. I started racing Stadium Stocks in 2009 until 2011. Took a few years off and came back in 2016 after my dads cancer took a turn for the worse. Being at the race track brings me the most peace since my dads passing. Aunt Marty also passed from cancer in 2020 so racing in their honor fills a void for me.
Q: I know you're big into disc golf, how would you explain it to some of the fans who don't have a clue what Disc Golf is.
A: Disc golf is very similar to ball golf. You're playing for the lowest score. Teeing off from a designated area and trying to complete each hole by tossing your disc into a basket. Much cheaper than ball golf and easily as much fun. Fun for people of any age or skill level!
Q: What would you enjoy most being on the track or on the course playing disc golf?
A: The track for sure. Once again, it's just a overwhelming peace that connects me to some of my immediate family members who aren't here physically with me anymore but were always there at the track.
Q: You're currently third in points just 50 points back behind AJ Sanders then 22 points behind Brandon Brendle for second. What's your mindset knowing that there's still enough time left to make a run with two double points nights left?
A: Ya know, The 'NotRod' has surprised me this year. AJ, Brendle and Chuck are currently the guys to beat at the stadium. There's a few other guys who are really fast but have chose to not be here every week and that's benefited me. I'm not in the same zip code as those guys when it comes to racing so I'm not personally trying to even think about making a run. Just living in the moment and being proud of what I have accomplished.
Q: I know your sons have played disc golf with you, but have any of them asked Dad about one day having a race car? Or has momma said no?
A: Honestly, I don't recall any of them asking about race cars. My oldest is just now old enough to get his NASCAR license so being in the pits may give him the itch. They love being at the track supporting me and it means a lot, but if they ever want to race-they're gonna have to work, earn, save and get started on their own just like I have.
Q: Do you see yourself possibly moving up to another division? If so Which division?
A: I doubt it. My racing program is so small! My race shop is my 20' open car trailer. lol I just don't think a higher division would be a good choice with my current situation.
Q: Who would you say you enjoy racing beside most out there on the track?
A: Kenny Dixon and Corndog Walker. There's a lot of mutual respect and our cars are generally pretty close. Some of the most fun I've ever had has been in afternoon practices with these guys!
Q: I've got to ask, this question is mostly for the veterans of the tracks. But how would you describe the new asphalt compared to the old? What are the pros and what are the cons?
A: The new asphalt hasn't been a terrible change for me personally. It took a few weeks for me to adjust corner entry to minimize the bumps upsetting the car. Obviously the outside groove is tough with the lack of rubber but it's something we all gotta deal with.
Q: Last question, it's something I like to ask drivers. "If you could race against any legendary driver (BGS or NASCAR) who would it be?"
A: George Brunnhoelzl III
Next week is the last week before the annual Fourth of July break. Next week's racing will be highlighted by the 100-lap race in the McDowell Heating & Air Sportsman Series.
Twin 25-lap races in the Modified Series, a 20-lap race in the Street Stock Series, and one or two 15-lap races in the Q104.1 Stadium Stock Series. And there will also be the "Fire in the Sky" nighttime pyrotechnic parachute jump.
Tune into The Pit Stop every Monday at 8pm on WTOB 980am/96.7fm with Brett Wiseman and Randy Pettitt!