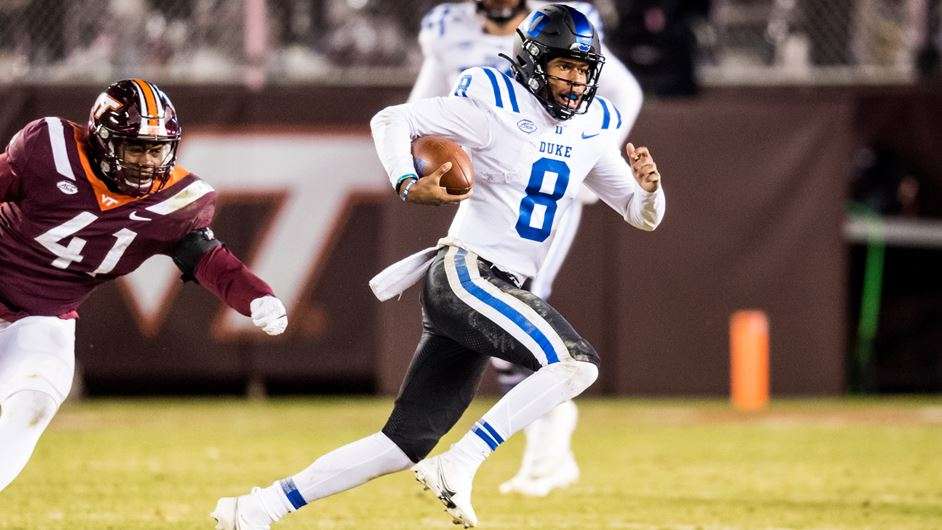 BLACKSBURG, Va. – Duke dropped a 48-17 decision to Virginia Tech on Saturday afternoon at Lane Stadium.
The Blue Devils trailed 27-3 midway through the third quarter when freshman quarterback Jordan Moore found sophomore Eli Pancol in the end zone to cut into the Hokies' lead. Virginia Tech answered with two scores, including a fumble recovery for a touchdown to extend its advantage to 41-10. Duke tried to rally over the remaining minutes and Moore found paydirt from four yards out, but the deficit proved to be too much.
Moore finished 6-of-12 for 63 yards and one score. His 28-yard touchdown pass to Pancol was the first career passing score for the Sykesville, Md., native. Moore also chipped in with his third rushing score of the season and wrapped up his day with 17 rushes for 113 yards.
Freshman Riley Leonard earned the start on Saturday, becoming the first true freshman at Duke to start at quarterback since Thaddeus Lewis did so against Wake Forest on Sept. 9, 2006. Leonard was just the eighth true freshman to start at quarterback at Duke in the past 71 seasons, joining Jerry Barger (1951 vs. South Carolina), Hal Spears (1972 vs. N.C. State), Mike Dunn (1975 vs. Army), Ben Bennett (1980 vs. East Carolina), Steve Slayden (1984 vs. Virginia), Zack Asack (2005 vs. Navy) & Lewis (2006 vs. Wake Forest).
Leonard went 7-of-16 for 84 yards and added 30 rushing yards on 16 carries.
Senior Mataeo Durant inched closer to Duke's single-season rushing record with 33 yards in Saturday's contest. Durant now has 1,096 for the year and is 140 shy of matching Steve Jones' 1972 program record of 1,236.
Senior wide receiver Jake Bobo paced the Duke receiving corps with three receptions for 32 yards. Junior Jalon Calhoun chipped in with four catches for 22 yards.
Defensive tackle DeWayne Carter and safety Da'Quan Johnson led the Blue Devils on defense with six tackles apiece. Carter, cornerback Josh Blackwell and linebacker Shaka Heyward each recorded one tackle for loss, while defensive end R.J. Oben intercepted a pass, which set up a Duke field goal in the second quarter.
The Blue Devils have a quick turnaround as they welcome Louisville on Thursday night to Brooks Field at Wallace Wade Stadium. The contest is set for 7:30 p.m. and will be broadcast on ESPN.