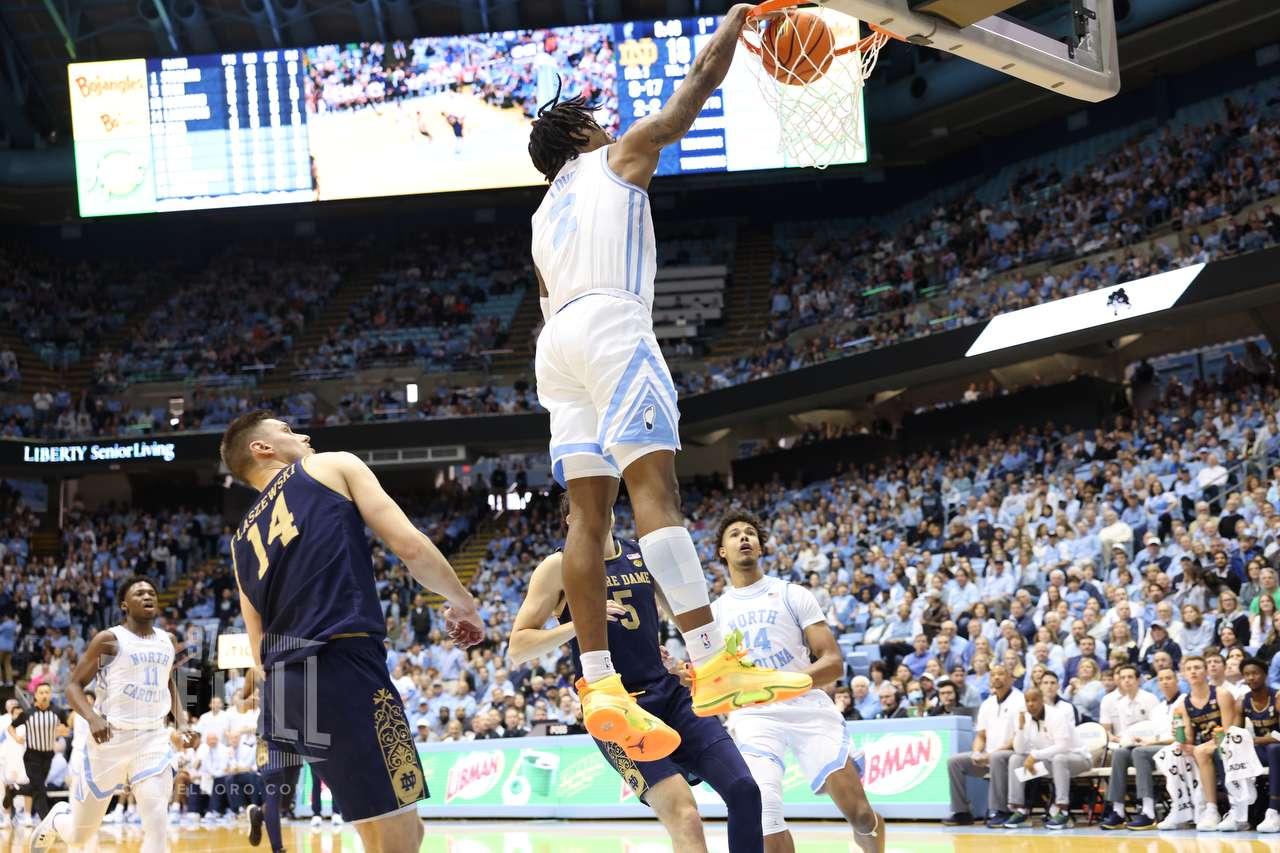 by Matt Bowers


CHAPEL HILL, N.C.—Armando Bacot and Caleb Love led the way as North Carolina beat Notre Dame, 81-64, on Saturday in the Smith Center. The Tar Heels won for the sixth time in seven games.

Love scored 18 points and Bacot had 21 points and 13 rebounds to lead four double-figure scorers for UNC.

Carolina improved to 11-5 overall, 3-2 in the Atlantic Coast Conference and has won 10 of the last 12 meetings in the series with the Fighting Irish. Notre Dame fell to 8-8, 0-5.

Bacot posted his school-record 84th double-figure rebounding game. It was his ninth double-double of the season and his 58th overall. He is two behind Hall-of-Famer Billy Cunningham's school-record 60. Bacot now has 1,169 career rebounds, passing Sam Perkins (1,168) for second in UNC history. Tyler Hansbrough (1,219) ranks first.

Bacot has scored at least 20 points in five consecutive games, the longest streak of his career. It was Bacot's 18th career game with at least 20 points and 10 rebounds.

Love, who had hit 6 of 24 shots (25 percent) in his previous two games, started strong by hitting 5 of his first 7 shot attempts (including 3 of 4 three-pointers) and finished with 18 on 6 of 16 shooting overall. Love extended his school record streak to 44 consecutive games with at least one basket from behind the arc.
"Just trying to get back in my groove," Love said. "It's been a tough past couple of games for me offensively. So just trying to get in the groove, and then just letting the game come to me."

Puff Johnson scored a season-high 11 points and tied his career high with six rebounds off the bench. RJ Davis had 13 points, five rebounds and five assists.
The Tar Heels had 19 assists as a team with just eight turnovers. Bacot had four assists and has nine in his last two games. UNC out-rebounded the Irish, 45-32, and hit 8 of 19 three-pointers (42.1 percent). UNC got 22 points from its bench, which outscored the Notre Dame reserves, 22-12.
"D'Marco [Dunn], Jalen [Washington], Justin [McKoy], whoever came off the bench, I just thought they brought energy, they brought life, solid plays on both ends of the floor," said UNC head coach Hubert Davis. "And you know, that's exactly what we need."

Carolina shot 50 percent in the first half and closed the period with a hot-shooting streak that saw it take a 41-28 lead into the locker room, its biggest lead of the game to that point. Love scored a game-high 13 points in the opening 20 minutes, while Bacot had 12 points and eight rebounds.

The 13-point halftime lead matched UNC's largest in an ACC game this season (along with the win over Georgia Tech in December).
The Irish clawed back to within seven points at 61-54 with 8:25 remaining in the second half, only to see Carolina respond with a 7-0 run to to push its lead back to 14. The Tar Heels never led by fewer than 12 points the rest of the way.
"I have the utmost respect for them," said Notre Dame coach Mike Brey. "I mean, they're just so physical and so athletic, and even when you do get an advantage, their athletic recovery to block shots or deflect passes is almost freakish. We haven't really played anybody like that in awhile, but they had the bodies."

Pete Nance did not play due to a stiff back. Freshman guard Seth Trimble made his first career start in Nance's place and had three points, three rebounds and four assists in 23 minutes.

The Tar Heels will return to action on Tuesday night at Virginia at 9 p.m. Carolina's next home game will be on Tuesday January 17 against Boston College.