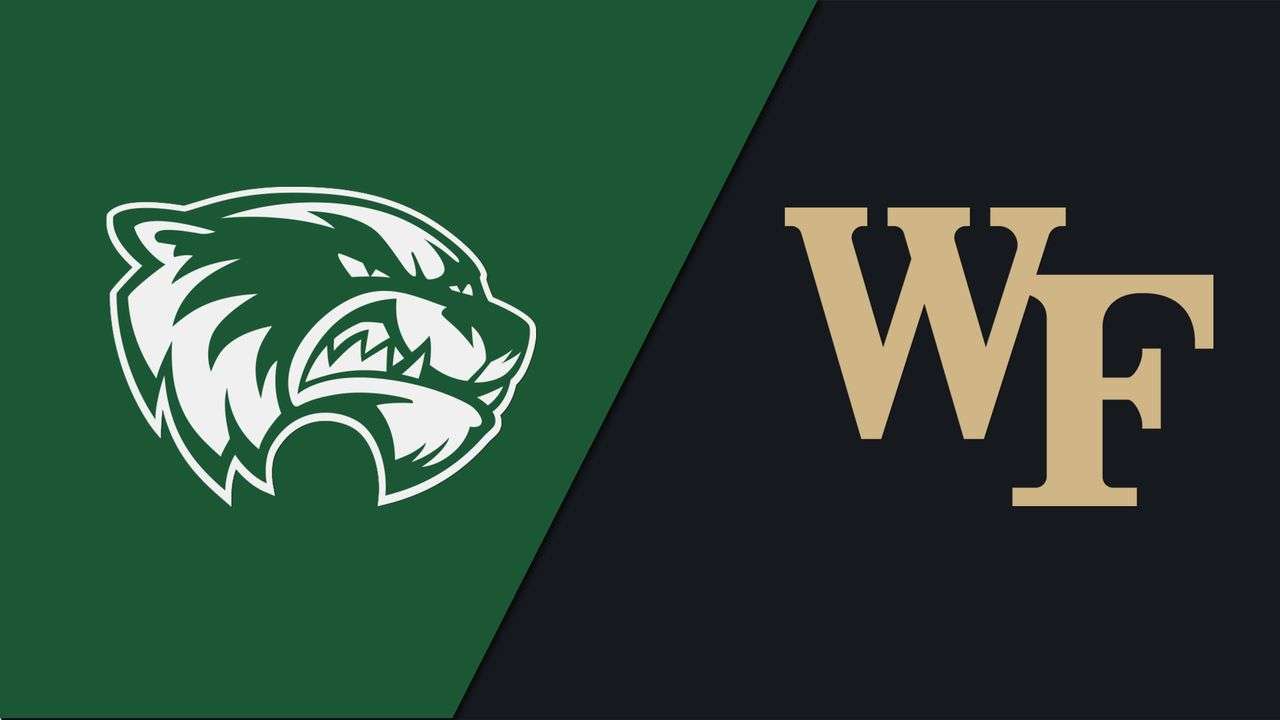 WINSTON-SALEM, N.C. – In just his third game as a Demon Deacon, Tyree Appleby showed his clutch gene on Tuesday evening, drilling a three-pointer at the buzzer in overtime to give Wake Forest a 68-65 win over Utah Valley.

With four seconds left on the clock, Cameron Hildreth in-bounded the ball by executing a perfectly lined cross-court pass to Matthew Marsh at the top of the key, who found Appleby on the left wing for the game winner.

The Deacs (3-0) remain undefeated in Lawrence Joel Veterans Memorial Coliseum this season, as Tuesday was also the team's first overtime win since Jan. 8, 2022 – a 77-74 win over Syracuse.

Appleby led all players with 23 points, going 12-of-14 from the free- throw line. The guard also added seven rebounds and six assists.

Andrew Carr produced a monster double-double of 15 points and 14 rebounds. His total mark in boards, five of which were scooped on the offensive glass, set a new career high.

Daivien Williamson rounded out the double-digit scoring with 10 points.

The contest featured 15 lead changes and 10 tied scores.

How It Happened
Hildreth opened the scoring for the Deacs with a putback layup to end a 9-0 Utah Valley run to open the contest.
Carr converted on a putback layup of his own before knocking down a three-pointer on the next possession to cut the deficit to four.
The Deacons forced a shot clock violation before Appleby finished off an 11-2 run to tie the game with a driving layup.

Wake Forest held Utah Valley scoreless for 4:02 minutes of game time and 0-for-6 from the floor during the run.

Monsanto scored his first points of the season with a three-pointer, assisted by Hildreth, to give the Deacs a five-point lead with 9:46 remaining in the first half.

Wake Forest had made five of its last six field goals.

Hildreth recorded his second assist of the contest with an alley-oop lob to Marsh.
Monsanto and Williamson each knocked down a three on back-to-back possessions to give Wake Forest a 28-27 lead with 2:30 left in the half.

Appleby picked up the assist on both baskets. The Florida transfer had a game-high four assists heading into the half.

The Demon Deacons held a one-point advantage over the Wolverines at the end of the first half.

Carr dominated the glass, as the junior forward grabbed a game-high eight rebounds in addition to seven points.
As a team, Wake Forest went 4-of-9 (44.4%) from three-point range in the first half, while holding Utah Valley to just 3-of-16 (18.8%) on three-point attempts of their own.

Bradford earned his way to the line 22 seconds into the second half as the Deacs struck first and extended their lead.

The Kansas State transfer continued to be a menace in the paint, as he fought through contact and finished a layup a few possessions later.

Appleby went on a personal 4-0 run to even the game at 38 with 14:07 remaining in the game.

The Jacksonville, Ark. native then converted an and-one opportunity following a driving layup through contact.

Carr converted on a three-point play of his own before Williamson hit a huge corner three on the next possession to bring Wake Forest to within a point with 6:28 to go.

After a quick Utah Valley run, Hildreth hit a triple from the same spot to once again cut the deficit to just one point with 3:09 remaining.

Carr gave Wake Forest the lead with just two minutes left in the contest, as the Delaware transfer knocked down a three courtesy of a Hildreth assist.
A good defensive stand with just seconds left in regulation sent the game into overtime with the teams tied, 59-59.
Appleby earned his way to the line for two, cutting the Wolverines' lead in half with 2:51 remaining in overtime.
Carr tied it just seconds later as he fought his way into the paint for two.
Appleby gave Wake Forest the lead with 25 seconds left in overtime with an underhand layup for his 20th point of the game.
The Demon Deacons won the game on a last-second Appleby three-pointer following a well-designed cross-court pass from Hildreth to Marsh, who found the graduate guard for the go-ahead shot with 0.4 seconds left on the clock.
Stat of the Game
As a team, Wake Forest went 4-of-9 (44.4%) from three-point range in the first half, while holding Utah Valley to just 3-of-16 (18.8%) on three-point attempts of their own.

Wake Forest finished 34.8 percent from three while holding Utah Valley to just 12.9 percent for the night.
Coach's Comments
"There's no such thing as a bad win. You have to give our guys a lot of credit for sticking with it when things weren't going very well, but most of the credit goes to Utah Valley State. They have a really good basketball team and they're very well coached. I knew coming in it was gonna be a really hard game. They have high rim protection, and it causes a lot of problems. We did a good job of getting in the paint, we just forced some shots and didn't finish. We didn't play very well on offense, but we defended really well. They missed 50 shots. I think that proves our team can win by defending.

I worked for Billy Gillespie a long time ago at Texas A&M. On the first day of practice in the fall, we lined everybody up on the baseline. Everybody throws the baseball pass. You say, 'why do you do that?' Because you don't want to wait until that moment to figure out who can throw that pass – it's a hard pass. The play doesn't happen if there's not a great pass. We have three guys on the team that can throw it. Cam is good at it. Then, we had to figure out who could catch it. Matt is the best at catching it. He found the open guy and Ty had enough composure to shoot it and make it.

Congrats to Coach Madsen and his team. They're a nice basketball team. They're really physical and tough. They're going to win a lot of games. It was a hard-fought win." – head coach Steve Forbes

Up Next
Wake Forest travels to Montego Bay, Jamaica, for the Jersey Mike's Jamaica Classic this weekend. The Deacs will play LaSalle on Friday afternoon at 2 p.m. ET. Based on that outcome, Wake Forest will play either Loyola Marymount or Georgetown on Sunday, Nov. 20.

Both of Wake Forest's games in Jamaica will air live on CBS Sports.