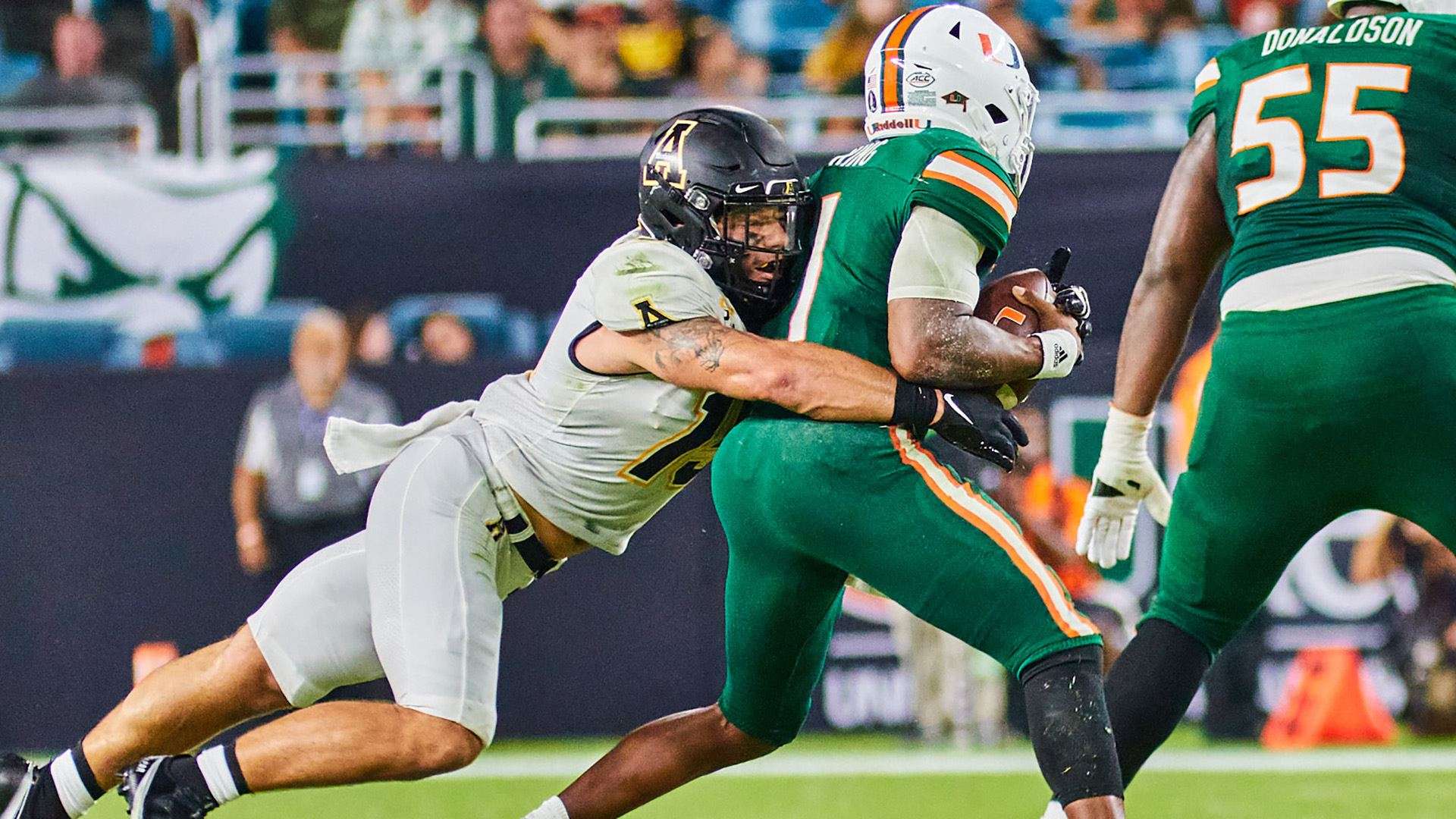 Courtesy AppStateSports.com
MIAMI GARDENS, Fla. — App State's visit to Miami turned into a track meet.
The speed of Jalen Virgil, a ball-hawking defense and the Mountaineers' entire team stood out on a steamy south Florida night against the high-powered Hurricanes, but 22nd-ranked Miami used a 43-yard field goal from Andres Borregales with 2:04 left to erase a one-point deficit and claim a 25-23 victory at Hard Rock Stadium.
Trailing 22-17 midway through the fourth quarter, App State (1-1) delivered an eight-play, 75-yard touchdown drive, highlighted by Chase Brice's deep completion to Malik Williams for a 41-yard gain to the Miami 9. A 6-yard catch by Williams then set up his 3-yard, go-ahead touchdown in the back of the end zone with 5:48 remaining.
The Hurricanes (1-1) answered with a 10-play, 55-yard drive to move back ahead, and App State advanced to its own 43-yard line before a fourth-and-6 pass fell incomplete with 55 seconds left.
"Very proud of our football team," App State head coach Shawn Clark said. "It's a hard, fun fact — in 24 hours, the sun's going to come up and we'll make App Nation proud when we get back to The Rock next Saturday. Looking forward to seeing all our fans next Saturday. Again, sorry we couldn't get it done, but very proud of our guys' effort."
Just like he did nine months ago, Virgil turned a deficit into a lead with a 100-yard kickoff return, giving App State a non-offensive touchdown for the fourth straight game against a Power Five conference opponent. Those games were an overtime loss at Penn State, a win at North Carolina, a win at South Carolina and now a two-point loss to the top-25 Hurricanes.
D'Marco Jackson led App State's defense with 10 tackles, T.D. Roof posted 2.0 sacks and Caleb Spurlin added a blocked field goal to go along with his seven stops. Brice threw for 199 yards, and Camerun Peoples' 95-yard rushing performance included a 28-yard touchdown.
"We just really tried to play fast, knowing our assignments and just playing as fast and downhill as possible," Spurlin said. "I think we did a good job with that, but I still think we left a lot on the table. I still think we didn't play our best ball or put our best foot forward, but I'm proud of how we stuck together and just continued to play."
App State's defense came up big in the first half, as Miami's first nine points came from a 6-yard touchdown drive after a turnover and a safety resulting from a special teams miscue.
The Mountaineers tied the game with 5:20 left in the first quarter on a fourth-and-2 run up the middle for a 28-yard touchdown by Peoples.
After the safety gave Miami a 9-7 edge late in the first quarter, App State's defense responded with a three-and-out stand to limit the damage. The Hurricanes' next possession covered 12 plays but ended with a short field goal, and Virgil answered that score with the second 100-yard kickoff return for a touchdown of his career.
After Virgil's score, Spurlin blocked a short field goal late in the half to help App State take a 14-12 advantage into the break.
Miami received the second-half kickoff and marched 75 yards in six plays, scoring a go-ahead touchdown on Cam'Ron Harris' 12-yard run. The Mountaineers responded with a long drive of their own, moving inside the Miami 5 thanks to an 18-yard run by Peoples and a 23-yard catch by Henry Pearson on back-to-back snaps, but App State had to settle for a 22-yard field goal from Chandler Staton.
Moving forward from the back-and-forth final quarter with Miami, App State will make its Kidd Brewer Stadium debut next Saturday with a home game against Elon.
"We're very proud of our effort," Clark said. "This is a gut-wrenching loss. This one loss won't define us, and we'll learn from our mistakes."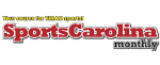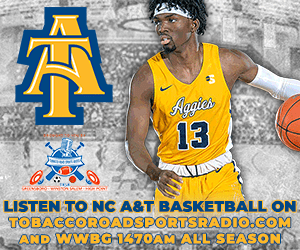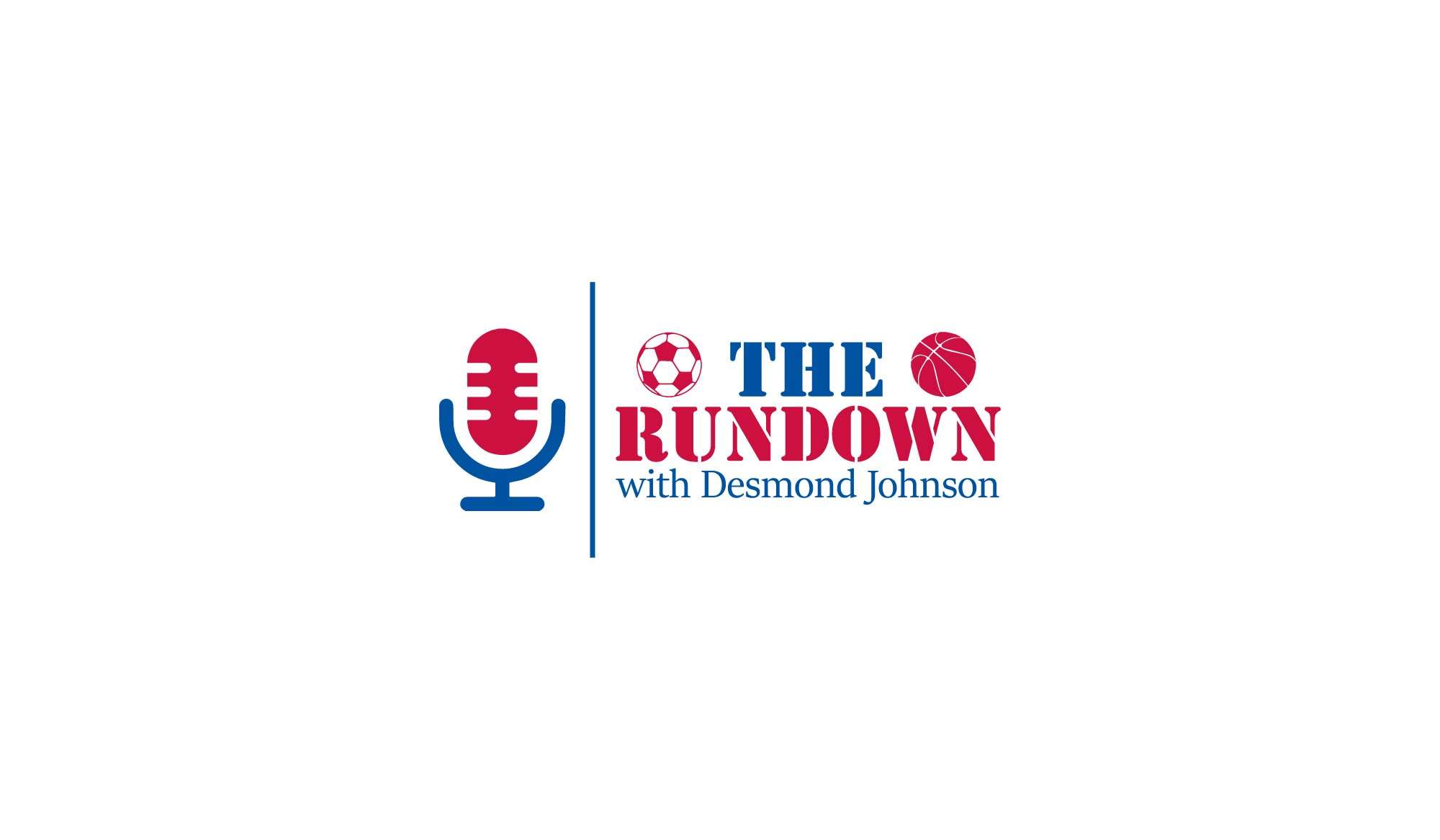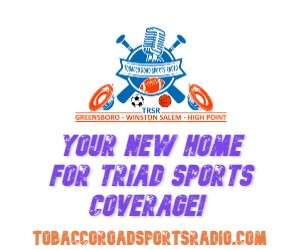 ACC Basketball
NICEVILLE, Fla. – Wake Forest dropped its first game of the 2021-22 season in...

LAS VEGAS (AP) — In a town known for major championship fights, it seemed...

courtesy GoDeacs.com WINSTON-SALEM, N.C. – Wake Forest (4-0) dropped North Carolina A&T (1-4) on...
Carolina Panthers/NFL
Published by The Charlotte Observer Panthers star running back Christian McCaffrey is heading back...

Published by The Charlotte Observer MIAMI GARDENS, Fla. — All week, Matt Rhule and...