NC State vs. Syracuse: Syracuse got off to an early lead and had to hold off a high-paced NC State Wolfpack offense all night at the Carrier Dome. Orange quarterback Eric Dungey set the Syracuse career total offense record Saturday while throwing for 411 passing yards, 3 touchdowns, and adding a rush TD, leading the Orange to a 51-41 victory.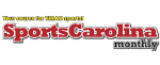 History of Bowman Gray Stadium
Carolina Panthers
What should the Cowboys pay Dak Prescott? When should the rookie QBs start? Jay-Z...

Now available on all major podcast outlets.