NC State vs. Syracuse: Syracuse got off to an early lead and had to hold off a high-paced NC State Wolfpack offense all night at the Carrier Dome. Orange quarterback Eric Dungey set the Syracuse career total offense record Saturday while throwing for 411 passing yards, 3 touchdowns, and adding a rush TD, leading the Orange to a 51-41 victory.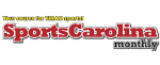 History of Bowman Gray Stadium
Carolina Panthers
Host Desmond Johnson with Rod Funderburk, Brandon Blakney, Aaron Gabriel. Kevin Avery from the...

Gerald McCoy took his talents to the Carolinas and signed with the Panthers.