Virginia Tech vs. North Carolina: The Hokies showed some incredible heart Saturday night in Chapel Hill, causing a late fumble on the goal line before putting together an 18-play, 98-yard game-winning touchdown drive. Ryan Willis hit Dalton Keene out of the backfield to put the Hokies ahead for good in a 22-19 win. UNC running back Michael Carter had a big night, rushing for a career-high 165 yards, but his fumble on the goal line kept Virginia Tech in it. Willis finished with 309 total yards and 2 passing touchdowns in the victory.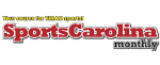 History of Bowman Gray Stadium
Carolina Panthers
Host Desmond Johnson with Rod Funderburk, Brandon Blakney, Aaron Gabriel. Kevin Avery from the...

Gerald McCoy took his talents to the Carolinas and signed with the Panthers.